The final section of the Drexel Boulevard Improvements project is underway between 47th Street and Hyde Park Boulevard in Kenwood with an estimated completion date in 2021 — but the concrete paths will be finished in a matter of weeks.
There will also be upgraded accessible ramps, a new irrigation system, new flower beds and new trees. Similar improvements have been installed in two phases north along Drexel from 47th to Oakwood Boulevard since 2018.
At the Oct. 22 groundbreaking, Ald. Sophia King (4th) said the 1½-mile boulevard is her running path and reflected on the group work that "bringing back the beauty of the boulevard" has been.
"When you think about spending money and where you're going to spend it, oftentimes beauty and quite frankly quality of life aren't really in the thoughts of people," she said. But through lobbying, King said she got $4 million in city dollars for the project.
"As I see all of you who are using the boulevard on your bikes, walking your dogs, it's bringing so much vibrancy," she said. "I hope it'll bring even more as we finish all of the sidewalks here. But it's really, I think, something that we don't think about, your return on your investment. There's not money that's coming from this out of the money that we put into it. The quality of life that it brings and the indirect resources that it brings to a community are just invaluable."
At 26 miles, Chicago's park-and-boulevard system — which locally links Jackson and Washington parks by the Midway Plaisance — is longer than the Lakefront Trail. It links the South (Garfield Boulevard) to the Southwest (through McKinley Park) to the West (through Douglass, Garfield and Humboldt parks) to the Northwest Side at Logan Square, though plans to run it through the North Side lakefront at Lincoln Park along Diversey Parkway failed.
"This very place that we're standing is significant connective tissue," said Chicago Transportation Commissioner Gia Biagi, pointing out that the landscape architecture firm of Frederick Law Olmsted and Calvert Vaux designed Drexel Boulevard as well as Central Park in New York and Boston's Emerald Necklace.
"Our work to address Drexel Boulevard is meant to live up to that vision and that aspiration, but it has to work for residents today, and that kind of work that we did for you together gets us to this point today," she said.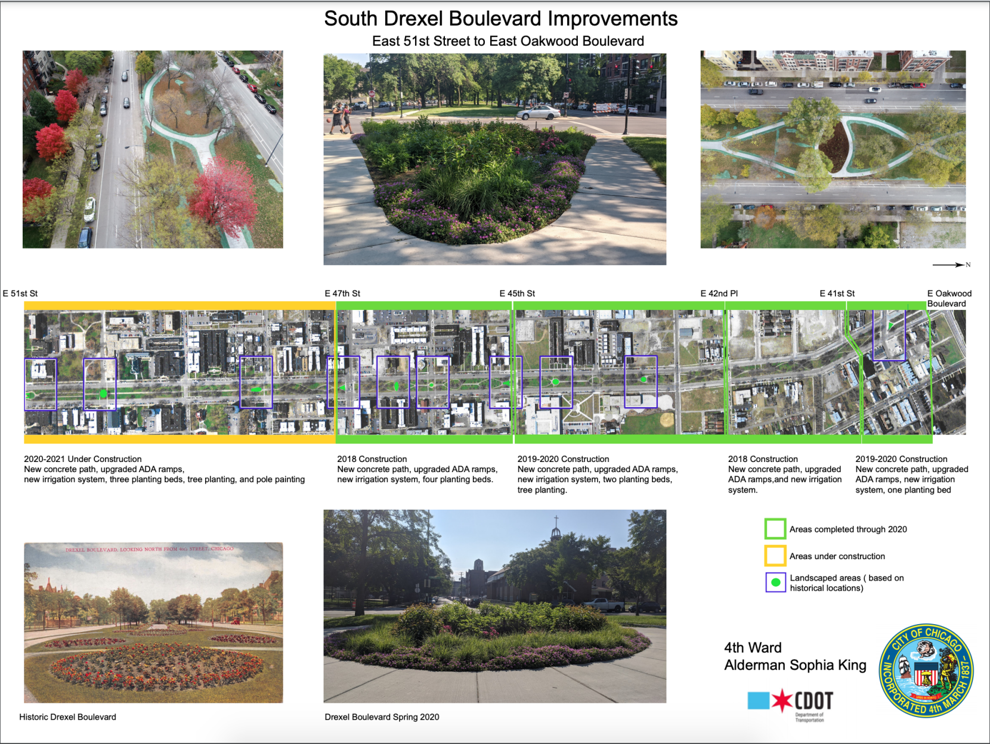 "We hope that this moment, this investment, marks the journey of a longer journey together, helping our entire boulevard system to have the benefit of what we're experiencing here, right here in Drexel Boulevard."
Up the way from the ceremony, Kenwood resident Lindsay Morgan said she walked the path once or twice a day and was excited for the rest of the improvements to conclude.
"It looks really pretty. I've been here when they had the old sidewalks, and now to see these very new pretty sidewalks, it just makes everything look that much nicer, along with the landscaping they've been putting in," She said. "I find myself stopping to take pictures every day when I take a walk!"
Further along where work had been completed in 2018 north of 47th Street, Evon Parker of Bronzeville said he appreciated the smoother ride of the finished paths from his bicycle, "And don't it look pretty all up and down?"
"I've been around here a long time; you used to have benches around here and stuff, but you know how it goes. They redid it without the benches, and it seemed like a better, cleaner park," he noted. 
Commissioner Biagi said that the decision to take out the benches was a conscious decision made in consultation with King, adding that the question of whether to put them back in could be revisited once all the improvements have been implemented next year.