The University of Chicago Medical Center (UCMC) is closing its COVID-19 units as patients needing intensive care drops at the Hyde Park hospital and across the state.
"The unit-based approach served our patients and the organization well when we had hundreds of admitted adult patients," wrote Incident Commander Krista Curell in a June 23 email to faculty and staff. "Outcomes have been outstanding and the environment has been safe, although demanding for the clinicians assigned to these areas."
As of June 24, the hospital had 18 COVID-19-positive patients, down from 141 on April 20. The former coronavirus units will likely be reverted back to traditional patient units be the end of the week, after they get cleaned.
Currell wrote that the supply of personal protective equipment has stabilized, clinical pathways have been fixed and the number of negative pressure rooms, designed to keep pathogens contained, combined with the "rebalancing of a number of other spaces for patient care allows for a significant census of adult COVID-19 patients to be cared for with appropriate isolation measures."
Staff, patients and visitors must continue wearing masks in clinical and non-clinical UCMC facilities as well as outside at all times.
The Tribune first reported the news.
As of June 25, 6,810 people have died from COVID-19 in Illinois, including 2,461 in Chicago.
Today, U. of C. Executive Medical Director of Infection Prevention and Control Emily Landon spoke again at Gov. J.B. Pritzker's press conference, communicating what individuals must do to keep the epidemic at bay as the state continues its reopening: obey state and experts' guidance, keep social distance and wear face masks.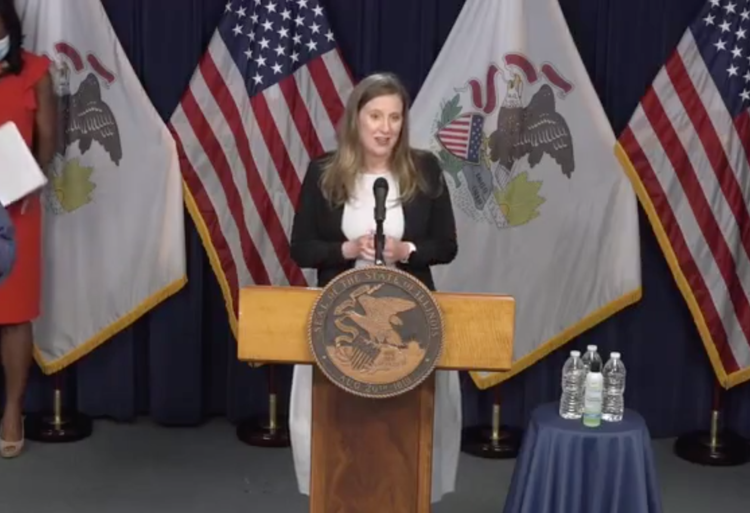 Since she first spoke at the governor's press conference on March 20, 6,982 Illinoisans have died from COVID-19, but she said "that number would have been thousands and thousands higher if hadn't been willing and able to join together and stay home to stay safe."
The state and city are entering Phase 4, dubbed "Revitalization" under the state's "Restore Illinois" plan, and Landon said the new normal will be "coexisting with COVID," the disease still spreading from people who are not yet displaying symptoms, targeting the vulnerable and elderly.
"Make no mistake: the risk may be low for some, but too many young and healthy people have succumbed to COVID-19, and there will be more deaths to come," she said. Staying home fought "a raging firestorm of infection," and Landon cautioned that there will still be "embers and even brush fires that could force us to pull back to an earlier phase." But she said the state must avoid "a conflagration that sends us back to our homes and threatens our health care system and our economy."
So she told people to wear masks, keep distance, wash hands, stay home when sick, get tested when need be and follow contact tracers' advice if they call. She said the interventions are not and not meant to be perfect on their own, but together "they knit together to make a safety net" for haircuts, having a meal with friends and hug family members.
Landon expressed concern that masks are being seen as a political statement. They are not, she said, "unless the mask literally has a political statement written on it." She recalled her own discomfort as a medical student with wearing a mask for long periods of time — "it's uncomfortable or too hot or itchy at first" — but she said she got used to it over time.
"I think that you'll get used to wearing a mask, too, if you give it a chance," she said. "The only message I see when someone wears a mask is that you care about your health and mine, that you're not willing to take a chance or gamble with this virus."
Regarding capacity limits, Landon said they are a "recalibration of our own personal sense of what it means to be too crowded," recalling the universal experience of giving up on a planned activity when the venue is too crowded for it to be worth it. 
Take that crowd size and cut it in half, she said, then cut it in half again. "That is what the new normal looks like," Landon said. "It means we have to be patient and wait our turn to do some of our favorite things, and if we do that well — we take our turns, we wear our masks, we keep our distance — we'll be OK."
If not, Illinois can expect to see coronavirus infections grow akin to what places like Texas, Arizona and Florida are now experiencing. "Here in Illinois, we know that COVID is no hoax, and we are determined and we have shown how determined we are to do whatever is necessary," she said, "even it it means months of patience, hand sanitizer and masks."
"It's up to us, and we can save both lives and livelihoods if we do it right," she said.