The long-feared second wave of the COVID-19 pandemic is hitting Chicago, and numbers are up in the Hyde Park area.
City officials are not yet taking steps like closing restaurants and other public accommodations, but Mayor Lori Lightfoot said she will if cases continue to rise. The surge is happening across across gender, age, location, race and ethnicity, making a targeted intervention more difficult.
"If we don't see a dramatic turnaround in our numbers and soon, then we will not hesitate to take the steps that are necessary to save our city, to save our residents," she said at an Oct. 19 press conference.
Over the past two weeks, Chicago cases have risen more than 50%, to more than 500 per day, the most cases per day seen since late May. Hospitalizations are also up 25% since Sept. 22 for non-intensive care unit coronavirus patients and suspected cases.
Chicago Public Health Commissioner Allison Arwady observed that the city's rate of increasing cases over the past week is now approximately the same as it was in March and April, and she said she expects it to keep growing in the near future to 600 and possibly beyond.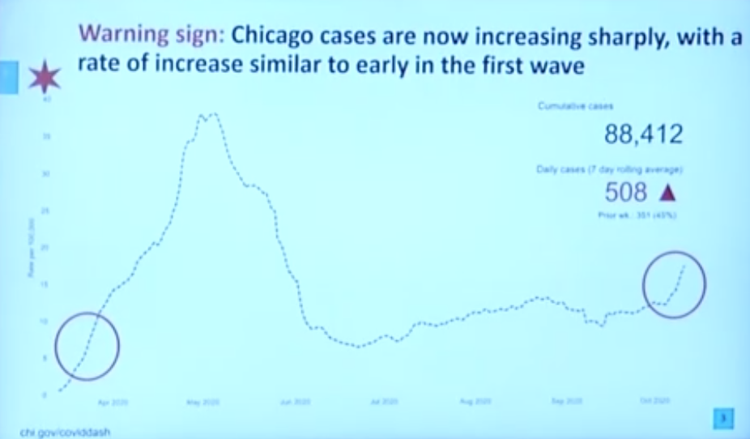 The hospitalization increase is not "major," she said, but those figures take time to manifest. And if trends do not change, Arwady expects them to go up as well.
Testing continues to increase in Chicago, but the number of cases needed to identify a case of COVID-19 is decreasing. Chicago's test positivity rate is now 5.4%, evaporating improvements made over the summer.
"We are seeing increases in every part of the city, and in no part of the city am I satisfied with what the percent-positivity is," Arwady said. "It is not good, it is not in control, and we cannot rest comfortably in that number."
In Zip Code 60653, which covers North Kenwood and Bronzeville east of State Street and south of 35th Street, there were 24 confirmed coronavirus cases from Oct. 3-10 out of 281 people tested, an 8.5% positivity, up from 13 positive cases and 283 tests the week before (4.6%).
In Zip Code 60615, which covers southern Kenwood, northern Hyde Park and northern Washington Park, there were 34 confirmed COVID-19 cases out of 529 people tested from Oct. 3-10, a 6.4% positivity rate, up from 8 positives and 0.9% positivity the previous week.
Over Oct. 3-10 in Zip Code 60637, which covers southern Hyde Park, southern Washington Park and Woodlawn, there were 33 confirmed cases out of 546 people tested, a 6% positivity rate, up from 29 cases out of 1,237 people tested (2.3%) the week before.
Since March 1, 2,488 people in the three ZIP codes are known by the city to have been infected by the coronavirus, and 86 have died.
Arwady said that two-thirds of Chicagoans diagnosed with COVID-19 tell public health officials that they know the person who likely infected them. She said it is possible to be infected on the street, in a crowd or riding public transit, but she said those places are "not what we see driving infection."
"In fact, where we see the spread of COVID is where we let down our guard, where we literally let down our mask, because we feel comfortable with those we love, but the virus is just looking for opportunities to spread," she said. Three-quarters of the close encounters in which the coronavirus spread among Chicagoans took place at home, she said.
Therefore, Arwady pleaded with Chicagoans to not invite anyone over to their houses or apartments: "This is not the time for non-essential gatherings, period." Have people over for home health care, childcare or education, but only have them come inside if they are wearing masks, and keep them at a distance. If guests are not essential, do not invite them over.
In a gathering of 10 people, there's a 14% chance a person in that group has COVID-19. That means one out of every seven gatherings of 10 has the coronavirus present. This likelihood of someone having COVID-19 increases as gathering sizes grow: there is a 50% chance that someone in a gathering of 50 people has COVID-19.
And wear masks, Arwady said, observing emerging data that they may offer the wearer some protection as well as protection for others in case the person wearing one is infected with the coronavirus. The city is asking residents to wear masks or face coverings anytime they are in a public space or when they are unable to maintain six feet of social distancing.
The city's website for free COVID-19 testing is chicagocovidtesting.com. Testing is also available at Howard Brown, 1525 E. 55th St., Friend Health, 800 E. 55th St., and the University of Chicago Medical Center, with appointment scheduling at 773-702-2800 or www.uchicagomedicine.org/covid-testing. 
"Anyone can call — our patient or not — and request an appointment," said spokeswoman Ashley Heher. "We typically test people with symptoms (even the most minor) or those who have had potential exposures. Some places have pretty restrictive testing criteria, but ours is relatively liberal to make sure testing is available in the community."
On Monday afternoon in Harold Washington Park, a retired Hyde Park resident who asked for anonymity acknowledged that he was struggling with depression seven months into the pandemic and had made an appointment with a psychiatrist for treatment.
"I hope that the cases will be going down soon," he said. "I hope that they have a vaccine by the end of the year. That would be a lot of help, obviously, and I hope that this awareness is making people get their flu shots."
As for keeping himself safe, he said he will stop going out as much, but he conceded that he hardly goes out at all. "It is driving me crazy," he said. "I was bought out of my job about 10 years ago, and for the last five years, I was working as a tour guide and a historical researcher."
But most of the institutions where he worked are closed. "I'm bored out of my mind," he said. "I also hang around at music clubs, and I don't do that much anymore. I've let myself go, I haven't been exercising. My legs and my feet are killing me beyond belief. If this lasts much longer, I just don't know what I'm going to do."
Another neighborhood resident who asked for anonymity said she trusted Lightfoot's judgment about putting on more restrictions.
"Hopefully she doesn't have to," she said. "I don't want that, but I'm one of those who wears a mask, wears my gloves. I only come out when I absolutely need to. I'm praying that we do not have to go backwards. If people would just do what they're supposed to: just put the mask on, wash your hands and stop so much gathering. Don't have the big crowds."
"I'm not lonely. I'm not scared. I'm not any of that. I'm prayerful," she continued. "I haven't had anything. I do know people who have had it, and are doing better, doing good now, but I don't know many people who have had it, because everybody I talk to wears a mask. We're doing what we're supposed to be doing."
She said she can keep living this way, although she misses having company and giving hugs. "If we want to keep having people around, we need to do this now, because then people aren't going to be around," she said. "When we can hug again, that person you want to hug is not going to be here, because they caught the virus and died. I believe it's going to end at some point. When? Who knows."
Therapist Chanel Hampton, who practices on the South Side, encouraged people to maintain routines, even when, because of the pandemic, people have to create their own. Walks outside are good, though she encourages mask-wearing and hand-sanitizing while doing so. She encouraged people to look online for support, with support groups meeting online to process grief and anxiety from unemployment, isolation or fear of the disease. And she recommended people enjoy television shows or music that makes them happy.
"A lot of people are feeling that because of the second wave and the flu season coming on," she said. "If someone is in a mental health crisis, there is a line that they can just text, 741-741. You can text, and a live person will respond with different resources that are in Hyde Park or whatever area you are in around the country."
And therapy is good to help develop coping skills, she said: "All of us are experiencing some types of change in our lives, and it's great to just have that individual person to help you process things for yourself."