In-school learning has continued successfully at Akiba-Schechter Jewish Day School through this academic year with no outbreak of COVID-19, a testament to commitment and communication between administration, teachers and families, as well as strict safeguards in the building itself.
Director of Teaching and Learning Alicia Chipman, who also teaches 7th and 8th grades, noted that Akiba-Schechter is a small school to begin with: roughly 160 students are enrolled, and the biggest classrooms only have 13 students.
"We are able to monitor and communicate with families at a level that is just not possible at a larger school," she said.
Carla Goldberg, Director of Early Childhood and Admissions, agreed, noting the "social covenant" that the school families entered together. Akiba-Schechter families are asked to follow city guidelines, complete a daily health screener for all members of the household and to be in communication with the school. If anyone in the household has any symptoms, the student does not come to school.
"A kid going back to preschool with a runny nose in normal times would likely come to school still," said Chipman. A preschooler with a stuffed nose now won't be in school."
Akiba-Schechter has had no cases of transmission within the school itself — a testament, Goldberg and Chipman said, to stringent health guidelines developed under the guidance of two physicians, Dana Schinasi and Elisheva Shanes, whose children go to the school. 
Though some parents and two people who work at the school have contracted the coronavirus, the school has not had to shut down since returning to in-school instruction.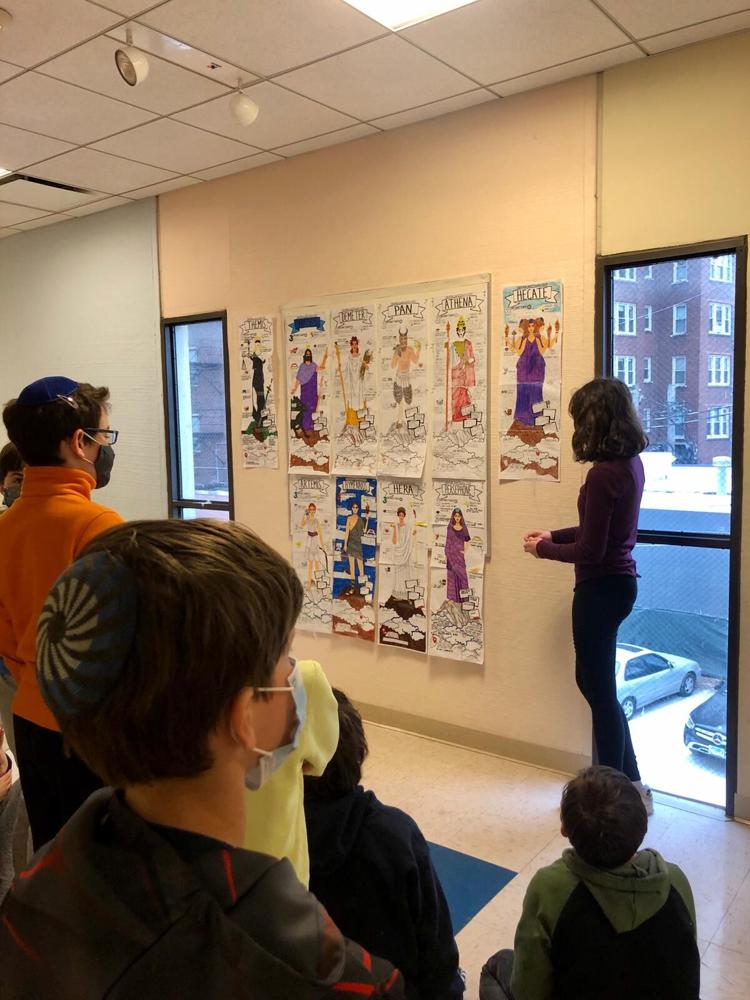 Students go to school five days a week, and the school is running in-school classes from preschool through 8th grade.
Goldberg said Akiba-Schechter was clear with parents of young children that the school was not going to ask them not to play together while they were at school: "That's why we send them to school, for the social interactions."
No one besides students and staff is allowed into the building. Students wash their hands immediately upon entering. Everyone wears a mask all day — even 2-year-olds, after a learning curve — except when eating lunch. Classes have been set up to maximize space. Everyone has their own materials, but Goldberg noted that the children are playing together.
Students stay together as a cohort throughout the day; in middle school grades, students stay in the same room, and teachers, for general and Judaic studies, come to them.
Well into the fall, students ate lunch outside and are still eating snacks outside, but amid winter, they have returned to the cafeteria, where they eat 8 feet apart and separated by plexiglass barriers. 
Akiba-Schechter is not doing any surveillance testing, but there are air purifiers in all classrooms and hand sanitizing stations every few feet. Ventilation filters systems have been upgraded and are changed on a monthly basis, and the school's windows and doors open, allowing for cross ventilation.
Goldberg said the cumulative quality of safely operating a school amid a pandemic is exhausting every day, but she also stressed how rewarding it is.
"My staff has said that they're so grateful to be doing this work, that it's really meaningful to be having these connections with these students and to know that you are able to be there for them in a very real way and to be creating this environment for them that, besides the mask and some logistical things, feels like school," Goldberg said. "Children are incredibly joyful to be at school and to be together. I see children walk in every day, and they are so happy that they get to go to school with their friends."
Chipman agreed, noting the context in which the teachers are doing work for the school: "You have all these individual people who are dealing with this in various ways. You have children who are worried, who are scared, who are hearing things they don't understand — and that can come out in a lot of different ways in a classroom. 
"The teachers are the ones who are really kind of holding these children in their hands every day, and they have their own anxieties and worries. And they hold those children, and come in and care for these children in front of them. And our teachers are doing that just beautifully, so that our children do feel safe, loved, cared for and in many ways carefree when they are in the building, because they can just be kids and learners."