Professionally, Jim Vondracek raises money for nonprofits. Personally, he is a devout Lutheran who loves literature and art and convivial gatherings, and is never happier than when a chef's hat is perched on his head.  
When the pandemic arrived, he felt the loss of social contact keenly. His church — Augustana Lutheran at 55th Street and Woodlawn Avenue — had always been abuzz with the activities of parishioners and the community groups they host. He missed people, and missed sharing music, literature and Scripture with them. He missed serving up delicious things he'd concocted in his kitchen, including, but not limited to, craft-brewed beer, ale and stout. 
Meanwhile, his wife — Nancy Goede, who is Augustana's pastor — was trying to solve the same problem for the whole parish. Streaming recorded worship services and holding meetings on Zoom just wasn't enough.  
And so emerged "Prose, Music and Beer": a series of virtual cultural events with a special, in-person touch. If you chose, Jim would offer you two samples from his personal craft brewery to sip during the virtual program — and perhaps discuss with others during the chat period. No charge for these libations: Pick them up, or he would deliver them to your door.  
December's program featured a short story read aloud, classical music, cream ale, and Chocolate Foreign Export Stout. "I'm enhancing the chocolate component," Jim explained to guests, "by making an infusion or tincture of vodka and cacao nibs, to be added when the batch is kegged and carbonated."
The music component was also brewed in the neighborhood: Bruce Tammen, founder and director of the Chicago Chorale, is himself an Augustana parishioner. Tammen shared the Chorale's freshly-made Zoom recordings of Christmas pieces. The short story was read by its author, Carolyn Rahaman, another parishioner who has already shared some 50 of her stories on her "Twenty Percent True Podcast." 
Vondracek invited not only the parish, but also the many people he'd met through more than 20 years of home-brewing…and, really, anyone else who wanted to come. (By his estimate, up to a third of the audience came from outside the church.) 
A longtime Hyde Parker, Vondracek had just moved to Oak Lawn when he took up the hobby. The members of his first home-brewers' club were all just like him: "middle-aged, suburban or rural white guys with facial hair." But in 2015, after he and Nancy took up more compact quarters in Pilsen, it was time to find a new kitchen and a new crowd. He wound up with CHAOS, a unique group of hobbyists who run their own communal brewhouse near Hubbard Street and Western Avenue.  
The new crowd is urban, hip, racially diverse, and comprises mostly people in their 20s and 30s. "At CHAOS, I am Grandpa Jim," he laughed.   
"A lot of them are like me: They like to work with their hands. Cooks, carpenters, bread-bakers…. Engineers love it: They can tinker with equipment endlessly." Those schooled in biochemistry can exercise their scientific skills, while the bread-bakers leverage their intimate understanding of yeast.  
"Prose, Music & Beer" culminated on April 9 with "The Beams Are Creaking," a full-length play commemorating the World War II martyrdom of theologian Dietrich Bonhoeffer, a leader of the German Resistance. Produced and directed by Goede, it featured a cast of nine parishioners — both practiced and novice actors — who dove into their often-doleful parts with courage and commitment. (The author of this article was conscripted at the last minute as the narrator.)
The performance was scheduled to coincide with the anniversary of Bonhoeffer's execution for conspiring to assassinate Hitler. The play ends with the Gestapo's ominous knock on the prison-cell door. 
Fortunately, Bonhoeffer was reputed to enjoy a bit of clowning, and playwright Douglas Anderson peppered the script with humor. Also fortunately, there was lager and stout.  
"What are these notes I'm tasting?" asked one woman as she sipped her sample of "Dietrich's Dortmunder" during a Zoom intermission. Vondracek explained that the lager's "bready" flavor came from the particular malt that went into the brew. The evening's featured stout, an Irish export style dubbed "History Repeats," owed its coffee-like color and flavor to the lengthy roasting of its malt.  
Discussion after the play was energetic, with people supplying historical details often gleaned from family photos and correspondence. Particularly haunting for some was the enthusiasm with which an American news correspondent described Hitler's rise to power: "The glorious profusion of Nazi emblems! Spring has come early this year, swastikas have bloomed!"
With the weather warming up, "Prose, Music & Beer" will give way to in-person events in the open air. But Vondracek will doubtless find ways to enhance those outdoor gatherings with his custom-crafted brews. He did so before the pandemic: When the Chicago Chorale held its last in-person fundraiser, he was on the scene as the batch of beer he donated was divided up and raffled off. 
It was an English-style pale ale with honey added. "That beer ended up winning a gold medal at the Iowa Brewer's Union Open home-brewing competition."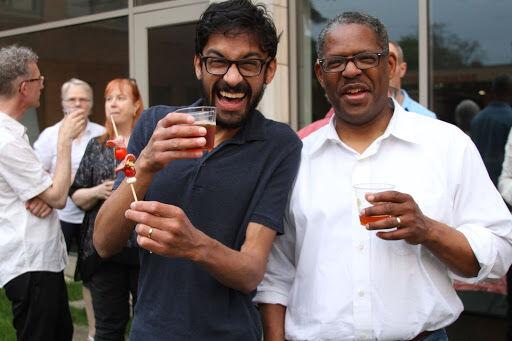 When, in 2017, the Hyde Park Jazz Festival asked Augustana to host some of their performances, Vondracek concocted a special batch to serve at a post-show reception. That time, more than 500 attendees had a chance at free craft beer.  
But perhaps the luckiest beneficiaries of his largesse are Kirsten Mallik and her husband; having won an auction at the Chorale's recent virtual fund-raiser, the couple will join Vondracek at the brewhouse and become "brewers for a day," creating a batch designed to their taste. 
Since they both love craft beers, they plan to get a babysitter and make a date out of it. A month or two later, when they receive two cases of finished product, there may be occasion for another date.