"This is the swan song, we're done," said South Side Pie Challenge co-founder and organizing force Julie Vassilatos as she cleaned up after the 10th iteration of the event Saturday afternoon.
The day had been quite a success, with the line for pie-slice tickets extending out of Nichols Park to the sidewalk along the west side of Kenwood Ave., and south on the sidewalk almost all the way to 55th Street. 
So successful, in fact, that after all the home-made pie slices had been sold, volunteers had to run out and purchase pies to satisfy the appetites of those still in line. 
"Well this is the first time we've met in a couple of years and I think people really really, really wanted to come out and get some pie," said Vassilatos. 
One of the purposes of the Pie Challenge is to support the Hyde Park-Kenwood Hunger Programs. This year the challenge met its fundraising goal of $5,000 for the programs.
The Pie Challenge held its first event in 2012. In 2020 it held two virtual events — the "Virtual Pie Challenge" in the spring and "Pie It Forward" in the fall.
Organizing this year's event was even more of a challenge than in the past, with the continuation of the COVID-19 pandemic and the move of Pie Challenge co-founder Kate Agarwal and her family to California ("They were a force of nature," said Vassilatos). 
"Getting the city park permit, and renting tents and, you know, getting the word out. Everything is challenging post-COVID, and we're not even post-COVID," said Vassilatos. 
"I called this the 'South Side Supply Chain Challenge' because many of the things we normally would have here we don't have, because they're still in the mail," continued Vassilatos.
"Like our ribbons, our beautiful ribbons that are handmade in Canada that I love, love, love and everybody loves them. They (the contestants) have to wait till November, to get their ribbons."
This year, 49 pies were entered in the Challenge's four pie categories — Cream, Nut, Fruit and Sweet Potato and Pumpkin.  The average number of entries in pre-Covid Challenges was about 60, said Vassilatos.
As in past years, restaurant and pastry professionals judged the entries.Each entry got a report card with a numbered score, the total of sub-scores in four categories — appearance, crust, filling, and overall taste.
The winners of this year's Pie Challenge are:
Cream Pies
   1st, "Mom's 80th B-day," baked by Jill White
   2nd, "Dianthus," baked by Ruth Andrews
   3rd, "Guinness Chocolate Cream Pie 20," baked by Yael Hoffman
Fruit Pies
   1st, "Cherry Crumble," baked by Amanda Houser
   2nd, "Criss Cross Mince," baked by Susan Carton
   3rd, "Harvest Apple," baked by Brooke Lyon
Nut Pies
   1st, "Post-it Note Pecan Pie," baked by Laura Pape
   2nd, "Nutty Times!," baked by Julie Vassilatos
   3rd, "More Brandy!," baked by Katie Maher-Lapinski
Sweet Potato & Pumpkin Pies
   1st, "Pumpkin with Caramel Sauce," baked by Carol Ahrenholz
   2nd, "My Friend Mr. Bunbury," baked by Katie Gruber
   3rd, "Orange Pumpkin with A Little Chocolate," baked by Joan Law
The overall Grand Prize winner is Amanda Houser with "Cherry Crumble."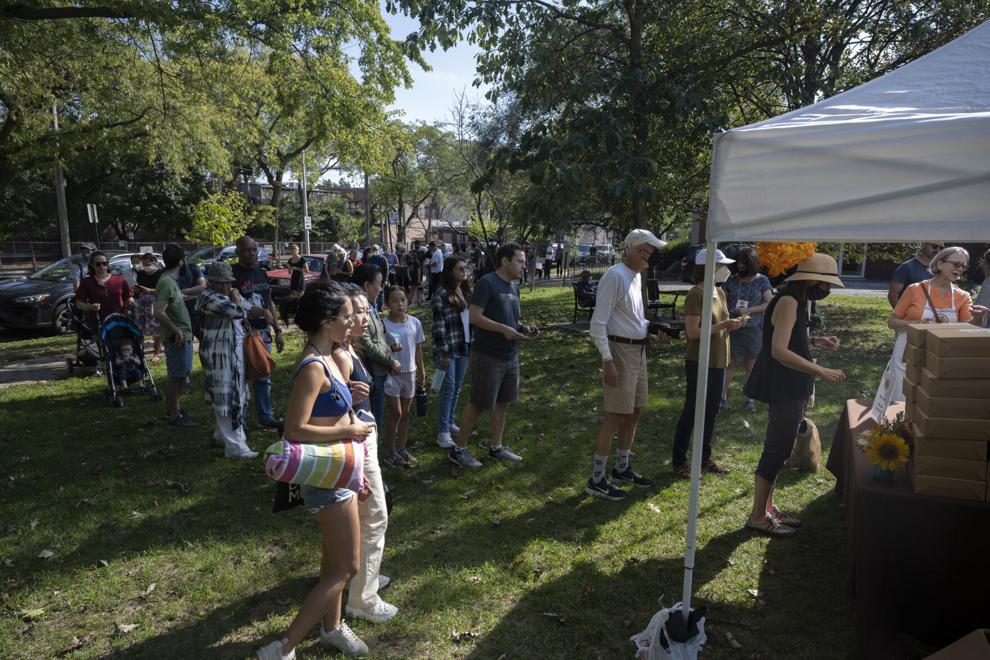 As she reflected on the past 10 years of organizing the Pie Challenge, Vassilatos said, "Getting to know the judges, all of whom were pastry professionals and restaurant professionals from the city and especially the South Side," was one of the high points.
"I loved gathering them once a year to listen to their shop talk and make connections and network and listen to them evaluate the pies. I mean, very serious judging happens here. And that's always been a real pleasure to watch."
"I also have loved seeing the way the community just comes out and makes this event happen," continued Vassilatos.
"Like, we got these wonderful guys from Chicago Men's A Cappella (now the UChicago Glee Club). They just emailed me and said, 'We've sung, every single time. Can we sing this time?'"
"And they just came, banging down my door. So it was great."
Looking to the future, Vassilatos said that if someone wants to continue the tradition "I will show them the ropes, and I will be elated to do so. And, yeah, then the tradition will carry on. Just not with me."
"I am going to have a normal life," added Vassilatos, "I may, like, make a pie and eat it."