A previous version of this article misinterpreted the 30% figure in a University of Chicago report. As of April 13, 30% of residents at Symphony South Shore either have or are persons under investigation of having the coronavirus; 30% were not reported as having been infected. The Herald regrets the error.
According to figures in a University of Chicago Department of Medicine report, the coronavirus has struck hard at the Symphony South Shore nursing home, 2425 E. 71st St., with 30% of the building's population infected or being investigated for infection.
As of April 13, there were 44 COVID-19-positive patients and persons under investigation in the facility. Nineteen patients with the coronavirus had been hospitalized, and one had died.
Symphony South Shore is a member of the Symphony Care Network, which has locations across Chicagoland. There were nine confirmed COVID-19 cases at the South Shore nursing home on April 7, when 5 were hospitalized, and 32 confirmed positives as of April 10, when 10-12 were hospitalized.
The Symphony Care Network did not return repeated requests for comment or more information. The news comes after reports that 22 residents and a staff member at Symphony of Joliet have died from the coronavirus.
University physicians work with the clinical team at Symphony South Shore. Reached for comment, spokeswoman Lorna Wong wrote, "At the request of Symphony's clinical leadership, our infection control team has stepped in this week to assist by helping them test patients for COVID-19 and providing guidance on cohorting of patients, infection control and other best practices."
On April 20, the Symphony Care Network announced the appointment of Alexander Stemer, an infectious disease expert who did internal medicine residency and geriatrics fellowship training at Mount Sinai Hospital in New York, and Stacie Levine, chief of the UCMC geriatrics and palliative section, to lead a system-wide task force of medical directors and experts charged with counteracting the coronavirus' spread.
The U. of C. report also referenced coronavirus infections at Montgomery Place, 5550 S. Shore Drive. On Thursday, CEO and Executive Director Deborah Hart said that six residents have tested positive: one patient in assisted living, another in independent living and the others in the nursing home. They are currently in the facility's new COVID-19 isolation unit.
"It is skilled nursing care, and they have dedicated staff who only work with them and nobody else," Hart said.
Montgomery Place has employed safeguards to block the spread of coronavirus at the facility — common areas are closed, visitors are screened for symptoms before entering the facility, housekeeping regimens now include antiviral sanitation, residents are constantly checked for symptoms, staff have enough personal protective equipment — and Hart said administrators, who have moved into the facility, are "constantly" looking for more way to enhance precautions.
All other residents in skilled care have been tested and found to be negative, and Montgomery Place is working to test every staff member. Hart said the facility is fully staffed and is hiring more workers.
"Anybody can be a carrier. This is a pandemic of a virus that can be present for days before symptoms ever show up. This is no fault of any provider in this country. No nursing home wanted it; no nursing home has been doing nothing. We are all doing the most that we possibly can," Hart said. "This particular virus loves to be in environments where there are lots of people in close proximity. That's what a nursing home is, because we have to have staff take care of individuals who can no longer take care of themselves."
The Illinois Department of Public Health is not releasing a list of state facilities with COVID-19 cases, but NBC 5 reported on April 15 that 305 long-term care facilities have reported coronavirus cases and 296 Illinois residents living in nursing homes have died.
According to the South Side Weekly's tracker of COVID-19 deaths by Chicago community areas, five Kenwood residents have died from COVID-19 as of April 17; Hyde Park is one of ten community areas with no reported deaths.
As of April 19, there have been two deaths each in Woodlawn, three in Washington Park and Washington Park and 28 in South Shore, the highest gross and per capita total out of the 77 community areas. 
As of April 15, there were 121 patients hospitalized with COVID-19 at the U. of C. Medical Center, down from 127 on April 13. There were 13 patients on ventilators on April 13, down from 22 on April 10. From April 6-14, 11 patients died from COVID-19 at the hospital.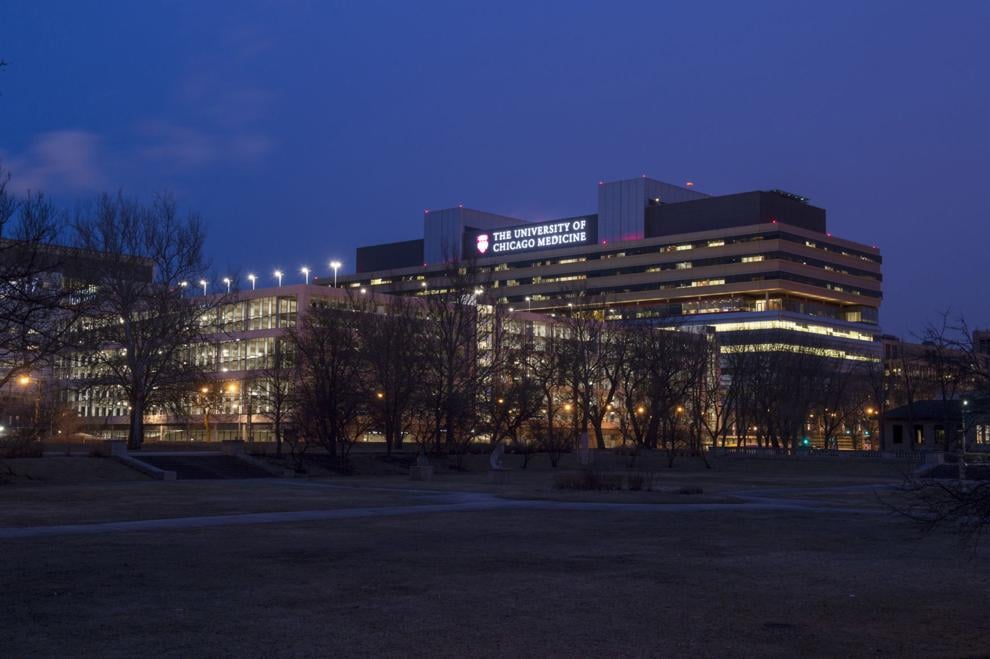 In an April 16 email, Dean and Vice President for Medical Affairs Kenneth S. Polonsky and UCMC President Sharon O'Keefe wrote, "While we continue to see a slow but steady rise in COVID-19 patients, the use of ventilators among this patient population has not seen a similar trend. The relatively low number of COVID-19 patients on ventilators the past few weeks speaks to the thoughtful and innovative strategies deployed by our teams in the intensive care, cohort and (emergency department) units.
"Meanwhile, we continue to be able to meet patient demand by opening up units and managing our staffing situation, which includes cross-training our experienced nursing workforce. The opening of the McCormick Place Alternate Care Facility for low-acuity patients will further help to manage capacity should there be a surge of cases," they continued
Polonsky and O'Keefe also said the hospital's supply of personal protective equipment is "much more readily available" now, with donations of gloves, masks and other equipment going to community partners and the police.