Across Hyde Park and surrounding neighborhoods, residents celebrated Juneteenth, commemorating the freeing of slaves in the United States with protest marches, gatherings, a food giveaway and a Black-owned business crawl along 53rd Street. 
Juneteenth has been celebrated annually since 1865, when the last enslaved Black people in Texas were freed after the conclusion of the Civil War.
In Hyde Park, a group of around 150 University of Chicago Medical Center (UCMC) staff and students gathered at noon in an open space just south of the Cummings Life Science Center, 920 E. 58th St. The group began with a moment of silence for victims of police brutality. 
Dr. Abdullah Pratt, an emergency room physician with UCMC and an assistant professor at the Pritzker School of Medicine, served as emcee, introducing each new speaker, highlighting the need to work against systemic disparities in healthcare access, and sharing his own experiences with policing and violence. 
"The worst days of all are the days when you're preparing for a shift in the ER, and you get a call from a friend saying that your closest childhood friend's been shot, only to then walk into your workplace and wait in that same waiting room you dread giving bad news to patients, and being told by a colleague in tears that he didn't make it," Pratt said. "And that was just this week. Understandably, I'm before you all with an extremely heavy heart."
Pratt emphasized that fixing disparities in treatment at UCMC — where, he noted, 90% of patients are Black — requires large-scale solutions: better access to care, more insurance coverage, and more resources dedicated to alleviating inequalities. (Later that same afternoon, UCMC joined 35 other organizations in pledging to "overcome health disparities in minority communities.") 
"Just as in our clinical practices, targeted therapy is preferred," he said. "As you all know here before us, healing is not always pretty. Healing comes with painful ups and downs, various emotions — this is what we should all expect." 
Victoria Okuneye, a medical student at Pritzker, criticized the medical center and school for failing to build better relationships with Black communities on the South Side. 
"It's hollow rhetoric we often see at the University of Chicago, where the values of the amazing people who are here today don't live up to the lived realities of the poor, overwhelmingly Black communities we serve," she said. "Unsurprisingly, many Black people in our community don't trust us. They don't believe the University of Chicago when we say we are here, able and willing to help. 
"It is with this knowledge I am reminded that it doesn't matter who we think we are, it doesn't matter what we think our values stand for, if the marginalized members within our institutions and the Black community that we claim to serve doesn't believe it too."  
Okuneye also said the university should do a better job of recruiting and supporting Black students and incorporating more community-oriented material into its medical curriculum. 
"We're not at the forefront if our pre-clinical and clinical education upholds harmful and antiquated systems of racialized medicine. We're not at the forefront if cultural competency is seen as an afterthought to clinical care instead of a prerequisite," she said. "We're not at the forefront if the pipeline programs we work for are underfunded, under-resourced, and virtually unstaffed except by a little bit of volunteer labor and cobbled-together resources."
There was also time to celebrate the long and accomplished career of Dr. Doriane Miller, an associate professor of medicine and the director of the Center for Community Health and Vitality. Miller, who graduated from Pritzker in 1983, grew up in Woodlawn, at 62nd Street and Ingleside Ave. 
"I don't think that many people realize that the distance from there to here is not one of blocks but of years," Miller said, recalling the "small dinners" she and other Black medical students would have to support one another. "We did not have the critical mass of not just African Americans, but of the wonderful allies that I see standing with us here in this audience." 
"I represent the past — not quite the historical past, because i'm not going anywhere anytime soon," Miller joked. "But I'm here to let you know that for those of us who have been here for a while that we are here, we are the wind beneath your wings — we support you." 
Elsewhere in the neighborhood
At the DuSable Museum, 740 E. 56th Place, volunteers from four organizations, former U.S. Sen. Carol Moseley Braun among them, distributed boxes of food and milk to a line of cars.
A crowd gathered at 1368 E. 53rd St., outside of Can't Believe It's Not Meat and the Soul Shack, which offered specials alongside 70 other Black-owned restaurants in the city. Among the customers was Nicole McGee, who wanted to support businesses affected by the pandemic and the social unrest.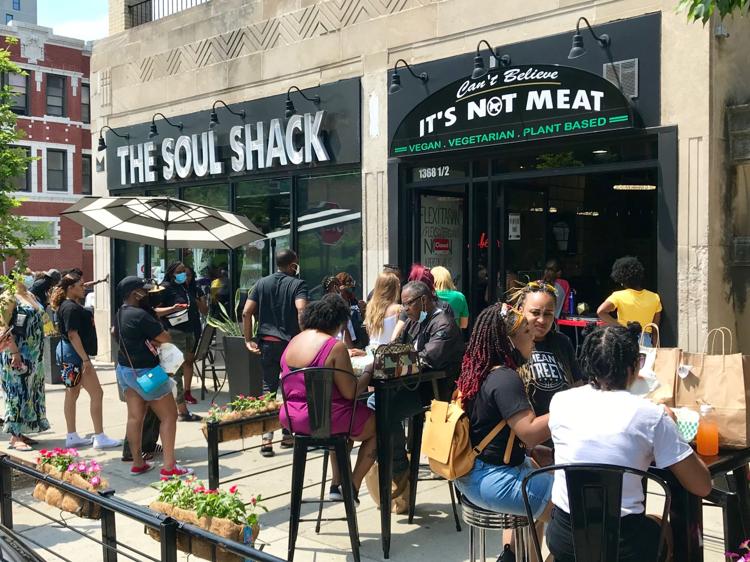 "Some of the restaurants I've never even tried before," she said. "I want to support African American businesses in order for them to survive. They need individuals to come out and support them. And for other businesses to thrive, we all need to stick together, work and help one another out as a community."
Hyde Parker Nicole Sain said Black business was an important part of giving back to the community, especially on Juneteenth. "I want to be a part of this experience, and the only thing I regret is not bringing more of my family to participate with this as well, but we'll be coming back later," she said.
Though she knew about it before 2020, this year marks the first time Sain and her employer, Cisco Meraki, have observed the holiday.
"To have my company to be able to embrace us, to be able to be surrounded by other intellectual people in IT, and for us to be able to come together more to hear the stories that other individuals have experienced and to be able to resonate with myself, that has made me want to communicate with my own family, with my own children and have them more about our own history," she said. "I absolutely want to give tribute to my heritage and have the positivity around the celebration of this. I had to partake."
"2020 has been a year of many surprises," she continued. "Although we had experiences that may have brought sadness and grief, I do feel like 2020 is an impactful year beyond any of the years we've ever experienced. Especially to have the acknowledgement now is, I think, just going to bring everyone together more as a people nationally."