A protest that began peacefully in Bronzeville evolved into chaos along 53rd Street on Sunday, as police pepper sprayed and arrested multiple people after clashes that spanned several blocks of east Hyde Park.
There was widespread protesting, rioting, theft and property damage across Chicago and the rest of the country this weekend, as people reacted to a Minneapolis police officer killing George Floyd, an unarmed Black man. That included Hyde Park, where some businesses, mostly along 53rd Street, were broken into and had their windows smashed on Sunday night and during the following day. 
A group of organizers that included Sydney Jackson, a third-year student at the University of Chicago, organized a peaceful march for Sunday afternoon. Jackson said the goal of the action was to pressure the city into creating a Civilian Police Accountability Council (CPAC), or an elected police oversight board. 
"It's something that's actually on the table. While we are ultimately committed to the goal of prison and police abolition, this is our immediate demand that we want," Jackson said ahead of the protest, which began at Chicago Police Department headquarters, 3510 S. Michigan Ave.
"We come in peace today," she continued. "Honestly, we're just trying to heal — that's what all these reactions are. They take different forms, but everyone just wants to heal." 
The original goal of the protest was to walk from Bronzeville to the lakefront and occupy one of the beaches still shut down to the public by Mayor Lori Lightfoot. Followed by a CPD squad car, protesters took a meandering route east and south: along 35th Street, down King Drive, east on Pershing Avenue and south on Cottage Grove Avenue until they reached 51st. Approximately every quarter-hour, demonstrators would gather in the middle of an intersection to chant slogans and make speeches in front of a large banner reading "Chicago Demands Police Accountability." 
At the corner of 47th Street, protesters came across a group of people breaking into the Walmart on the southwest corner. "We're not here to stop any motherf---ing looting, we're not here to do any looting. We're here to bring a social change," yelled one organizer. "Black lives matter more than material things." 
The demonstration entered Hyde Park along 51st Street — the Herald estimates that there were around 300 to 400 people participating at this point. The marchers turned south on Woodlawn, and then east on 53rd Street. It was here that they first encountered a significant number of CPD officers, standing in small groups along the street's damaged retail corridor. 
Protesters gathered in the middle of the intersection at 53rd and Lake Park Avenue. (A few climbed up on the Metra embankment.) There, fists in the air, they repeated an old chant attributed to Assata Shakur: "It is our duty to fight for our freedom. It is our duty to win. We must love and support each other. We have nothing to lose but our chains." 
After moving east a couple of blocks to Hyde Park Boulevard, organizers ended the protest. "I lost my voice. This is crazy," said Jackson. "This is the official end of our march. Our march is ending peacefully." Attendees began to disperse from the intersection — some of the organizers behind the march left. The protest seemed as if it might end without any incident. 
A few minutes later, however, the police officer in the squad car that had been following the protest called in an emergency code over the radio, saying that some of the remaining protesters had surrounded the vehicle and she felt unsafe. (Protesters later insisted that the action was peaceful.)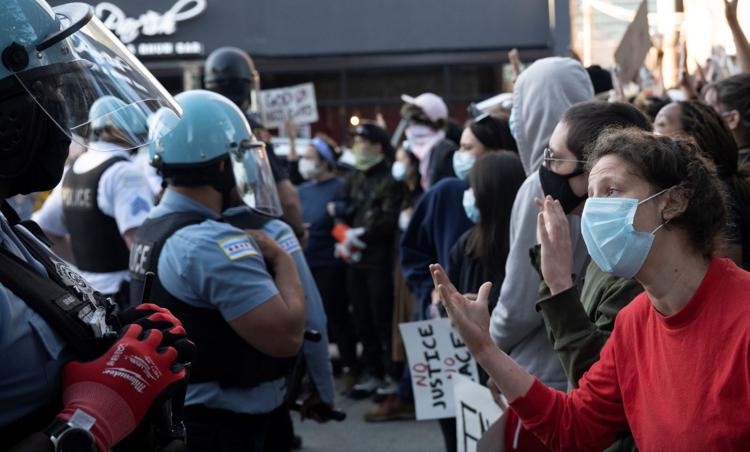 In response to the call, a phalanx of about a dozen CPD and University of Chicago Police Department (UCPD) officers coming from the west side of 53rd Street began pushing protesters forcefully into the intersection, causing some to stumble backwards and clearing a path for the squad car to leave. Some officers jabbed at protesters with their batons. Another half-dozen officers rushed into the intersection from the south, creating a chaotic mix of protesters and police. 
"This is a peaceful protest," some people shouted. Others held their hands up and chanted, "Don't shoot," a slogan that first emerged in the aftermath of the 2014 Ferguson, Missouri, protests. 
Police moved back to the alleyway between Hyde Park Boulevard and Cornell Avenue, where a line of UCPD and CPD officers stood toe-to-toe with the remaining protesters, who numbered between 100 and 200 people. 
A period of inactivity followed, during which police and protesters engaged in shouting matches and conversation. People in the crowd pointed out that some officers weren't wearing masks or coverings over their faces. A woman and a police officer argued over whether police were trained to deal with people experiencing trauma or mental health crises. In response to an officer's statement that the initial emergency call had come from another officer who felt threatened after being surrounded by protesters, one man said, "How do you think I feel when you all surround me?" 
After about 45 minutes, police retreated, allowing protesters to walk west along 53rd Street. The largest group walked in a big circle — north on Kenwood Avenue, east on Hyde Park Boulevard, and south on Lake Park Avenue back to the intersection at 53rd Street. Then they walked onto Lake Shore Drive using the off-ramp, blocking off traffic in both directions. After stopping briefly for a remembrance of George Floyd, the group continued north for several hundred feet before turning around. 
At the same time as protesters marched onto the expressway, there were reports on the police scanner of a break-in at L.A. Fitness, 5224 S. Lake Park Ave. (Some protesters had broken apart from the largest group, but it is unclear whether any of them broke into any businesses.) A pair of videos show a group of police officers pushing people south on Lake Park, back into the intersection, causing several people to fall onto the ground, where some are again pushed down by police officers. At least one officer attempts to hit a protester with a baton. 
Activist Amika Tendaji said in a video on social media that police gave one person a concussion, and that she was hit with a baton. "They're beating my friends for absolutely nothing. They're beating my friends for protecting my friends," said Tendaji. "They certainly don't protect none of us."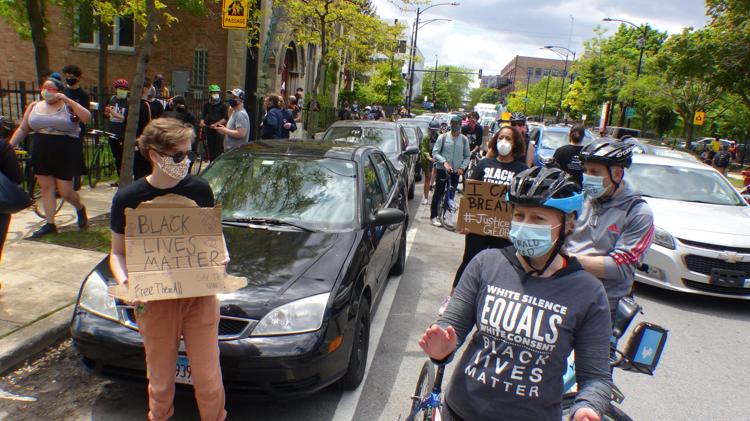 CPD arrested a couple of well-known Black activists from Chicago, Malcolm London and Damon Williams, as well as another woman connected with them, Jennifer Pagán. 
After a stand-off in the middle of the intersection, CPD officers formed a line in front of Akira, 1539 E. 53rd St., which had been broken into earlier in the day. A few bottles were thrown at the police, as well as a projectile that ricocheted off the store window. 
Shortly after 8 p.m., a march formed that moved back onto Lake Shore Drive, again stopping traffic. Marchers then returned to the intersection at 53rd and Lake Park, where they said they would stay until the three activists had been released from jail. Later that evening, they marched out of Hyde Park. 
Many of the protesters reconvened outside the 2nd District police station early Monday morning, standing in 51st Street as a number of officers in riot gear stood watch near the entrance, demanding the arrested protesters' release.
Max Thomas, 26 from Chatham, said he was there to support Damon Williams, Jennifer Pagán and Malcolm London, whom he met through his organizing. Out of the unrest, he said he wanted to see Mayor Lori Lightfoot and Superintendent David Brown engage activists in their own communities, as Mayor Harold Washington would do.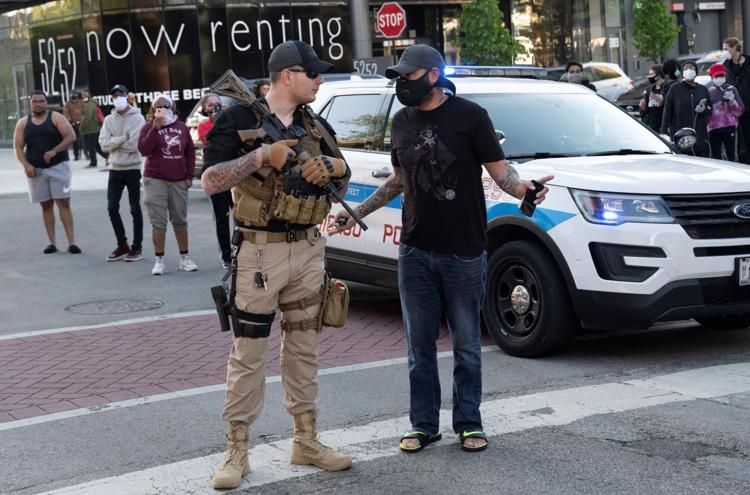 "He used to come to the projects, he used to come to your neighborhood. He'd say, 'You want Harold? Here I am,'" Thomas said. "I believe that (Lightfoot and Brown) care more about buildings, more about businesses, more about big businesses like Target than they do our human lives.
Bronzeville resident Allena Bradley, said she had never seen arrests as bloody as the ones she saw earlier that day in Hyde Park, during which she got pepper sprayed. She complained about CPD's large budget while the city has closed public schools and mental health facilities in the recent path.
"Then we're wondering where crime and inequity comes from," she said. "The TIF funds have been for sale to the highest bidders, which is trash, because Harold Washington created TIFs for social services, and it's going towards corporations."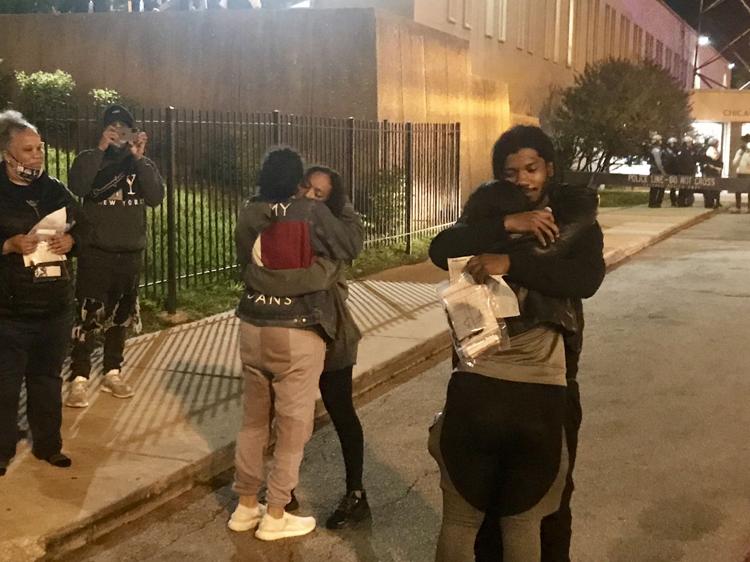 Police released Williams and Pagán around 1:30 a.m. to the crowd's jubilation, after which an exhausted Williams thanked them for turning out and promised further remarks to come. He did so Monday afternoon, speaking to scores of protesters who met again outside the 2nd District station, where London was still being held.
Alds. Jeanette Taylor (20th), Byron Sigcho-Lopez (25th) and Rossana Rodriguez Sanchez (33rd) appeared with Williams, Pagán and other protesters Monday afternoon to demand London's release.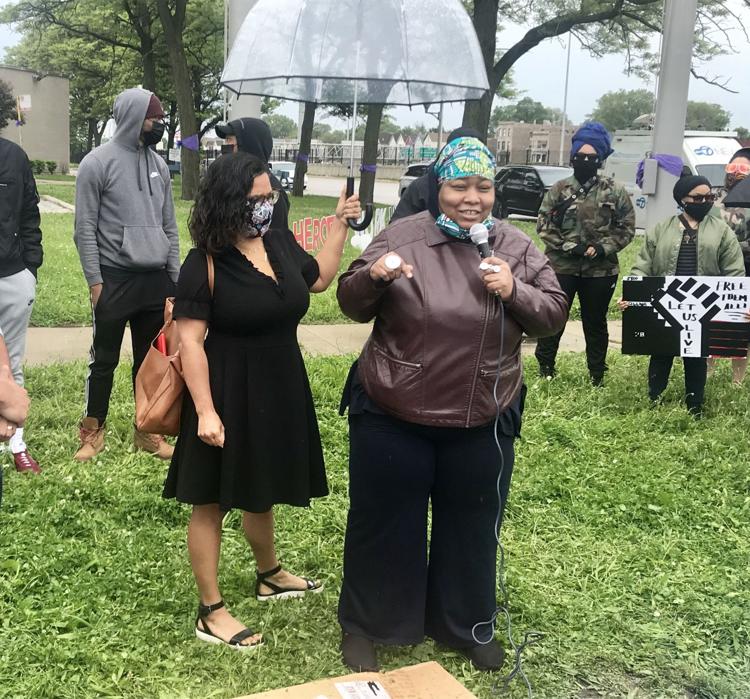 "I'm just really grateful for this outpouring of the community, this outpouring of love during this time, and I just want to point to the fact that Malcolm should not be in here!" Pagán said. "This has all been targeted, war-based actions and tactics."
Taylor said she spent Sunday working to get protesters out of jail, alleging a disproportionate targeting of protesters versus looters. "This is not on you all. This is on people we elect in office who don't do their damned jobs," she said. 
"I don't give a damn about their merchandise. We cannot bring back George Floyd" Taylor said. "These folks are insured. They've already been bailed out by the federal government; now the city is going to bail these very people out, and we can't bring our people back. I don't care what color you are. I don't care what denomination you are. I don't care what your sexual orientation is. COVID in this moment has taught us that we've got to work together, put our petty differences to the side and come up with policy.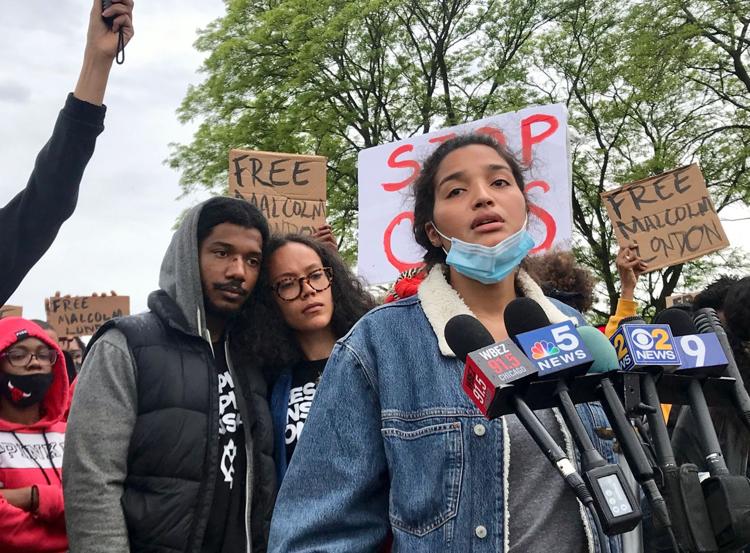 "But it ain't just policy," she continued. "You've got to protest, because if we wouldn't have protested, then we'd have a couple more George Floyds. We would have a couple more Rekiah Boyds. … In this space, in this moment, we ain't got time to worry about what somebody's not doing. What will you do?"
London was released later Monday evening
Spencer Bibbs contributed reporting.