In late April, the Herald reported that landlords in Hyde Park had been filing evictions against tenants during the COVID-19 pandemic. One of those landlords, TLC Management Company, filed eight eviction lawsuits against Hyde Park residents for not paying rent that month, even as the closure of courts meant those evictions would not be heard or carried out. 
At the time, CEO Stuart Handler told Block Club Chicago, in a statement he later passed along to the Herald, that TLC was only filing evictions against those tenants who were not cooperating with the company. 
"In nearly 100 instances we have extended grace periods, agreed on amortized repayment plans, and waived late fees for April's rent," Handler wrote. "For those now facing eviction hearings after the courts re-open, these pledged special arrangements require that the resident clearly communicates their financial need with their property manager, and this foundational component has not always occurred."
But according to tenants Hilary Leithauser and Takintayo Akinbiyi, as well as email correspondence provided to the Herald, Handler's statement is disingenuous. The emails suggest that Leithauser and Akinbiyi, who live together at The Flamingo Apartments, 5500 S. Shore Drive, were in frequent communication with the company about their financial situation, beginning in mid-March. 
That's when Leithauser was placed on indefinite leave from her job at childcare provider Bright Horizons. Over the following few weeks, Leithauser updated the property manager on her search for rental assistance, and the two briefly discussed entering into a payment plan with the company, though Leithauser says the manager never sent her the relevant documents. 
Leithauser, who is in continuing long-term treatment for breast cancer, eventually received help from a combination of charities, including the Salvation Army and The Samfund, which provides assistance to cancer survivors. 
She said the process of finding help was time-consuming. "Some charities have a really in-depth application. Others, you just have to make a bunch of phone calls, but there's no formal application and you have to stay on the ball of calling and following up," she said. "It's obviously great that those resources are there, but that felt like a full-time job for me while I was on my furlough. I was still working. I was just working to get assistance."
TLC received the payments for rent in mid-May. By then, however, the eviction process had already begun. The couple were named as defendants in an eviction lawsuit filed on April 22, according to court records. The suit alleges that the two owe TLC $1,430.45 for failing to pay April's base rent, utilities, pet fee, and late fees. (According to the Cook County Sheriff's website, the eviction notice itself has not yet been served because of the pandemic.)
The experience of the couple over the past few months is a case study in the precarious economic situation millions of people around the country face, and the willingness of some landlords to continue pressuring tenants with legal action during a pandemic-induced recession. It may also provide some indication of the eviction landscape to come, when state prohibitions on filings end.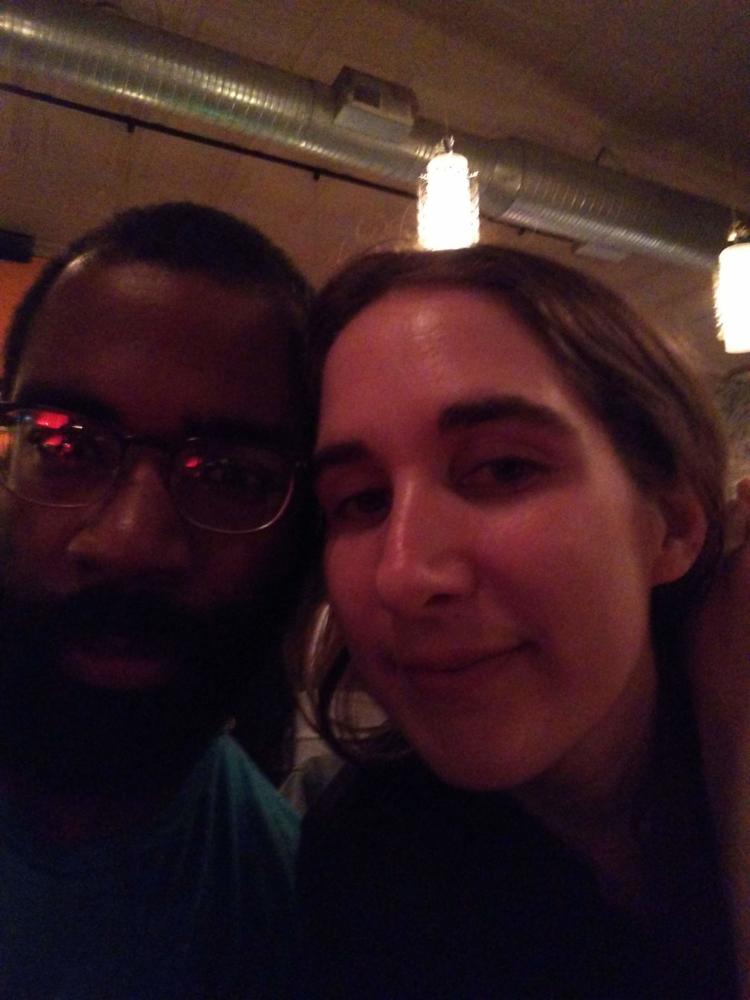 Leithauser and Akinbiyi, a doctoral student at the University of Chicago, first contacted TLC about their financial situation on March 21. In an email to the then-property manager, she explained that she had been furloughed from her job, and asked the company to extend the deadline for the coming month's rent, which would normally be due April 5.
After Leithauser followed up a week later, the company's director of training and management responded and said that the Flamingo had hired a new property manager. "The short answer to your question is yes, we have some options for you in regards to your April rent" she added. "I believe that we can work out a solution." 
Over the following fortnight, Leithauser and the new property manager frequently corresponded about potential avenues for rental assistance that the couple were pursuing, as well as the possibility that TLC would put them on a payment plan. On March 31, Leithauser sent over documentation showing that she had been placed on indefinite mandatory leave, as well as a paystub proving she worked at Bright Horizons. A few days later, she wrote that she was applying for the city's Housing Assistance Grant, awarded to 2,000 city residents. (According to Block Club Chicago, 83,000 people sent in applications for the grant.)  
On April 1, the Flamingo property manager suggested sending the couple a payment plan. A few days later, Leithauser accepted, but she says that the manager never got back to her with the documents. 
In a separate email a week later, Leithauser told the manager that she was still waiting to hear back from the city, and also had reached out to a charity for help. 
On April 13, Leithauser says, she and Akinbiyi were given a 5-day notice. As the Herald reported at the time, tenants in another TLC building, Madison Park, also were given notices in early April for failing to pay their rent, even in instances where they had communicated with the on-site property manager or leasing agent. 
"Pretty early in April, (the leasing agent) came by and gave us a five-day notice, and so I was really confused. I said, 'You know, I've already been emailing you and I thought it was okay, that you guys are waiting for me to hear back from these charities,' " Leithauser recalled. "And she said, 'Oh yeah, this is just a formality. We know you're working with us, we trust that you're gonna pay the rent, don't worry about it.' " 
A day after that, on April 14, Leithauser asked the property manager for a tax form so that she could apply for assistance from Phalanx Family Services, a West Pullman–based social service agency. The manager sent it over. 
On April 22, according to Cook County court records, the company filed an eviction lawsuit against the couple for not paying rent in April. The following day, Gov. J.B. Pritzker extended and expanded his eviction moratorium, preventing landlords from filing evictions against tenants for non-payment of rent. (Previously, eviction suits could be filed, but would not be heard — the North Side activist group Autonomous Tenants Union has kept a running list of corporate landlords filing evictions.) 
Since the sheriff didn't serve the couple with the lawsuit, Leithauser says she only found out about it after a conversation with a representative from TLC Tenants United, a newly formed tenant union for those living in TLC buildings.
"I spoke to them on the phone near the end of April and they were like, 'I'm just warning, you, I found out that they filed an eviction against you,' " she said. 
That means TLC initiated the lawsuit against Leithauser and Akinbiyi at the tail end of when it was legal. (A spokesperson for Pritzker did not respond to a question about whether landlords could have had prior access to a draft of the April 23 executive order.) 
Stuart Handler told the Herald that, in Leithauser's case, she had failed to provide "proper documentation" that she had lost her job. "For nearly four months we requested verification that she lost her job and she did not provide it to us," he wrote. "As we have with all of our residents who have been affected by Covid-19 we will work with them in crafting a payment plan as long as they communicate with us with proper documentation of their situation in a timely manner."
In the March 31 email to the property manager, however, Leithauser wrote that she was attaching a document showing she had been furloughed. "I'm attaching this document below about the Bridge program (the mandatory leave for teachers). I'm also attaching my most recent pay stub, just so that you have verification that I work at Bright Horizons," she wrote. "Please let me know if you need any other information." 
According to the email chain, the property manager wrote back with documents to help the couple find rental assistance, and did not ask for further documentation. (Handler did not respond to a follow-up question by press time.) 
Leithauser said she found Handler's response disingenuous, given that she had sent the company documentation in late March. She compared her correspondence with TLC to attempts to ask for more financial aid from a university. 
"They like to hide behind that phrase, 'demonstrated need.' It implies that the burden of proof is on the family, that if they're getting an amount of financial aid that's inadequate it's because they didn't do a good job of demonstrating it. This is kind of the same thing, like they're saying, 'You just have to have better communication,'" she said. "And, you know, we've been communicating. They're the ones who haven't been communicating." 
Finding a place that could assist the couple also proved more difficult than expected, after failing to receive a grant from the city and never hearing back from Phalanx. 
Eventually, in mid-April, Leithauser was approved for assistance from the Salvation Army and two organizations that work with cancer survivors. But the checks that the organizations wrote out were sent to the wrong address — TLC's corporate offices instead of The Flamingo itself. (In an email to the property manager, the Salvation Army caseworker wrote, "I ask that your company not hold this against Ms. Leithauser. This mix up was our mistake.") 
As a result, Leithauser and Akinbiyi still hadn't formally paid April rent by the time they received another set of five-day notices on May 7. In an email to the property manager, they wrote that they would contact the organizations to see where the checks were, and added a request for leniency. 
"Given that we have made tremendous efforts to ensure that our rent will be paid in full, and given that it would be illegal for TLC to evict us right now, we must request that we receive no further threats about our lease at this time," they wrote. 
"No one is evicting you," the property manager responded, two weeks after the eviction lawsuit against the couple had already been filed. "However, we have yet to receive the payments for the agencies that are helping you with your rent. We have to serve everyone who hasn't paid their rent." 
By late May, TLC found and cashed the checks, and the couple had officially paid their rent for both months. Leithauser says they're not sure what will happen with the eviction, but they plan to look for a new apartment when their lease is up in September.
That may be difficult with an eviction case, however. Even cases that have been settled can still show up on a credit report, which means that future landlords can see them. Because consumer reporting agencies often keep their own record of eviction filings, even a court file that a judge orders to be sealed can potentially show up on a future background check.  
Eviction courts in Illinois are still closed — Pritzker ordered on May 29 that filings can't begin until June 27, and has indicated he will possibly extend the order until July. Yesterday, City Council passed a new eviction protection ordinance that creates a "cooling-off" period before landlords can file suits against tenants who have been financially affected by the pandemic. 
"We know that there's an incredible need, and we don't entirely know what that will translate to when the eviction moratorium is lifted," Marisa Novara, commissioner of Chicago's Department of Housing, told WBEZ. "What our hope is that this measure provides an added incentive to landlords to work out a proactive plan for the tenant to stay in their units."
Nationally, too, states are preparing for a wave of evictions — in Michigan, for example, the Supreme Court estimates that there is a 75,000 case backlog. Many of those cases could involve, as with Leithauser and Akinbiyi, tenants who have found themselves experiencing a new degree of financial uncertainty because of the pandemic and accompanying recession. 
Meanwhile, Leithauser went back to work after her six-week furlough ended, at a Bright Horizons location downtown caring for children of first responders. Since then, she's moved to a center serving children of healthcare workers at the University of Chicago Medical Center. 
Leithauser says she continues to be frustrated by TLC's response. "If he's implying that we're not communicating, then that's absolutely not true, because we've been doing nothing but communicating, keeping them updated on when we're getting charitable assistance or various checks," she said. "They're the ones who have been saying one thing and then doing another. It's really making everyone nervous, because they're not making their actions clear.