Chicago will enter Phase 4 of its pandemic response plan on Friday, and Mayor Lori Lightfoot is allowing restaurant dining rooms to open for the first time since March, albeit with 25% capacity, a maximum of 50 people per room. Tables must be six feet apart with parties of 10 or fewer people.
The move comes after restaurants and bars were allowed to open for outdoor dining earlier this month, but after Ngozi Ezike, who heads the Illinois Department of Public Health, told the Sun-Times that she would wait at least three months before she would feel safe to dine indoors.
In an interview, Emily Landon, the lead epidemiologist at the University of Chicago Medical Center, said indoor dining right now is a matter of being cognizant about personal risk-taking, furthermore praising the government's safety guidelines for restaurants and bars and encouraging businesses and customers to uphold them.
Landon herself will avoid indoor dining, because she takes drugs for her rheumatoid arthritis that compromise her immune system. But she said that if appropriate precautions, particularly for staff, are taken, then the decision "is probably OK during a time when we have really low rates of positivity."
"When you ask public health officials and people like me, we're always going to be on the side of being really, really judicious and careful, and I think there are other people who are going to be on the side of doing whatever they want, whenever they want," she said. "I think there are two sides to that. The real answer is probably somewhere in the middle."
As of press time, the city's seven-day rolling average of new cases has been below 200 every day since June 11, down from nearly 800 on May 21.
Restaurants need to provide workers with space to adequately social distance during breaks, and they need to enforce mask-wearing rules and hand hygiene, Landon said, all of which are included in the city's guidelines.
Those guidelines are meant to deal with a disease 102 years since the last pandemic of this scale occurred. This makes public health experts, driven by experience and good evidence, uncomfortable. But while Landon could not say if the limited indoor dining policy was safe, she hesitated to call it jumping the gun, either.
"Everything that one takes on right now and every recommendation that we make from a public health standpoint is really an experiment," she said. "We don't have enough experience with other places opening for us to draw on for us to be able to understand whether or not it's safe. And so when you take on doing these things, you really are taking on a certain amount of risk."
"It makes sense for me to be extra cautious," she continued, "and it makes sense for some people to be extra cautious."
Contagion in the case of COVID-19 depends on how contagious a person is, distancing and mask-wearing; the outcome ranges from super-spreading events to utterly arrested spread. Certain protections are necessary, Landon said, because more sick people means more people will get sick — and because asymptomatic carriers can spread the coronavirus.
"I think that everybody who takes precautions is adding to the community good," she said. "If you love going out to eat and this has been brutal for you, and that's where you want to spend your risk — everybody has a certain amount of risk-tolerance, and you want to spend it at a restaurant — then do it.
"But wear your mask before you start eating," she continued. "Go to a place where they're going to wash their hands and where they're supporting the staff in a way that decreases the risk that the staff is sick, because that also decreases your risk of getting sick. But it also is good to spend money on places that are taking care of their staff.'"
Alcohol and food sales at bars and restaurants must end by 11 p.m., with carryout or delivered alcohol sales ending at 9 p.m. Customers at bars that do not sell food can stay for only two hours.
"We still have a lot of COVID-19 cases here in Chicago; we're just now moving from a high-risk to a medium-high-risk city for COVID-19 spread, based on our numbers, and we need to move ahead cautiously," said Chicago Department of Public Health Commissioner Allison Arwady in a Monday statement. "I can't emphasize enough the need for people and businesses to continue to abide by the public health guidance so we can avoid the spike in cases we're seeing in other cities and states that re-opened before us."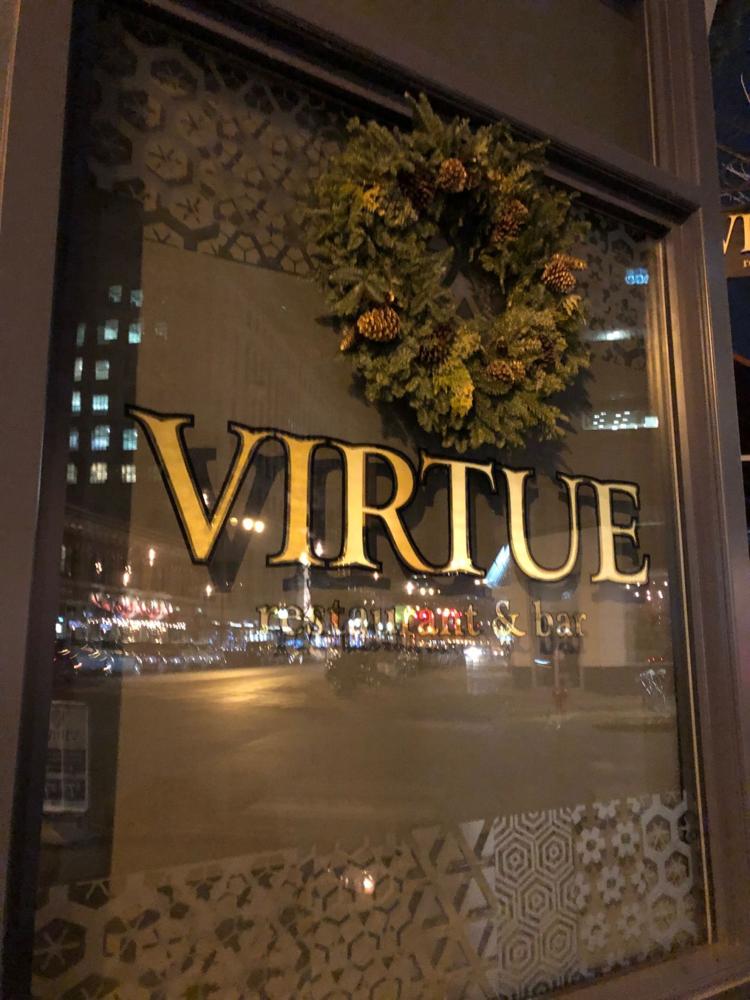 Lightfoot announced the indoor dining policy on June 19, with a statement that included a quote from Chef Erick Williams, who owns Virtue, 1462 E. 53rd St.
"Restaurants and their teams are suffering greatly as a result of COVID-19, and while we are eager to fully reopen our dining room, we respect that the City of Chicago is receiving the best information available pertaining to public health," he said. "The safety of our team and guests has and will continue to be our first priority."
While people should maximize enjoyment out of the risk that they exercise, Landon warned that people should still try to mitigate risk as much as they can: "You can't really eat out every single day, every single meal, all the time. That's where you're going to start to see the risks add up."