Retail establishments in Hyde Park are experiencing serious issues as a result of the global supply chain disruption, even as the public health crisis improves. Proprietors are uncertain whether they will be able to get certain wares they need in stock from their suppliers, and increasing wholesale prices mean higher prices for their customers.
Business owners say supplies that were once available within days are now taking weeks and months to arrive, if they come at all. At Toys et Cetera, 1502 E. 55th St., Nancy Stanek is still waiting on orders from January. When she recently called the supplier about it, they told her that every time she called, it just slowed them down more.
"I spend every day checking in on the orders that haven't come in and why they aren't here," she said.
Her holiday catalog just went out, and she worries that she won't have the store inventory for the customers to whom she is advertising.
"We're in a position where we're reasonably full of things, but there are still some shelves that are empty," she said. "Usually at this time of the year, I'm looking for space to put things that are coming in. It's improving, but it's only because I had these orders in so long ago."
At Hyde Park Florist, 1748 E. 55th St., "Supplies are limited, and they're coming in very slow," said Donnalear Robinson. Flowers are part of the problem, but bread-and-butter utility vases and wicker baskets, popular during the fall, are harder to stock. A month before Thanksgiving, she can't even find a horn of plenty: "Of course the customer doesn't understand and doesn't want to hear it, but it is what it is."
Supply shortages are also impacting Tiffany Joi, whose Hemp Heals Body Shoprecently opened at the L1 Retail Store on the University of Chicago's Arts Block, 319 E. Garfield Blvd. — not the beauty products, which she makes from mostly domestic ingredients, but packaging, which she mostly imports.
"I'm trying to revamp most of my packaging," she said. "I really didn't think it would hit me. You heard about the shortages overseas, and you really didn't think it would affect a Hemp Heals Body Shop business, but it really is, and it's unfortunate."
Her problems started at the end of last month, when she began buying packaging for her holiday season wares. She tried to wait it out, but anticipated supplies never materialized.
"I will be OK. As my mom always used to say, there's more than one way to skin a cat. I have to tap into alternatives in my creative arsenal for alternative branding for this alternative branding," Joi said.
She typically uses a lot of metallic gold on her products, but with those out of stock, she is going to use clear containers and brand the tops — still premium-quality, she said, and she figures she will notice and care about the change more than her customers will. "Of course the packaging and the branding does not have any significant impact on the product itself."
Her new neighbor at L1, Peter Gaona, has run his Reformed School brand of "wearable art" since 2013. He hand-makes bow ties and works on vintage and limited-run apparel; enamel pins, embroidery patches and silkscreened goods are often limited-run outside orders.
It has been difficult for him to get T-shirts and sweatshirts from the manufacturer he had been using. He tries to support domestic and eco-friendly suppliers, but complete-size runs have been sold out. "They'll have a few in certain sizes, but when you're sending items to be screen-printed, you want them all to be done at once, so they're using the same colors, they're all being done at the same time," he said.
Starting this summer, he has had to hold off on certain designs because of a lack of inventory.
"Just talking to my screen-printer, they're like, 'Oh, do you want to switch? We can look around for other manufacturers,'" he said. "But it's kind of like, as a brand, we can't really go to the screen printer and really see in person right now, touch and feel the quality and say, 'OK, this is at the same quality that my customer is used to.' You're just saying it's a T-shirt kind of comparable to what you've been getting, but sometimes it's not really the same, and you really don't want to sacrifice the quality."
Consistency matters, both to customers and with Gaona's suppliers.
"Having worked with certain brands, you have a rapport and a relationship with them," he said. "You also know how things wear over time, that this shirt is not going to pill, and these sweatshirts are not going to pill as quickly as other brands or fade. You kind of know those things by using the same brands and manufacturing companies over time. By switching, you run the risk of not knowing."
Bruce Wesley of Wesley's Shoes, 1506 E. 55th St., said he orders his inventory many, many months in advance from his suppliers — the shoe business operates on a dependable, year-round schedule. This is the vast majority of his business, and he is thus avoiding any serious supply issues. 
"We constantly are refilling our core products, bringing in merchandise," Wesley said. "When you do it like that, we get the pre-season discounts, and we make it easier for the manufacturer to predict what their supply is going to be. So they reward us by giving us discounts, and we're guaranteed to get the product in. And it's a happy relationship."
But spot orders have noticeably slowed down, both domestically and from overseas. Wesley stocks Hush Puppies and Merrell from Wolverine World Wide, a manufacturer based in Grand Rapids, Michigan. He used to be able to place an order on Mondays and have it delivered by Friday; he now receives the shoes six months later, which is a problem when a customer wants a specific pair of shoes as quickly as possible. Even when manufacturers do have the pair in stock, shipping is delayed.
"Everything is just slow, slow," Wesley said.
Jeff Deutsch, director of the Seminary Co-op Bookstores, said new releases and good-selling titles are coming in slow there, too, forcing a change in ordering strategy.
"In normal times, we order months in advance, an initial stock for the front table, the sections, and we tend to order what we think will sell within the first few days, knowing that we can restock fairly quickly, and then we are restocking on a daily basis what we will need for the next few days," he said. "Since this became more and more of an issue, we are buying for a week or two weeks, and even occasionally for the season."
The bookstores' fall catalogue has 400 titles in it, and the stores — the Co-op, 5751 S. Woodlawn Ave., and 57th Street Books, 1301 E. 57th St. — ordered all the books for the next three months in order to be able to have the advertised books in supply.
"An expensive proposition," Deutsch noted, because the bookstores are taking the risk that those books will remain unsold, "but we thought it was better to bring in a higher quantity and make sure we had stock than risk running out."
That's 14 weeks' worth of books instead of one week's worth. If all the books sold, there would be no problem, but there are also labor and shipping costs added in. "That's the risk," Deutsch said. "It could turn our holiday season into a completely unprofitable season if we gambled on the wrong books."
At The Silver Room, 1506 E. 53rd St., Eric Williams said book distributors are encouraging early orders, saying there will be a paper shortage. A number of his suppliers are telling him to put in his entire orders for the holiday season now to have it in stock for next month.
"This is my 24th Christmas-holiday season, and a lot of times, as a small retailer, you order at the last minute, because things start to get busy the closer you get to Christmas," he said. "October's a little slower, then the end of November starts to ramp up, and then December is really busy. Many times I've ordered mid-December next-day air, trying to get stuff in, and people have already had stuff, but it's already apparent that there's not going to be a lot of last-minute orders."
Williams said a number of his customers, too, come for last-minute gifts. This is not a year to do that, he said. If a customer sees a necklace in the store today and wants it, Williams may not be able to restock it before Dec. 25 if someone else gets it first.
Prices are rising, too
The federal Department of Labor has announced inflation is up 5.4% from the year before, the highest rise in 13 years. This is a far cry from the percent-a-month inflation seen in 1980, but inflation in 2017 was less than 2% for the whole year.
"I can tell you one thing: across the board, everything has gone up tremendously, because of the shipping," Robinson, at Hyde Park Florist, said. "Flowers, supplies, everything."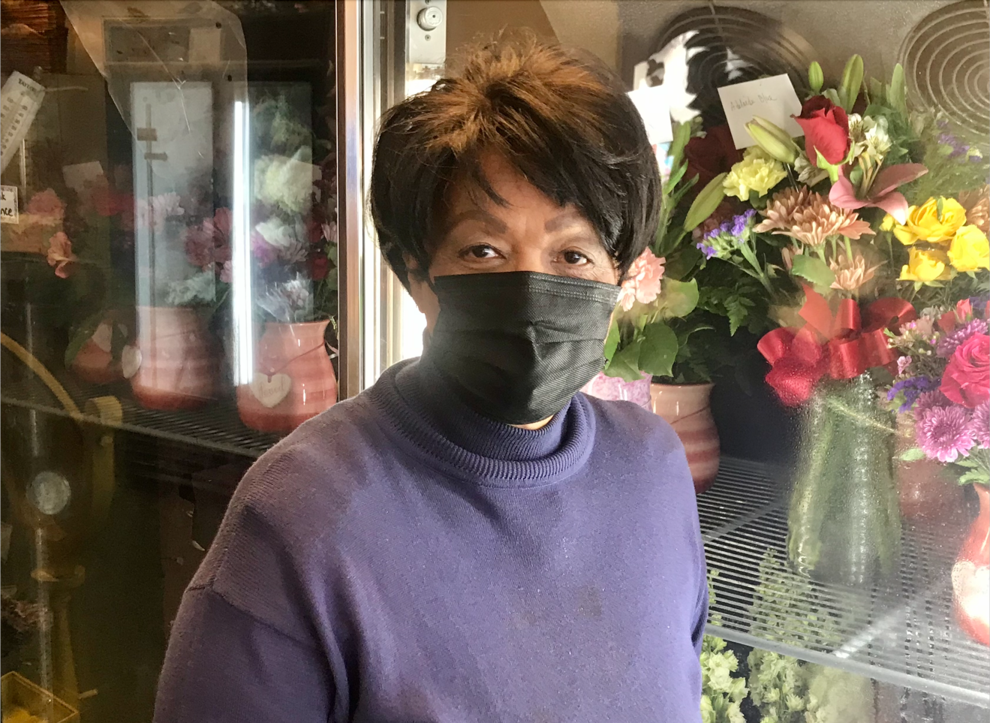 Some customers aren't happy — one walked out the other day — but Robinson has to do what she has to do: "If the prices go up, then I have to increase my prices."
Stanek, at Toys et Cetera, said some suppliers are letting her know when prices are going to change, but others aren't. One game that had been $40 recently came in at $50. "I thought, 'That's a 25% increase, that's not a little increase!'" she said.
Manufacturers are mainly chalking those costs up to freight issues, not material increases. And those prices have to go somewhere, Stanek said, "otherwise I don't stay in business."
Stanek has been through this before, having opened Toys et Cetera in 1976, deep in the stagflation era, when she paid mortgage rates higher than 12.75%.
Oil and electronic prices may fluctuate, but she said toy prices never drop once they rise. "A day doesn't go by when I don't get a notice that says that effective immediately or at the end of the month, we'll have another price increase," she said.
In 1979, Fisher-Price Little People sets, which she no longer carries, were selling for $15.95 and $24.95 a year later. Eight-dollar diecast cars suddenly doubled in price, and people stopped buying them.
"They used to be bought really regularly, and then they stopped buying that middle-sized, elaborate cars with the doors and trunks that would open and close, and basically that larger diecast business was lost, too," she said. "Those cars were 6 to 8 inches long, but the market on them just disappeared. It was beyond what people thought was reasonable."
She said customers today are panicking because they cannot get certain goods and are trying to buy before the Christmas holiday, but eventually she supposes consumers will decide what price hikes they are willing to absorb and which they won't.
"Right now, they're just saying 'give it to me.' There seems to be no price resistance right now. I think eventually we'll start to see it, and it's usually in lower-price things, the under-$10 things now that have bumped themselves up to more than $20. If you were talking to the Apple store, they'd be talking about 10-times that amount of money. But ours went from a pick-up item to something that goes, 'Woah, I don't know. This seems too expensive.'
"It will affect the sales on certain goods of things that people buy, but because of the situation now with all the supply chain problems, we're not seeing what it's affecting."