It has been a long time coming, but Ingrid Cheatham has reopened her spa, Posh Lash and Laser, in Hyde Park, eight months after having to leave her previous storefront in the South Loop.
The spa, 1652 E. 53rd St., offers laser hair removal from $10 a session up to $120 for full-body work, lash-extensions and corrective skincare specializing in acne. Hydrofacials ($175) treat aging and hyperpigmentation. Nail services will begin on July 7.
While laser treatment is available at many salons and spas, Cheatham touted Posh Lash and Laser for being the only place in Hyde Park offering laser hair removal for all skin types.
"For a long time, women of color were not able to get laser hair removal because it would burn our skin," she said. "We had our own laser built, called the Posh Lace Pro, and it's a diode laser that's built specifically for women of color."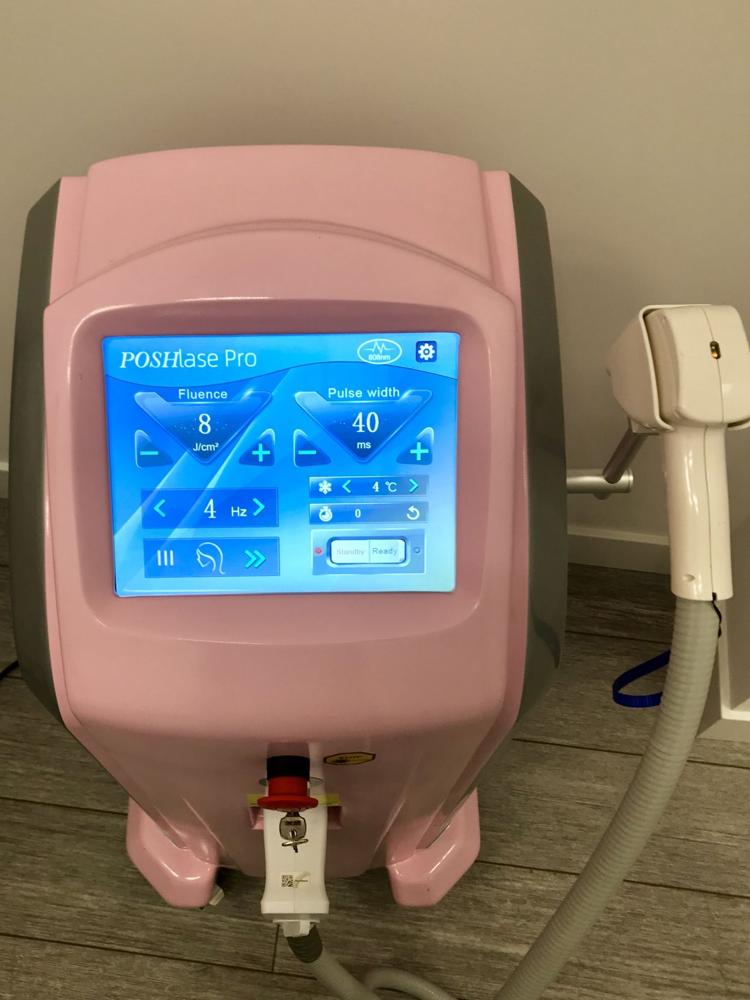 Laser hair removal has been around for decades, but it was originally designed for fair skin. As it was designed to take out darker-pigmented hair, it would typically also burn African Americans' skin. But Posh's specially built, $15,000 laser uses longer wavelengths that go past the melanin in Black women's skin, reaching only the pigment in hair follicles.
The treatment also benefits Black people's coarser hair, allowing customers to avoid the problem of ingrown hair that often befalls shaving or waxing.
While Posh is bedecked in pink and metallic surfaces, Cheatham made clear that her services were available for men seeking to avoid ingrown hair in their beards or the backs of their necks.
"We can live a hair-free life!" she joked. "Women walking by are cheering me on, so happy I'm here — women and men!"
Cheatham, a cosmetologist by training, started her first business in 2013 in Englewood.
"It was a major, major struggle, and I was investing in my business to grow," she said. The money she made consistently went back into the business, leaving little for her home.
"Eventually with my faith and strong belief system, I just knew my business would grow," she said. "I had some hard times that made me second-guess that, but one thing led to another, and I was able to grow into a new location."
Later in 2013, Cheatham moved to a location on Erie Street downtown, where the response was overwhelming, allowing another move into the South Loop. It was her dream location, but the landlord decided to sell, forcing her to temporarily close last year.
Nevertheless, she is very happy to be back further on the South Side.
"Hyde Park has always been the area. It's the Mecca for Black women and Black businesses, and it's so diverse, and that's what I wanted for my business," she said. "I thought we could bring a lot to the area, because we offer services that are not typically offered by Black women or Black businesses."
Posh was supposed to open in January, but it experienced construction delays. Then the pandemic hit in March, further delaying opening, though Cheatham was happy to not have to lay anybody off.
"But it was tough," she said, observing that the rent was still due for storefront. "I had to make the decision on what to do and get really creative."
Even without the aid she expected to get from the government, Cheatham was to staying in business, Posh started offering virtual consultations ($50, still available) for skincare and shipping products out to customers.
At last, Posh set an opening date on June 6, but the civil unrest further delayed it to June 15. But since then, Cheatham said business has been good. Masks are required upon entry, staff take temperatures, and customers are directed to wash their hands. But this doesn't affect the experience.
"I just had to really make sure that I was still able to provide really good service in a really good location on a minimal budget," Cheatham said. "I feel like once numbers continue to come down, once people decide to come back out, it'll be OK."