Hyde Park Merchandise, 1443 E. 53rd St., stocks luggage, a niche item in a university neighborhood with a fairly transient population.
Two years ago, a pallet of luggage with 20 sets, shipped from New York, cost $220. Now it's $440. A local seller used to sell for $90, but now it's $160.
"It's a burden on us," said second-generation owner Ahmad Qurt, "so I'm not having any new luggage in my store, and nobody else in Hyde Park has luggage like me."
The suitcases in the window display are still there, but the store's top shelf used to be lined with sets, and all but a few have sold.
There is also the supply issue. On the day of the interview, Qurt called three suppliers, but two out of three had no luggage to sell him. The one who did has so little that he is only open two days a week instead of the usual six.
The United States is experiencing the highest inflation in a generation, 7% last month from a year earlier, the highest rate since 1980. While the costs of housing, energy and services go into that rate, food and clothing do, too.
Business owners have found that their own suppliers have been hiking their prices over the past year, causing them to pass on the increases to customers in order to stay profitable.
The Associated Press reports that the current inflation has many causes. The economy rebounded from the COVID-19 recession much more quickly than anticipated, meaning manufacturers who prepared for a long recession were caught off guard. Pandemic-related supply shortages still impacted factories alongside heavy consumer demand, the pandemic shutdown and chaos in the supply chain.
The Great Resignation has led to rising wages to attract workers, and some employers have hiked prices to pay for those workers. The aforementioned consumer demand surge skewed the supply-and-demand balance as the rest of the economy is already off-kilter.
At Costco, where Qurt sources many items, a case of Coca-Cola has gone up $2. A typical haul in a day is 10 cases, so he pays $20 more.
Hyde Park Merchandise is not like a grocery store selling bananas at a loss to get customers into the store, where they will buy more expensive items. A bottle of Coke or a candy bar is oftentimes the only thing a customer buys, and as Qurt keeps selling pops at $1.59, he will lose money.
And bit by bit, inflation is eating into the business's profit margins, though Hyde Park Merchandise is profitable. A $2-a-case increase can be absorbed, but a lot of other increases, he can't.
"But it's not easy. It's not the way it should be," Qurt said.
"It's a general merchandise business," said Qurt. Alongside paper towels, cleaning products, pop, snacks, candy and batteries, there's some clothing, blankets, toys and cards. "It's a convenience store," he said.
The store has built a good relationship with wholesalers over the years, but good relationships do not mean excellent wholesale deals at the small scale Hyde Park Merchandise is buying.
"That's for big businesses," Qurt said. "We're small businesses. When we go shopping, we can order a case or two of the same product. The big purchases — my own eyes tell me when they buy big amounts, they get different prices. It's way cheaper."
Unlike big box stores or even chain supermarkets, independent retailers lack distribution centers or warehouses to store vast quantities of goods purchased directly from suppliers instead of wholesalers.
Wael Ghousheh's Valley of Jordan Food, 1009 E. 53rd St., sells made-to-order sandwiches as well as candy and other sundries, but its big selling point is halal meat and its Middle Eastern grocery. Much of that Ghousheh imports from the region and his native Turkey.
"When we get a new order, we look at the invoice and see everything is going up 30%, some 40%," he said. Halal chicken has gone up 20%; meat 50%. He used to sell ground beef for $9 a pound; now he buys it for $9 a pound and sells it for $11.99. His supplier has blamed the price increase on delivery issues, including driver shortages, but there isn't any one issue behind it.
Meat sales have dropped significantly; his customers tell him they are just not eating meat like they used to.
He is selling Turkish honey for $9.99, up 40%. Several price stickers on a package of olives reflect markups since it went on the shelf. Tahini is $8.99, up from around $5.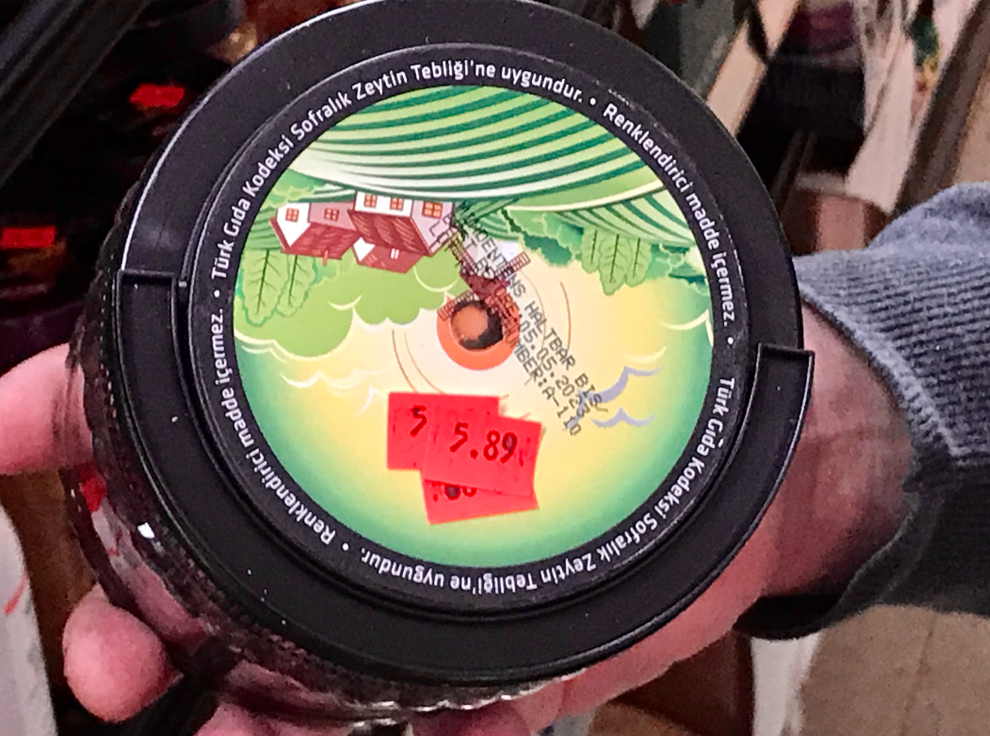 "When you go up 10%, it's OK. But when you go 40%, 50%, the customer feels it," Ghousheh said.
Reflecting broader economic data, Ghousheh began seeing inflation in 2020, and it took off significantly last year. He is not making a profit like he used to.
Ghousheh said he would close Valley of Jordan, perhaps moving back to Turkey if the price hikes affecting his business do not subside by the summer. He has thrown out up to $2,000's worth of expired products a month, like cheese or cereal — something he never did before 2020.
Cornell Dollar Plus, 1631 E. 55th St., has no reason to close, but owner Mike Mason is facing the same issues that Ghousheh and Qurt are and says it has never been like this in his 27 years of business. Prices are up 30% to 40%.
There are also continuing supply chain issues: not only is merchandise harder to get because of prices, but because of problems with delivery. Potato chips and pop are only coming in every other week instead once a week. Mason said one of his wholesalers said there are no drivers.
Back at Hyde Park Merchandise, Qurt has begun raising his prices — surface cleaner has gone from $1.29 to $1.49, just to cover the loss, he said; blankets for $40 instead of $30, all-purpose cleaning spray has gone from $2 to $3 after his wholesale cost increased 50 cents — but he is not doing it across the board all at once.
So far, Hyde Park Merchandise's customers haven't noticed the gradual price increases, but they are coming to products for which Qurt is paying more.
"I don't want to ruin the reputation of my business," he said. "A lot of the stuff is going to stay the same. But some of the stuff already, you can tell the prices are a little different."