Hyde Park restaurants and their employees face an uncertain future as indoor dining will be banned again starting Friday in order to combat the second coronavirus surge in the city.
Chicago already banned indoor bar service last week and mandated that all non-essential business activity end at 10 p.m. Under state guidelines, reservations are required for outdoor patrons at restaurants or bars.
Gov. J.B. Pritzker said in a Tuesday statement that Chicago is now averaging over twice as many COVID-related hospital admissions per day as a month ago, and the positivity rate has almost doubled since the beginning of October.
"We can't ignore what is happening around us – because without action, this could look worse than anything we saw in the spring," he said. "So please, no matter where you live, what your politics are, where you work or who you love: Illinois: mask up! And we'll get through this together."
The governor's office touted the continued availability of Business Interruption Grants, which are being distributed on a rolling basis. Nearly $33 million has been distributed — including hundreds of thousands of dollars to businesses in and around Hyde Park — and $220 million more is available to help offset costs and losses businesses have incurred as a result of the pandemic.
Research has consistently tied indoor dining to the spread of the disease. Dining rooms in the neighborhood were filled up to the city's 40% capacity during the lunch hour on Wednesday.
Aldo Rojas, general manager at Chant, 1509 E. 53rd St., estimated that 95% of the front-house staff — 10 workers, down from 20 before the pandemic — would be laid off by the end of the week. The restaurant let them know ahead of time that they would likely lose their jobs as the state recently moved to close indoor dining in the suburbs as coronavirus numbers increased.
"We were predicting it. We didn't want it. We were afraid of it. But it finally happened," he said. "Everybody was aware with a good amount of time. It's still not easy. Everybody's supporting their families with the shop, so it's still really hard."
Hostess Kiarra Hill is one of those losing her job. She faces a different reality now than she did in the spring, when federal aid included hundreds of extra dollars on top of her unemployment insurance payments.
"This time, at least we know that only the restaurants are closing, so maybe I can get a second job somewhere, but still, everything is up in the air," she said. "As far as I know, the only thing that I can hope to do is get on unemployment and just go from there, see if anything's open for me to apply to."
Hill said she is lucky: she lives with her parents and, since she just graduated from college, they are letting her stay there. Most of her bills are covered. But many of her coworkers are on their own, and she knows that looming unemployment will hit them really hard.
Rojas said Chant had been doing well when Chicago increased indoor dining capacity to 40% in early October and that the restaurant's patio did steady business over the summer. The patio has heat lamps, with one waiter still on to wait the tables for the time being. 
"Hyde Park's been very good to us," he said, "although there's been a drop in the sales and obviously the income of money, but it's not as far as we thought it would be." 
Rojas said the business is profitable, but he does not expect to remain profitable on carry-out and outdoor dining into the Chicago winter. Services like Uber Eats and Grubhub are helpful, but they charge 20-30% of commission fees. Utilities are expensive.
He declined to say whether Chant received money from the the Paycheck Protection Program, and he said he does not know if the owners have applied for BIG money from the state (the restaurant is not on the list of recipients).
"This is something out of our hands, out of our control," he said. "The only thing I can say is that we are very grateful for the Hyde Park community's support. We are obviously expecting their support to continue the same way; they can call us and take their orders out at any time during business hours. I wish this wasn't happening, but it is. And it's affecting everybody."
At Ja'Grill, 1510 E. Harper Court, general manager Brian Ivory said he understood that the ban was the best response to the second coronavirus wave and that his restaurant would move forward one way or another.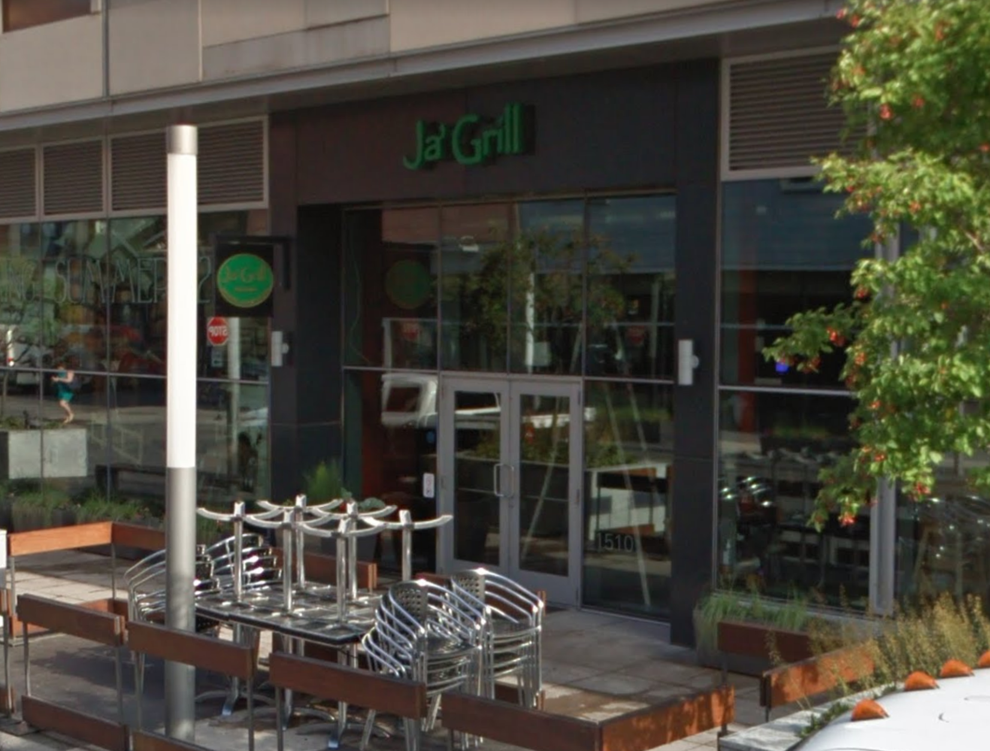 Unlike this spring, when the restaurant shut down into June, Ja'Grill will offer carryout orders and catering. With its Harper Court location, the restaurant has ample outdoor seating, and Ivory said discussions are ongoing on whether open-air dining can be continued with heaters. But it is Chicago — Wednesday's 50-degree weather, he observed, "would not be conducive to eating outside."
Ivory did not know the BIG program existed, and he was emphatic about the need for more aid from the government. In the meantime, he said Ja'Grill may take some items off the menu to cut costs and noted that some Caribbean ingredients have been difficult to source amid the pandemic's global disruption.
While all 40 Ja'Grill employees were laid off during the spring shutdown, Ivory said everyone was offered their jobs back when the restaurant reopened, and he said up to 35 took the offers. Some additional workers came on over the summer. Asked about profitability, he said, "We're doing the best we can."
"Our product is a little unique, mainly because we're selling jerk," he said. "Overall, I'd say we're OK. We're not drowning in this yet, but we're definitely on the edge."
He said the goal is to refrain from laying anyone off.
"Our goal is to try to fill the hours the best we can with the people who've been committed to us," he said. "It's only fair, we all have to make a living, and the only way it happens is if the people who've committed to us stay committed to us."
He asked the community to "operate as if we are in a critical situation with this pandemic — they love us, we love them. As long as we're open, I'm sure they'll still order from us. I just want them to be safe."
Back at Chant, Hill said she was partly relaxed to not have to work around people during a highly communicable pandemic, though she noted neither she nor anyone else at Chant has contracted COVID-19 at work since they went back to work in late July. 
"On one hand, it's like, yeah, I'm safer, but on the other hand it's like, you know, I would have still been OK if I was able to go to work still," she said. "We can just hope for the best. We can just be hope that things turn around quickly."
Ivory also said all his employees stayed safe, though he noted that some of his regular patrons died from the disease before Ja'Grill reopened early in the summer.
The city will return to looser restrictions under the state's plan if the positivity rate in Chicago averages less than or equal to 6.5% over a three-day period, there is a decrease in hospital admissions for COVID-19 like illness over a three-day period, and the three-day rolling averages of intensive-care unit bed availability and medical and surgical bed availability is greater than or equal to 20% over a seven-day period.
If the average positivity rate continues to increase over seven out of 10 days and the hospital admissions for COVID-19 like illness continues to increase over seven out of 10 days, more stringent mitigations can be applied.
A full list of mitigation measures pertaining to some businesses and industries can be found on the Illinois Department of Commerce and Economic Opportunity website at dceocovid19resources.com/restore-illinois. The city's website for the Reopening Chicago framework is chicago.gov/reopening.