Outdoor dining will likely be allowed at some point in June, though restaurant owners in Hyde Park say operating under strict public health guidelines will be logistically difficult and hard to pull off financially.
At his May 20 press briefing, Gov. J.B. Pritzker said that, with positive developments in the state's fight against the pandemic, it would be possible for restaurants to allow socially distant outdoor dining when all regions of the state move to Phase 3 of his "Restore Illinois" plan to guide the reopening of society.
"The experts have indicated that we can build onto our plan to bring back more activities faster, as long as Illinoisans continue to do as we have been doing: adhering to precautions and safety measures to keep each other safe," he said.
While indoor food service will not begin until parts of the state enter Phase 4 — at the earliest in late June — Pritzker said epidemiologists believe summer allows an opportunity for outdoor dining with proper precautions.
"With the right restrictions — tables six feet apart, away from the sidewalks, masks and distancing measures for staff and other precautions — the experts believe that these services can open at a risk comparable to other outdoor activities and give our hospitality industry a much-needed boost as they work to keep their businesses on their feet," the governor said.
While there is a patio at Nella Pizza e Pasta, 1125 E. 55th St., there would only be room for six tables under those guidelines, estimated owner Frank Grassano.
"That's nice the governor decided to do that, but I think each restaurant is a little different," he said. 
But that would be better than nothing, and Grassano expects to start serving outdoors as soon as possible. Looking forward to June, he already has ordered plexiglass dividers for his dining room booths.
"A lot of our guests can't wait for us to reopen; they're just going to have to wait for a table," he said, predicting first-come, first-serve seating once he begins serving customers again.
Amy Le of Saucy Porka, 1164 E. 55th St., said her restaurant will open its shared patio with the Nile, 1162 E. 55th St.
"We're going to go out there any measure the distance to keep six feet away from each table," she said. "We will be out there sanitizing all the tables as well."
Much needs to be done in the next two weeks. Le has ordered shield guards to protect the front counter, but she is trying to set up an online ordering system, allowing customers to bypass the counter entirely by sending orders to the kitchen and paying through their phones. Customers will include their table numbers on their orders, with servers bringing food to another table for them to pick up.
Saucy Porka also will be serving all meals on disposable plates. "I hate creating so much waste, but it's better to be safe now," Le said. She said Saucy Porka has been fairly successful so far with take-out and delivery orders, and she anticipates pent-up consumer demand.
At her May 22 press briefing, Mayor Lori Lightfoot said: "Indoor dining with some very tight controls" should be on the table "because these businesses are starving, and many of them will not survive unless we throw them a lifeline," citing payroll and inventory uncertainty without a known capacity for diners regardless of the weather.
On May 21, however, Lightfoot had said at a press conference that she does not think public health considerations will allow Chicago restaurants to resume outdoor dining on May 29, when all regions of Illinois are projected to enter Phase 3 under the governor's plan, predicting a start date sometime next month.
Lightfoot did say that the city would consider maneuvers like closing certain streets to vehicle traffic to allow for outdoor seating. She said her administration and the Illinois Restaurant Association would identify areas in Chicago where open spaces for dining could work. She promised to involve local aldermen in the effort, though she said opening up outdoor dining would not require "formal council action."
Reached for comment, Ald. Leslie Hairston (5th) said she intends to call a meeting with the Hyde Park Chamber of Commerce and local restaurant owners to hear their thoughts as reopening begins.
"They know their business best," Hairston said, additionally pledging cooperation with Ald. Sophia King (4th), who represents the northern side of 53rd Street in downtown Hyde Park.
In a statement, King said her office is working with business owners along 53rd Street and Hairston on possible reopening strategies when allowed.
"It is imperative that these re-openings take place when we are certain it can be done in a manner that is determined to be safe for the restaurant's patrons, employees and area residents," King said.
"Any decisions made on this issue will be guided by science and with the utmost level of caution considering even the science is rapidly evolving. We look forward to having these conversations and discussing unique methods to allow these businesses to resume serving operations while ensuring the safety of the surrounding community."
Le, of Saucy Porka, said elected officials need to hear from restaurant owners about their needs ahead of reopening, recalling a friend and fellow restaurant owner in Seattle who is having to record customers' names should contact tracing be necessary.
"Do I feel like the state and the city should step in and create more of these rules and restrictions? Sometimes, I feel like if restaurants were invited to the table to discuss these policies, yes. But you don't really see a lot of engagement," she said.
"Some, like the Illinois Restaurant Association, may meet with the mayor or the governor, but we don't have a lot of say in how these rules and laws are crafted. I think sometimes the people who know how to run their businesses safely will be the businesses themselves."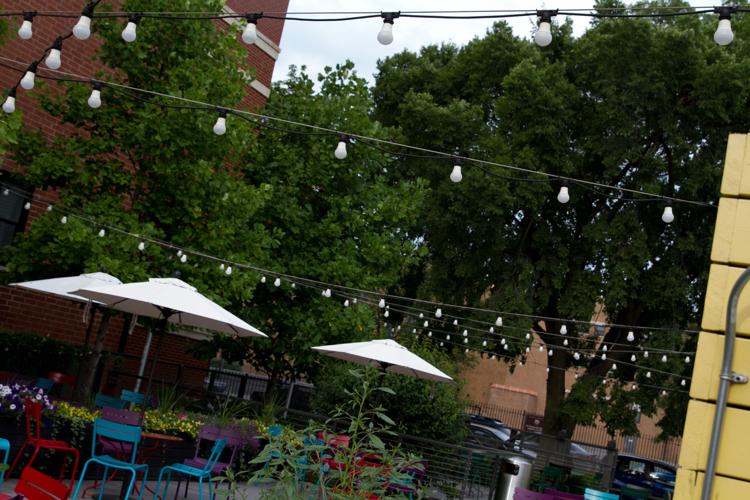 Wallace Good of the Hyde Park Chamber said he said he does not know how to expand outdoor seating on sidewalks without impeding on pedestrians' access.
"What restaurant can do that on 53rd Street?" he asked. Even if a portion of the street were closed to accommodate a restaurant like Pizza Capri, 1501 E. 53rd St., "You're still going to have the sidewalk challenge."
"I think people will do whatever it takes — they'll be creative — but no one has come up with a plan thus far in my conversations that address some of the challenges," he said. "But we're working on it."
For her part, Ald. Jeanette Taylor (20th) shares Lightfoot's concerns that it is not yet safe to open outdoor dining. "Chicago needs to make that decision for itself," she said.
She observed Chicago's high rate of COVID-19 deaths, particularly in its communities of color, and expressed fear that people would contract the coronavirus while eating outside and bring it home, where it quickly spreads to family members and housemates.
"I'm not going to do that," Taylor said of outdoor dining. "I'm not going to do that in the best interest of my family. … I think it's way too early. Our numbers are not low enough; until we see some low numbers and we're able to talk about how many people actually got tested, then we can move forward to talking about a plan to reopen the city. But a lot of this is premature to me."
While Taylor said the city needs to draft rules to protect the safety of restaurant workers as in-house dining resumes, Commissioner Allison Arwady said at the mayor's press conference that the Chicago Department of Public Health is working out safety policies regarding things like face coverings, occupancy limits and not using the same condiment bottles.
"There's a lot of details that come into play where you think about creating the space and the protections that need to be in place," she said. "We will not be able to completely eliminate the risk of COVID-19 so long as we have COVID-19 here in Chicago, but our goal is to minimize that and to make sure that as we move towards this new normal, that we do it carefully, in ways that continue to keep the outbreak in control at a population level."
Alex Argirov at Ascione Bistro, 1500 E. 55th St., said he was happy to wait until the city gives public health clearance. In the meantime, "We'll be doing what we've been doing so far in the last two months: We are living day-by-day and trying to survive," he said.
Argirov said he has only had to lay off 4 of his 22 workers, transitioning servers to deliver meals instead, and the restaurant has changed its menu to meet the change in demand. But the business is not turning a profit, and Argirov said Ascione's survival will depend on how the summer goes.
"We need to see how many people are going to come and dine with us. This is going to be the tough question: how many people are going to be comfortable to come and dine out?" he asked.