The Museum of Science and Industry's new vice president and chief creative officer is coming back to Chicago from Florida. David Woody, most recently the senior creative director of Universal Creative and creative director of Universal's planned Epic Universe theme park in Orlando, is returning to the museum where he spent a decade as director of design from 2003 to 2013.
"You can leave MSI, but it doesn't really ever leave you," he said. "Through the course of the last nine-ish years that I've been gone, I've literally had hundreds of dreams about MSI. It's just never ever left my heart and my brain as a place that does important things. Theme parks are amazing, and I love all the experiences that I've had, but there's something really special about working in an environment that at its absolute core has a mission to inspire the inventive genius of people."
In his new role, he will lead the museum's exhibition content, temporary, traveling and permanent exhibitions.
"Most people, if you have a conversation about Disney or Universal, they almost always land really quickly on, 'The restaurants are so clean and the people are so nice, and we just had such a great time,'" he said. "What they're saying is that the show quality mattered to them, and the spirit of that is what I hope to revive at MSI. It's always been there, but I think that the museum business has evolved to really embrace and understand that now more than ever."
Woody's educational background is in set design, and his first job out of college was in Florida at Disney, then to film and television work in the mid-1990s at Nickelodeon, then to a worldwide career with Warner Bros' theme parks.
He said there had been a lot of defunding in the arts and museums world in the decades leading up to his first stint at MSI, 5700 S. DuSable Lake Shore Drive, which really forced museums to reexamine their competitive business model. "They had to earn money and stand on their own two feet — even though they were still reliant to some degree, less and less ever since then, on public money," he said.
Driving up attendance through things like repeat visitation had become increasingly important, as had "delivering unique opportunities that pay off the expectations of customers," Woody said. 
Former MSI President David Mosena, who retired last year after working at the museum since 1997, "was interested in exploring people whose skill and experience lived at that intersection of story, environment and experience," Woody said. "That's exactly what museums deliver."
In his first tenure, Woody helped with the creation of the "Science Storms" and "You! The Experience" permanent exhibitions as well as the rehabilitation of the U-505 submarine pavilion. The temporary exhibitions of the time "were really all grounded," he said," in these stories about exploration discovery, curiosity, through the lens of history and, of course, basic sciences, technology, industry."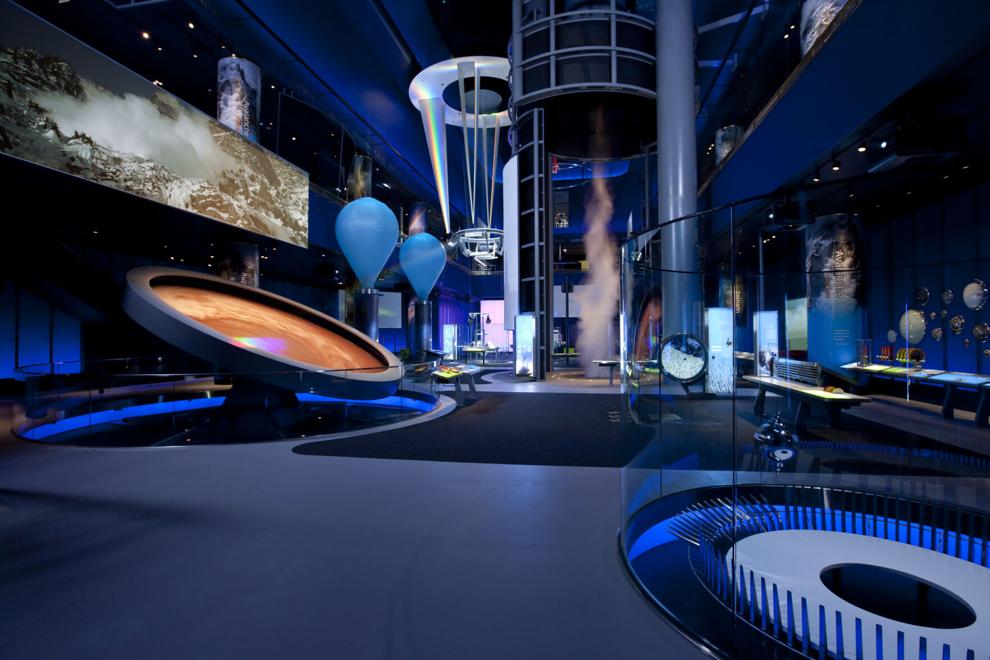 Woody does not have a professional background in science or museum studies; he said there is a "very clear distinction" between those who preserve and care for artifacts and people like him.
"What I am is a person who has built his whole career on listening and understanding the stories that people have to tell, and standing at the intersection of the built environment — the immersion, the place these stories need to happen in — and communication," Woody said. "What I can do is partner with these experts, whether they're experts in museum presentation or collections, or scientists, to partner with them and make these experiences even richer, more provocative, more immersive, and all of these things that meet the expectations of visitors today."
He said the theme park and museum businesses are on the same spectrum, emphasizing that museums are a business — both provide people with "social, engaging experiences with stories they find interesting that give them joy, that keep them entertained and in the case of the spectrum that museums live on, give them some insight into their own world."
While MSI has hosted exhibitions about topics like the Marvel Cinematic Universe, its mission as a fundamentally educational institution — one about science, technology engineering and math that caters to children — takes on a greater importance during an era defined by climate change.
"When people are in an environment that makes them feel good and is exciting and interesting, and they feel entertained, they're going to be open to learning and experiencing and absorbing information," Woody said. "That storytelling and immersive environment combined with media and all of those other tools are simply just ways to deliver and set people up so that they can have the best learning opportunity that they can."