Customers in Chicago are now allowed to get facials, shaves and other personal services while taking off their masks — a boon to local barbers and estheticians racked by the pandemic shutdown and recession, as well as the customers who depend on them. 
Victoria Prince offers facials, waxing, makeup, v-steams and body-sculpting from a location at 1614 E. 53rd St. But she estimates that 80% of her prior work has been cut back since March, leading her to rely on retail sales, virtual consultations, services that do not involve the face and an understanding landlord to make ends meet.
But facials are her most-expensive service, and not being able to offer them has significantly affected her business. They are time-consuming, and most of her customers who get them come again and again for them.
"People have been waiting to get the services," she said. "You have to have advance notices. Being in this type of recession, you have to have advance notice. People plan for them." 
"I'm corrective. I have a regimen. We normally have a regimen, and clients have a standing appointment."
Customers like Tashielle Gooley, a Kenwood Academy graduate who teaches special education with Chicago Public Schools and dances with a company in Bronzeville, are a major part of Prince's business. Gooley suffers from eczema, acne breakouts and sun sensitivity and does not want to see a dermatologist for fear of side effects. Regular visits to a skincare specialist were a part of her pre-pandemic routine.
"I find it very, very important for me to get a facial," she said. "Otherwise, I would have to go back to medication, and I don't want to do that. So it's another outlook on it instead of spending a whole bunch of money on medication that you know is going to mess up your body."
Essence reports that the Black hair care industry earned $2.51 billion in 2018, and in 2017, African Americans spent $127 million on grooming aids and $465 million on skin care. For all the remonstrance about the lack of Black-owned business in the United States, Black-owned beauty parlors and barbershops are a stunning exception. Before the coronavirus pandemic, Gooley estimated she spent $200 a month on salon services.
It is far from only women spending that money. "My male clients have been suffering a lot. I do a lot of waxing work with guys with beards, so they really have been pissed, because they can't get their waxing," said Prince with a laugh. "Same with men and women as far as the hyperpigmentation and the acne breakouts. For those who opt out of seeing a dermatologist, they can't get their normal treatments, which has made their skin a lot worse."
Maurice Littins, who works in information technology and lives in Hyde Park, normally gets a weekly haircut, beard service and monthly facial, spending upwards of $130 monthly at the barbershop. Although he has been pleased to get a haircut since barbershops opened in June, he also threw himself into his all-natural line of skincare products for Black men — Dapper Society, thedappersociety.com — to cope with the lack of available skincare options over the summer.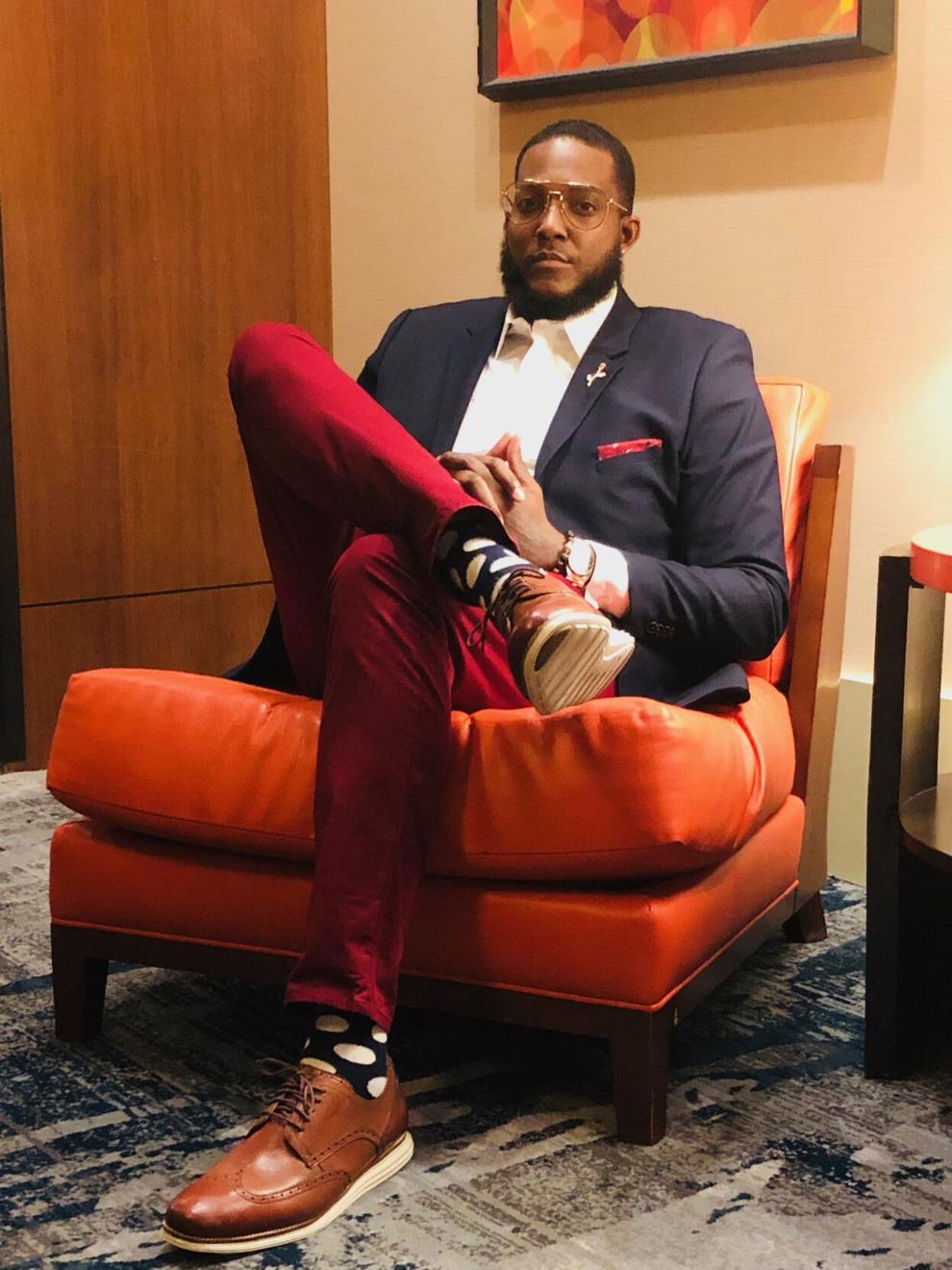 "You do it at home. It's kind of a one-two punch: you go to the barbershop and get a nice cut, you come home and use the grooming products," he said. He's begun selling the goods at The Promontory and would love to see the product take off, even as customers can return to professional skincare specialists: "My main goal is just to create a product that Black men feel comfortable using and that actually works."
Salons and barbershops were allowed to reopen for services that could be performed on mask-wearing clients on June 3. "Mr." Robert Leaks of M.L.S Grooming, also at 1614 E. 53rd St., offers  a variety of shaves, skin treatments and facials, in addition to haircuts. "All of those services were cut because you couldn't do them. That affected the bottom line greatly, because those are additional services along with the haircut that make the barbershop business profitable," he said.
Leaks played by the rules, refusing to do shaves, beard trims or steam facials for clients after haircuts, and he complained that they left him for competitors who broke the city's rules. "If we were all doing what we were supposed to do, it wouldn't have been such a hard effect," he said. "It was frustrating and devastating, because the bottom line is that I'm not making the money that I was used to making, but my bills are still the same." In all, he estimates that he has lost half his business.
The city has justified the loosening of restrictions by pointing out that Chicago is now seeing around 300 new COVID-19 cases per day compared to more than 350 per day in late August, also pointing out that there is a continuing, if improving, disproportionate impact on Black Chicagoans. Prince, for her part, compared working with unmasked clients to working in a restaurant, pointing out that her customers sign waivers and take temperature checks and that she always wears a mask. 
She does not anticipate an immediate upswing in demand for her services, even if she had room on her calendar (as it stands, she is booked into November), and she was not sure when interviewed on Sept. 29 if she would begin offering full-length facials, which take well over an hour. Even her truncated power-facials take 30 minutes; the city recommends that any services that require a client to remove their mask take 15 minutes or less.
"It puts practitioners in a bad situation who may not want to offer this," Prince observed. She did not want to got back to work for the first week she was able to do so, but she needed the money. In the immediate future, her rent will go back to normal, putting pressure on her to begin offering more lucrative facials. She will start doing so, but only for existing clients.
"We can only do what we can," she said. "I protect myself as best as possible."
Gooley said her consumer decisions are guided by how many people are in a salon with when she gets her skin treated — when she sees Prince, it is only the two of them in the room. 
"There's levels to what you get," she said. "I don't have to get a weave or braid down to my ankles. You've got to weigh out your options. You've got to do what's necessary for you."
Gooley said she needs to have her ends clipped so that her hair grows right. "I'm adjusting my schedule where I don't have to go every two weeks. Some stuff I can do at home, but there's certain things that I need a professional do, because I can't do it."
"Sometimes, even if it's just once a month, I need that treatment so that they can detox my face," she said. For 30 minutes with an esthetician she knows and trusts, she can calm her acne down and get ideas for treatment at home, characterizing a facial as something between a luxury and medication for her, but a necessity nonetheless.
Mr. Leaks said 15 minutes is enough time to do his services for ingrown hair treatments and beard trims, assuming he has planned ahead of time before the client's mask comes off. Hot towel services, to open the client's pores, cover everything but the nostrils, and Leaks said he can step away after the towel is applied.
And he said he has taken stringent steps to safeguard his own health. He spent $3,000 on safety equipment for his suite, including a clinical-strength air purification system. He said he is up-to-date with state licensing, including standards against the coronavirus.
"When we first got cleared to come back, I was apprehensive. My anxiety was really high. But I felt confident in the procedures, all the equipment, the tools and the implements that I purchased to come back to work safely," Leaks said. "What people don't understand is that we were dealing with the public before the pandemic, so the procedures and the guidelines set forth keep you from contracting and spreading communicable diseases anyway. This has just added to the list. The additional training that I went through to suppress and kill and disinfest my salon, it was helpful, but I was already well-versed in what to do in the first place."