Bill Payne, the Polsky Center's new executive director for science and technology, said the business incubator intends accelerate development with patents and business partnership.
"We are working on an organizational structure that will allow us to scale up the number of new technologies to be disclosed and considered for a startup, patenting and licensing," he said in an interview. Furthermore, the South Side native is pleased to begin work in Hyde Park and sees a role for Polsky to help local businesses in the economic downturn and recovery.
The Polsky Center, linked with the University of Chicago and its Booth School of Business, approaches business development in many ways. It runs a business accelerator, supporting researchers as they form companies, and a large co-working space, the Polsky Exchange, with two locations on 53rd Street. It also manages the U. of C.'s technology transfer function, managing all university-based intellectual property from faculty research, which in turn can be licensed and monetized.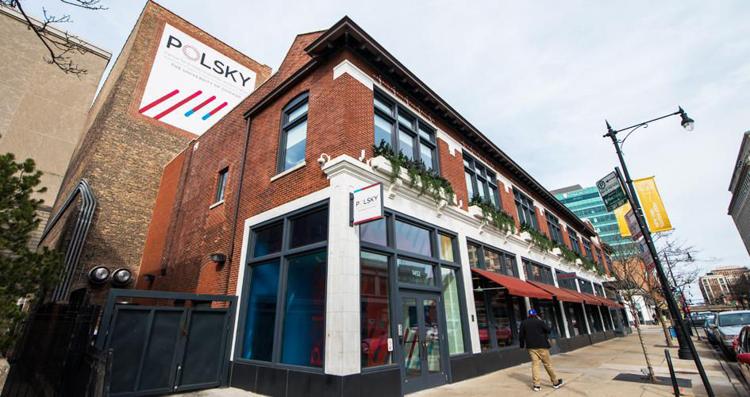 "We take on the task of working with these world-renowned researchers to capture ideas that can be patented, and we work with them to wrap those into patent disclosures and patent applications," he said. "Then, based on the portfolio that we have, we go out and form agreements with companies to utilize those patents. So that brings value to the institution, and some get a return value to the researchers themselves."
"We provide that kind of value to researchers who aren't in a position to know about all the stuff that goes into commercializing a technology," he said. "We provide that expertise at Polsky."
Polsky's George Shultz Innovation Fund invests in early-stage products, and the Fabrication Lab prototypes new products.
Payne noted the "multiple dimensions to commercialization": product development as well as licensing technology to other entities, which provides a return on investment in the form of royalties. Corporations have to see the business case before investing in the development of technologies for commercialization, and he highlighted his experience in doing so.
After an education that included Leo Catholic High School, 7901 S. Sangamon Ave., and a doctorate in electrical engineering from the Illinois Institute of Technology, Payne started his career at Bell Laboratories, working on the initial developments of cable internet access, followed by work along the same lines at Motorola, where he became chief technology officer. Then he worked in wireless technology, from 3G into 5G and onto a role at Nokia. 
"A large part of my responsibility was to bring things out of laboratories and into commercial industry, and that included developing patents and licensing as well as commercial product development," he said.
Then came some consulting work and a startup, where he worked on "sponsored data," or enabling consumer-oriented companies to advertise specifically within a geofenced venue. "The 'get' for the subscriber or user is that they get their data paid for within that venue courtesy of a consumer company like Coke or Pepsi, for them to see an ad," he explained.
Running a business requires wearing many hats, and Payne did so as his startup grew to 12 employees. "There's no work that's not right for any of us to do," he said, laughing. "I learned a lot of skills that other people had taken care of in corporations. That helped to round out some of my experiences and skills going forward. I'll take on any task at this point, because I certainly did that at my startup."
"I've always enjoyed being able to get useful technologies into consumers' hands and useful technology into industry and practice," Payne said. 
And that's what he looks forward to doing at Polsky: being able to take different products from the research laboratories into production, from therapeutics and vaccines to quantum computing and communication. "That's what led me, frankly, to be an engineer, that goal of the practical aspect of getting it into industry and practice," he added.
With respect to local benefits, Payne said Polsky does entrepreneurial outreach on the South Side. He is personally looking forward to investing in those efforts once "some degree of normalcy" resumes after the pandemic.
"We hope to be able to make that connection between technologies and aspiring smart people in the South Side of Chicago to be able to provide some opportunities for all companies and growth," he said. 
With businesses facing a stark future amid the ongoing economic downturn, Payne said Polsky will figure out a way to support them.
"Our mission hasn't changed, even with COVID-19. It depends on how things go and the impact on donations, revenue and the likes," he continued. "We realize that there's reconstruction that's going to need to be done for all of us, including the South Side."
The work is personal: "I am looking to give back to the community, and this is potentially a way of doing that. That's part of my mission."