Anyone who spends $15 or more at one of 52 mid-South Side businesses through Dec. 31 can be entered into a raffle for $100 in gift cards to the local establishments through the South East Chicago Commission's 2020 Small Business Shop Local campaign.
This year's campaign lasts five weeks rather than the previous one, and began on Small Business Saturday, Nov. 28. Participants need to submit their receipts to the SECC and and can do so at the businesses on their smartphones; businesses provide a link on site via QR codes.
A full list of participating businesses is available at www.secc-chicago.org/projects-archive/small-business-shop-local-2020.
SECC Executive Director Diane Burnham said in an interview that the economic development nonprofit wanted to build on last year's success and test a campaign model to boost consumer foot traffic and online shopping at local businesses.
She said the SECC will have a report to share with partners about consumer habits at the end of the year, specifically about where people shop, how much they spent and in which neighborhoods they spent the most.
"We took the onus off of the business. All they have to do is provide the materials," Burnham said. "This will help us gauge for next year how to do this campaign again, and we'll have how to refine it."
Sister Rose of Kilimanjaro International said quarantine conditions continue to hurt her business, however, and the ongoing recession has severely reduced the number of customers.
"They themselves don't have income, so how can they come and support?" she asked. Rose missed out on federal Paycheck Protection Program money in the spring, and she said she could use support now to hire workers to set up a website to sell her products online.
At any rate, Rose promoted her jewelry, scarves and dashikis as well a buyer's market for art: paintings ($350, down from $500), masks ($400, was $700) and statues ($250, was $500).
"Especially the artwork, I mean this is original, unique and different art," she said. "They are selling for a very, very good price." Rose also has African shea butter for the skin and holistic black seed oil ($5-25).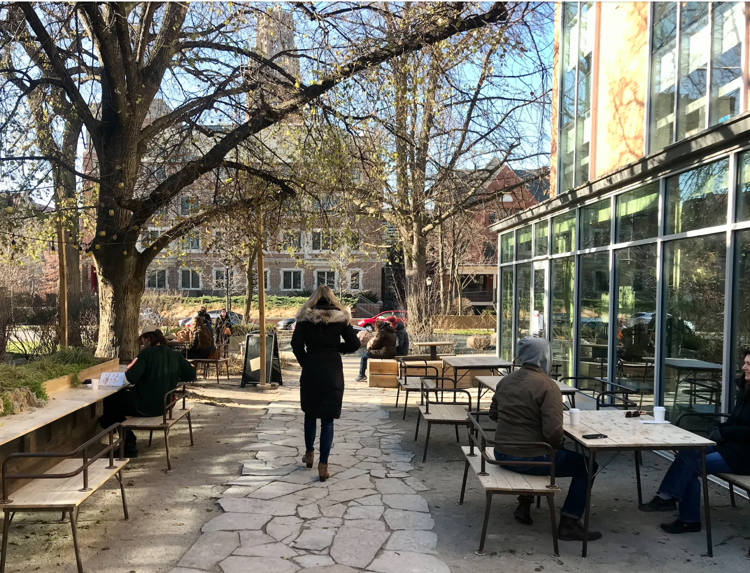 As in July, when he said long hours at home had moved people to buy comic books and games to pass the time, James Nurss said the holiday shopping season has been very busy at First Aid Comics in spite of the stay-at-home advisory.
"We're selling a lot of board games. We're selling some toys. But we're selling a lot of nicer books like hardcovers instead of cheaper paperbacks and clearance stuff," he said. "People are coming in looking for gifts, asking for recommendations."
Margins will not be massive, but Nurss said First Aid Comics will earn a profit this year. The business took PPP money this spring, enabling it to save five part-time jobs, and Nurss said he also took a low-interest, long-term loan from the Small Business Administration.
On a local and recent level, Black Friday traffic was big this year, though Small Business Saturday saw small traffic, aside from regulars. But the weekend of Dec. 5 "randomly" saw even greater sales than the post-Thanksgiving rush, Nurss said.
For holiday shopping, Nurss recommended clearance-rate-but-high-quality deals that he typically sells at traveling comic book shows, which have been cancelled because of the pandemic.
Due to cancelled events, Downtown Hyde Park has budget surplus
With the preponderance of cancelled good-weather street fairs and other events typically sponsored by the local business improvement district, the Downtown Hyde Park Special Service Area is going into 2021 able to carry over $68,000 of its budget surplus. Recommendations were not made at the group's Dec. 8 meeting; finance committee meetings will be held to decide what to do with it.
Money is still available through the end of the month for local businesses to submit applications for rebates for up to $300 in anti-disease transmission equipment ($8,000 in rebates has been distributed so far this year). Downtown Hyde Park is also distributing branded totes full of personal protective equipment — a first-aid kit, masks and other functional items — to local businesses upon requests.
Businesses participating in the SECC's Shop Local campaign got additional PPE as well.
"It's to do a lot for our local businesses at a time like this, but at least we're making an effort," said Downtown Hyde Park Chairman George Rumsey at the meeting. Rumsey, who runs the Computer Resource Center from suite 902 of the Hyde Park Bank Building, 1525 E. 53rd St., said only two offices out of the 30 on his floor have people regularly working at them.
"It's like a ghost town," he said.
SECC Executive Director Diane Burnham said she hears businesses are particularly struggling with timely receipt of Business Interruption Grants from the state: "Businesses that applied in September, they're not even receiving their money until the end of December, maybe even early January."
Burnham said she knows businesses wish the SECC — which is Downtown Hyde Park's nonprofit service provider but serves several neighborhoods on the mid-South Side — could give them direct cash transfers, but she it would be impossible.
"Our job is really to give the business corridors beautification, the vendor management to keep our street clean (with) garbage and litter abatement, flower planters and banners, and then as much marketing as we can," she said. SECC also does direct business consultations and services through its Neighborhood Business Development Center.
Brandon Evans, the program administrator for Downtown Hyde Park through the SECC, said the present is "a tenuous time" for retail in Hyde Park: "It is a situation of maintaining as best we can."
At any rate, Burnham said there is hope on the horizon, that businesses have been renewing their licenses recently and that people are telling her that they hope they can push through the difficult months to come with community support.
"Especially with the businesses that are participating in Shop local, it's amazing," she said. "They're decorating their stores, they're following up and actively participating. It's great."