As food insecurity increases across Chicago as a result of the COVID-19 pandemic and accompanying economic recession, a pantry at the University of Chicago Medical Center (UCMC) has continued operations for hospital patients and staff in the face of mounting demand.   
Feed1st, as it's known, was started in 2010, after a chaplain at the medical center's Comer Children's Hospital noticed hungry parents at their children's bedsides. "She witnessed the kindness of a nurse who handed over a sandwich, or a medical student who gave a person who was hungry a ten dollar bill and some food, but she was really distressed by the indignity of it," said Dr. Stacy Lindau in a 2018 appearance on a U. of C. podcast. 
Lindau, a physician and professor at the Pritzker School of Medicine, runs a research laboratory focused on health equity, particularly women's health and sexuality. She's also in leadership positions at NowPow and MAPSCorps, two social good organizations based in Hyde Park. Recently, her lab received a grant from the National Institutes of Health to conduct a study examining the impacts of connecting people to community-based supports for food. 
After hearing the chaplain's story a decade ago, Lindau decided to start a hospital-based food pantry, later dubbed Feed1st. It's the first of its kind in the country, according to Meryl Davis, the pantry's current operations manager and a research assistant at the Lindau Lab. (The group has developed a toolkit to share with other organizations, like the Johns Hopkins Children's Center, looking to set up similar pantries.)
The pantries, which were located in six different spaces across UCMC prior to the onset of the COVID-19 pandemic, are available to all patients and staff. They are open as often as possible, usually 24 hours a day. "It's designed to alleviate hunger with dignity — that's why we don't require people to sign in," said Davis. "Food insecurity is a huge problem nationally, as well as in the communities we serve, and we are seeing that rate increase with the pandemic." 
In the South Side community areas that surround the U. of C.'s hospital system — the neighborhoods where many of the center's patients and staff live — well over half of residents are below the income threshold that serves as a marker of food insecurity. And according to an analysis from the Brookings Institute, rates of food insecurity have gone up dramatically during the pandemic, particularly among households with children. 
At the same time, Feed1st was forced at the beginning of lockdown to consolidate and move the location of its pantries, in line with public health protocols. Currently, three pantries are open: one in the children's hospital, one in the Sky Cafe at the Center for Care and Discovery, and one for staff at the Mitchell Hospital. 
Since fewer people have been allowed in the hospital over the past few months, and Feed1st doesn't track pantry visitors apart from offering a short, voluntary survey, Davis says it's difficult to know how many more people are using the pantry now. Still, she can offer one point of comparison. 
"It's easier for me to estimate based off of food movement. We're seeing food that would normally go to one pantry for a month is moving within 24 to 48 hours," she said. (Like most other food pantries in the Chicago region, Feed1st is supplied by the Greater Chicago Food Depository.)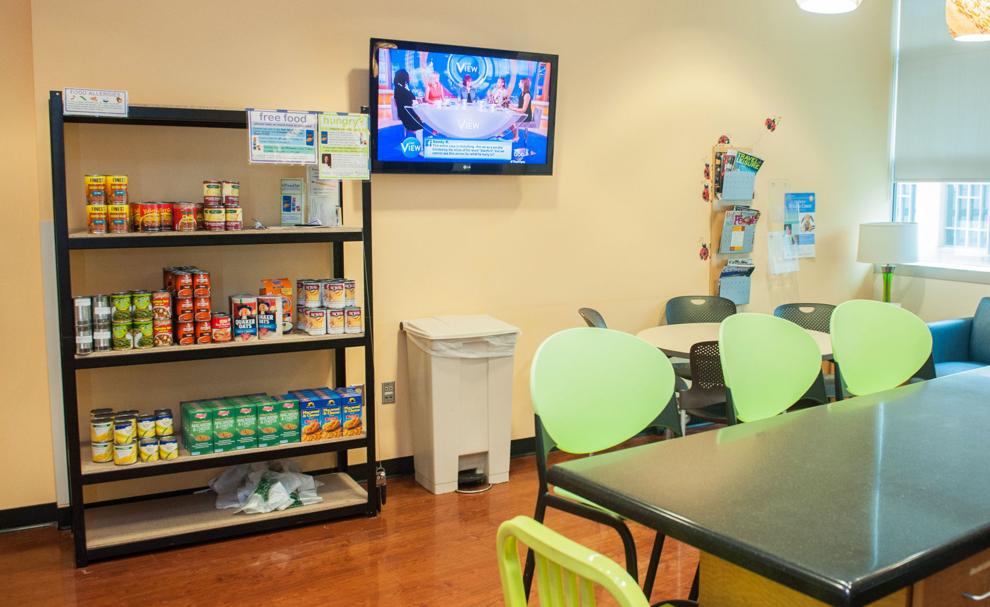 The situation at other food pantries across Hyde Park and Kenwood has been similar. Jan Deckenbach, director of the Hyde Park Kenwood Food Pantry located at Hyde Park Union Church, 5600 S. Woodlawn Ave., told the Herald in late May that the pantry was serving double the number of people it did at the same time a year earlier. 
The pantry at St. Paul and the Redeemer, 4945 S. Dorchester Ave., has also gotten busier. Shirley Knight, who's in charge of it, said in June that there had been a surge late in the spring, from 40 people each week during the early stages of the pandemic, to more than 60 visitors as the effects of the recession made themselves felt. 
At Feed1st, meanwhile, the change forced by COVID has also had some positive effects. "With the pandemic, the managers of the (Sky Cafe) recognized that food access was a difficult thing for some people in the hospital," said Davis. "Providing that pantry works to destigmatize the problem of food insecurity — we're all learning the benefits of making that food available in a public space." 
Davis also emphasized the work that goes into making the pantries run, even in ordinary times. "We've developed a really great community at UChicago Medicine — patients who are giving back to feed first, volunteers who help us maintain the pantry," she said. "It continues to be a huge community effort and I'm thankful to be a part of it." 
For more information, and to donate money to Feed1st (the pantry is not currently accepting food donations), visit obgyn.uchicago.edu/lindau-lab/feed1st.