Midday on Sunday, June 19, horseback riders young and old saddled up at the South Shore Cultural Center. Hundreds of spectators watched as riders raced around the arena, their horses kicking up dust, muting the harsh summer light. It was the Broken Arrow Riding Club's Speed and Action Rodeo Horse Show, an annual event that has taken place for 32 years.
"It's my first rodeo," said 13-year-old Daniel Adams Johnson, as he and a friend prepared his horse, Django, for a day of competition. "It's something I've been practicing for almost a year and a half. I think I got a good grasp on horseback riding… Well, yeah, I'm pretty good. I feel pretty good." 
Daniel, a Chatham resident, is a student of the one-named cowboy Murdock, who founded the Broken Arrow Riding Club in 1989. In addition to teaching Western riding, Murdock has an ambitious goal for cowboy culture in Chicago; he wants to build an equestrian center that "provides inner-city youth with a new outlet for recreation and education."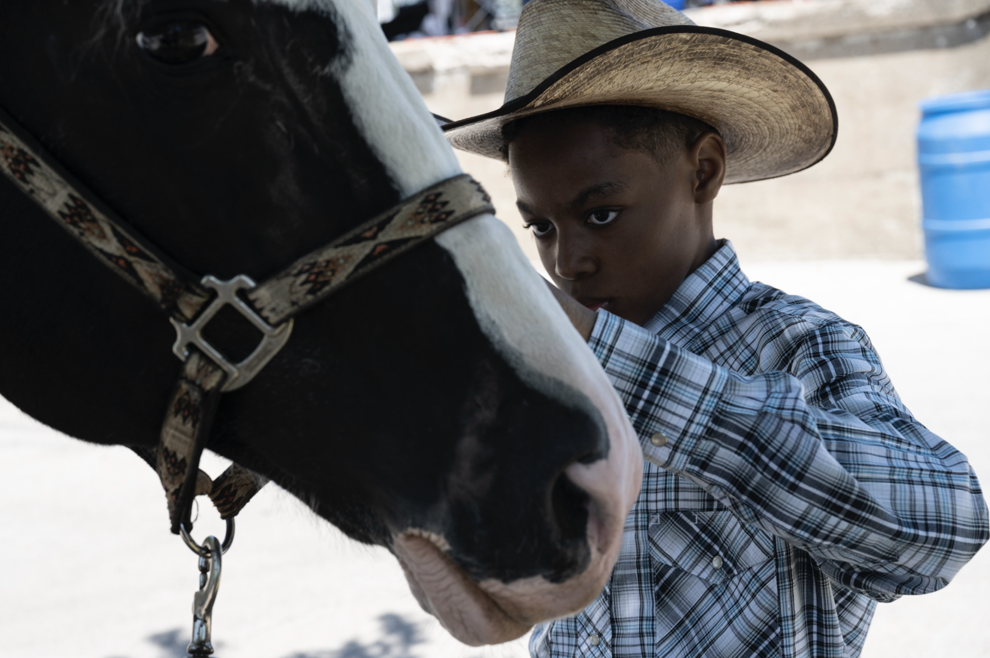 Murdock, like many South Side cowboys, was first introduced to horses and the cowboy culture as a child in Washington Park.
"I can still remember the first day that I saw horses and their riders gallivanting in Washington Park," wrote Murdock on Broken Arrow's website. "I was only 8 years old when the excitement of seeing these giant horses and skillful riders in the middle of the city marked the beginning of my lifelong relationship and respect for these magnificent creatures."
Murdock wrote that he has committed his adult life to "spearheading activities that would help others find enjoyment from horse involvement," bringing together groups of cowboys, cowgirls and buckaroos for rodeos, parties, school and hospital visits. The club also hosts an annual event in Washington Park called the "Highnoon Ride and Picnic."
Along with riders' families, many new and longtime spectators gathered around the arena ring on the lawn of the South Shore Cultural Center. Retired Chicago police officer Kimberly Marshall swayed in place as the rodeo's DJ switched from House to Country Western music
"I was born into a Black cowboy family," said Marshall. "In 1953 or 1954, when my parents were dating, my father bought my mom a horse named Big Sid."
Growing up, Marshall and her big brother, Cowboy Mike (Mosby), who now competes regularly in the rodeo, were also taken by their parents to the stables in Washington Park. 
"I grew up there," said Marshall. "I like the hats, I like the clothes, I like the music... I just really, really, really love being part of the cowboy culture."
Marshall said she became familiar with the Broken Arrow Riding Club and Murdock about 30 years ago, when the police department assigned her to cover the Highnoon Ride and Picnic.
In addition to love of the culture, Marshall said, "the history is everything to me."
"My dad gave us a book called "Great Negroes, Past and Present," and it had all of this information about the achievements of African Americans, or negroes at that time, in this nation… But, I've always known about Black cowboys," she said. "I've always known about Bill Pickett. I've always known about Bass Reeves, who was the baddest U.S. Marshal." 
Bill Pickett, born in Texas in 1870, was a cowboy, rodeo competitor and Wild West Show performer. In 1989, Pickett was inducted into the Rodeo Hall of Fame. Bass Reeves, born in Arkansas in 1838, is believed to be one of the first Black deputy U.S. marshals to serve west of the Mississippi, according to the Oklahoma Historical Society.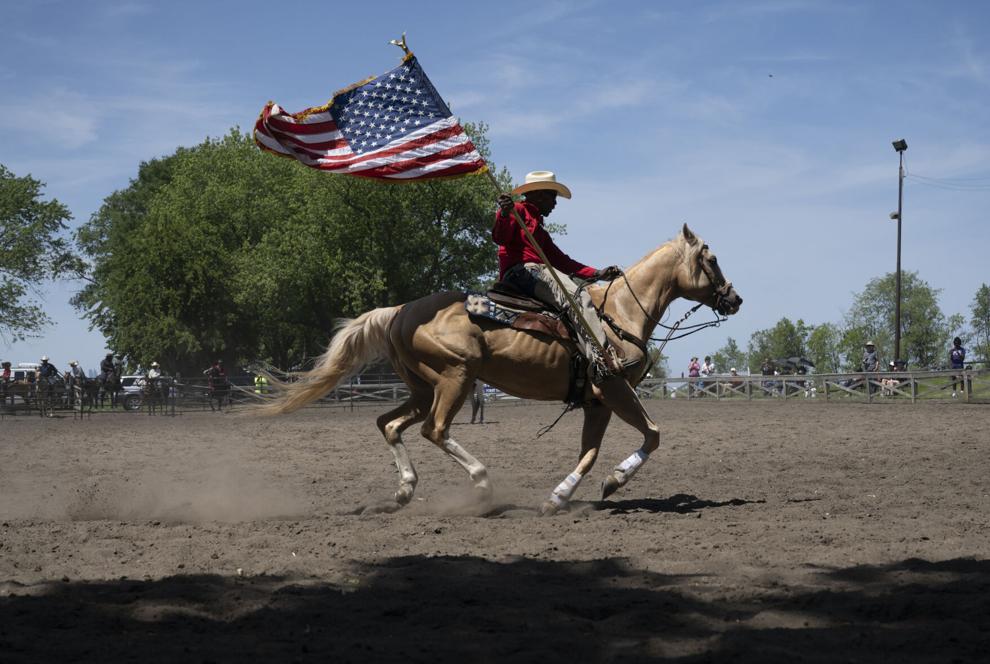 As Daniel and fellow student Korey Flowers saddled up Django, an American Paint they both would ride, he was quiet and observant, clearly learning. 
His mother, RaMeka Johnson, said the family signed Daniel up for riding lessons during the pandemic, when he was cooped up in the home without a social outlet. 
"Daniel has always expressed an interest (in) riding horses, he's actually an animal lover, and we thought it would be nice to sign him up for horseback riding lessons," Johnson said. She added that her son took 18-months of English horseback riding lessons before switching over to Western riding and joining Murdock at the Broken Arrow Riding Club.
"This is his first rodeo… His first experience participating in an official rodeo," said Johnson. "When my son gets into the arena, he just lights up every time. And as a mom watching him, I light up. It's really a joy to watch."
Daniel's first event was a junior flag race. It involved plucking a flag out of a bucket on a barrel, rounding a second barrel and dropping the flag back into a bucket on a third barrel.
As the race started, Django bolted out of the gate and headed toward the first barrel. Daniel's hat flew off, but he rode steadily and well. Daniel gave Django rein when he needed it and pulled him back for turns and control. 
By the end of the day Daniel had won three trophies, including one for a second-place finish in the flag event.
After his races, Daniel said of the rodeo, "the speed, the speed was really unexpected. It was like as soon as I took off, I was back at the start." 
"My adrenaline was rushing, it was crazy," he added. "But I feel good now because it's my first rodeo. So, I am not as scared anymore." 
Murdock, who had watched Daniel race, said, "I couldn't have given him a better vote of confidence. He did what he was supposed to do and kept control. So, yes, I was definitely impressed." 
And Daniel's mother said, "I think we named him Daniel for a reason."