Naomi Tolbert was raised in southern Illinois by her great-grandmother, who loved baking.
"We'd have church events, community events, and I'd be the one in the kitchen with her late at night before Sunday service, icing the cakes with her while she baked them," she recalled. 
So baked goods were a natural starting point when Tolbert launched the online store Enameled Grace in October 2020, selling pumpkin pie, cheesecake and pastries through Instagram and at pop-up stands along 53rd Street. 
"Initially, I just wasn't sure if there would be a demand, if the market was there," she said. "So really exploring that possibility in Hyde Park and seeing how popular it was, and how in-demand it was across the different demographics that exist in Hyde Park … (meant) I really want to take this seriously." 
But Tolbert eventually wants to expand Enameled Grace beyond baked goods: her aim is to open a restaurant focused on serving organic food. 
"My grandpa had a green thumb, and he really showed me just the importance of environmentalism and in growing your own food. He would grow tomatoes and jalapeños," she said. "The idea is that I want to have a majority plant-based restaurant with a bakery attached.
"There's a lot of food deserts that exist on the South Side. Being able to provide not only to the Hyde Park area, but also Washington Park and Bronzeville, is really my goal, to be able to solve some of these crises that we have." 
It might seem like a slightly unconventional path for the 26-year-old Washington Park resident, who graduated from the University in Chicago in 2018 with a master's degree in international relations. After a year-long stint in administration at Southern Illinois University Carbondale, her alma mater, Tolbert returned to Chicago for a job in sales and marketing. It was there she decided to go into business on her own. 
"I was working 60 to 80 hours on a weekly basis," she said. "And I thought if I'm going to be working 80 hours a week for anybody it should be for myself."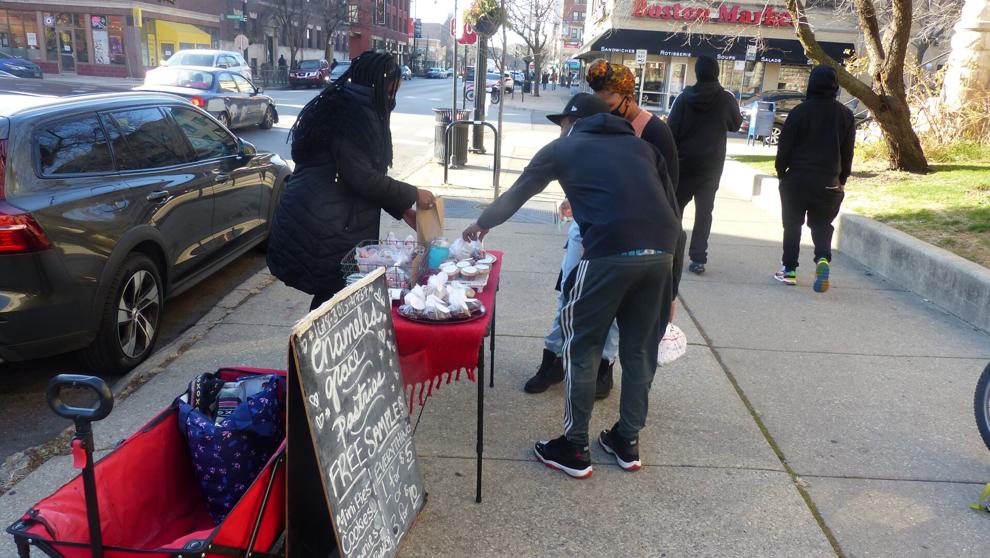 Tolbert will look to formally incorporate as a business; she's set to launch a website in the next few weeks. She's also started to set up her stand outside the Jewel-Osco at 61st Street and Cottage Grove Avenue, donning three pairs of socks and two sets of clothes to compensate for the cold. 
In the near term, Tolbert may try to open a food truck: she's been working with Build Bronzeville, a multi-million dollar initiative launched last year to redevelop the neighborhood a bit to the north, on building out a business proposal and finding some grant money. 
Right now, Tolbert is putting the final touches on a set of meal prep kits at what she says will be affordable prices. "I want to have it where it's a fusion based off of ethnic and traditional food, American food, soul food, things like that," she said, adding that she also plans to incorporate ideas from other places she's lived — Brazil, South Africa, Saint Lucia. 
"I've been fortunate to have access to individuals that have been able to cook in and introduce me to different types of ethnic food, but really I would say my food is unique because it's a fusion of all of those things, every place I've lived."
The name Enameled Grace itself comes from a quote popularly attributed to the African Studies scholar Yosef Ben-Jochannan: "Dipped in chocolate, bronzed in elegance, enameled with grace, toasted with beauty. My lord, she's a Black woman."
"Enameled with grace actually stands for covered in God's blessings. And that's what I feel that people taste when they eat my food," said Tolbert. 
"I say all the time I cook with love. I want, when people are eating my food, to feel like they're having a taste of home, to feel as though that they're being loved and nourished and their soul has been provided with all the nutrients needed to move forward in life."