"What do you want to be when you grow up?" 
It's a question dreaded by many kids and young adults. Not everyone finds a clear professional path by 20, or even 30. 
And then there are people like Orlie Weitzman. At 12, the Lab School student has already distinguished herself as a journalist — and having joined a national team of "kid reporters" at Time For Kids magazine, she was on the job Monday conducting an interview.    
She's wanted to be a journalist, she said, "ever since I could write… and after I stopped wanting to be an astronaut or something."
Her newsletter, Weitzman's Weekly, began email distribution shortly before the pandemic. Its audience was Orlie's extended family and friends, many of whom would become contributors. They wrote letters responding to the articles, and letters responding to each other's letters. They interviewed their friends and each other, and penned reports and opinion pieces.  
Among the writers and featured subjects were grandparents on both sides, and all three of Orlie's siblings. Tess, 10, produces a comic strip about day-to-day life in her household. Ray, 7, is in charge of the Mystery Word game, and contributes art and book reviews. Four-year-old Sephy provides advice for a column called Just Ask Josephine, covering such sticky topics as how to roast marshmallows without burning them.  
Thirty-one issues later, Orlie has become a seasoned writer and editor from her newsletter experience alone.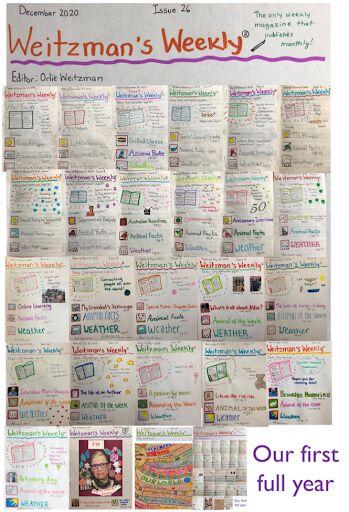 It helps when you're edited by the best. Orlie's father, Hal Weitzman, is a behavioral scientist as well as an accomplished journalist — he was a foreign correspondent for the Financial Times in Chicago and Latin America, and has authored books on economic trends in both places. He holds the title of Executive Director for Intellectual Capital at the U. of C.'s Booth School of Business. "He edits the magazine, and he teaches persuasion," says Orlie.  
Orlie's mother is Lorna Campbell, who (until she got so busy mothering) was a professional writer and English tutor.  "She also has a PhD, I'm not sure exactly what in." 
"My parents put a lot of time into helping me," Orlie bubbled. "It was really, really cool to create something like this.
For its readers, "Weitzman's Weekly" was a godsend during the pandemic. "We would connect by sharing stories. It pulled in family members who were feeling isolated… It grew into this big thing where lots of people were helping."
The first issue was eight pages, each personally hand-lettered by Orlie. With Issue #13, the newsletter went digital, "mostly because my grandparents were having trouble reading my writing."  
Over time the newsletter became bigger, if less frequent. At the height of the pandemic it was coming out monthly, but Orlie declined to change the name: "'Weitzman's Monthly' doesn't have as much ring to it." Now, with school and other in-person activities taking up more of her time, she boasts of having "the only weekly magazine that publishes quarterly." 
She has correspondents scattered around the globe. One issue offered "My Mum's Memories of Living in a Pub" by Orlie's young cousin and London correspondent, Brenda Graisgour. Kate "Grannie" Campbell wrote in from Scotland about connecting with seniors in her neighborhood. From Israel came a report on a cousin's bat mitzvah. The New Zealand correspondent, a friend of Orlie's mother, related her experience competing in the Tirohanga Track competition.
Regular features include additional word games; the "Animal of the Issue," which includes instructions on how to draw, say, a peacock or a sea lion; and a very punny Jokes page ("Waiter, will my pizza be long?" "No, sir, it will be round.").  At one point, Orlie tried leaving out the Jokes, but an outcry from the readership forced its reinstatement. 
While her contributors are mostly people she knows, Orlie has reached well beyond her immediate circle for subjects. "One day, I (wrote to Pulitzer winner and former Chicago Tribune columnist) Mary Schmich to tell her how much I loved her columns, and she replied and was even kind enough to do an interview with me. She gave me some insights on her experience as a journalist, and we bonded over being the eldest among our siblings." 
When Orlie's favorite author, Hena Khan, came to the Lab Schools to talk about her latest book, Orlie interviewed her for the newsletter.  She also reviewed the book, "Amina's Song."  
"I've been amazed," she reflected with genuine wonderment, "that, when I've written to people, they've so generously responded to me and been supportive of my writing." 
"I've also been supported by lots of people in Hyde Park, such as my neighbor Mohan Gundeti, a pediatric surgeon, and (children's) author Kate Hannigan, and Thelma Plesser, a lady in her 90s who recently moved to Hyde Park from New York. I interviewed all three of them." 
As part of her application to Time For Kids, she wrote about the Hyde Park Refugee Project, demonstrating mature writing skills and a sophisticated grasp of journalistic techniques. A month ago, she got a phone call welcoming her to the TFK team.  
Each year, TFK chooses a fistful of juvenile reporters, aged 9 to 13, from among a nationwide readership. Now, Orlie will get new input from new mentors. And she'll meet kids from other places who also have a keen talent and interest in journalism. She met them virtually not long ago: A boy, 9, who published a poem about basketball. A girl, 11, who designed a line of crayons in diverse skin colors, and another who created a YouTube channel for crafters.
She was excited to meet this bunch of go-getters. And she's eager to tear into more topics for TFK — topics "that kids should know about…that kids can connect to, that won't just go in one ear and out the other."
It's best of all, she added, when these articles for kids are written by kids. "There's something very special about that."