Tracy Aiden knew she needed to teach her kindergarten class at the University of Chicago Laboratory Schools about a Kentucky grand jury's decision in the Breonna Taylor case last month.
"The day after the ruling, we talked to our kids a little about that, because kids feel the tension in the room," she said.
Aiden, one of a handful of Black teachers at Lab, began by talking about Black Lives Matter. It's Aiden's third year with the class, and the students have discussed the movement before.
"We started (when they were three years old), talking about peace and kindness, taking care of each other, taking care of the world, and then last year, it was how we take care of our Black friends and families at Lab," she said.
On Sept. 24, they talked about Taylor, who worked as an emergency room technician and died in her apartment during a botched no-knock police raid on the wrong house in March.
One of the Louisville police officers who had participated in the raid was indicted by the grand jury, but only on three minor counts. The two other officers present were not charged. 
Aiden said the class made a lot of connections between the case and what she had taught them before, especially about Eric Garner and, this summer, George Floyd.
"Everything starts with a book when you're in kindergarten," Aiden said. So she had her class read "Something Happened in Our Town," a book about a Black family and a White family responding to the police shooting of an African American man in the United States.
"We read that and asked them if there was anything that was familiar for them that we had learned in the past, and they were constantly interrupting the story," Aiden said. She wanted to read it to them "because there are still things happening in the world that are important for us to think about and talk about."
One of her students, at five years old, told Aiden that she would be afraid to go to sleep at night, "because you're Black like Breonna Taylor."
"I said, 'It's important that we remember all that we've learned and all that we've done and how we want the world to be a better place,' " Aiden recalled.
When she showed them a picture of Taylor, some of the kindergarteners knew the details of what had happened. Others didn't, and were outraged at the unfairness of her death. Then Aiden told them the grand jury's decision.
"Five-year-olds are very concrete: it's either good or bad, fair or unfair," Aiden said. "They were like, 'That's not fair.' "
"They're still struggling with death, wondering, 'Will her family ever see her again?' 'No' — those kind of developmental things. It's important for us to think about people who are gone and how we can do better for them in the world."
So the class made a memorial for Breonna Taylor at the monument to Thomas Garrigue Masaryk, the first president of Czechoslovakia, out on the Midway Plaisance. They decorated the sculpture's plinth with portraits of her and signs that read "Black Lives Matter" and "Say Her Name."
"It was clear when we put it up that it was little-kid work," Aiden said.
When the class went back Sept. 30, the memorial had been vandalized. Someone had spray painted over Taylor's portrait and the words "Black Lives Matter." A sign for President Donald Trump covered one of the posters.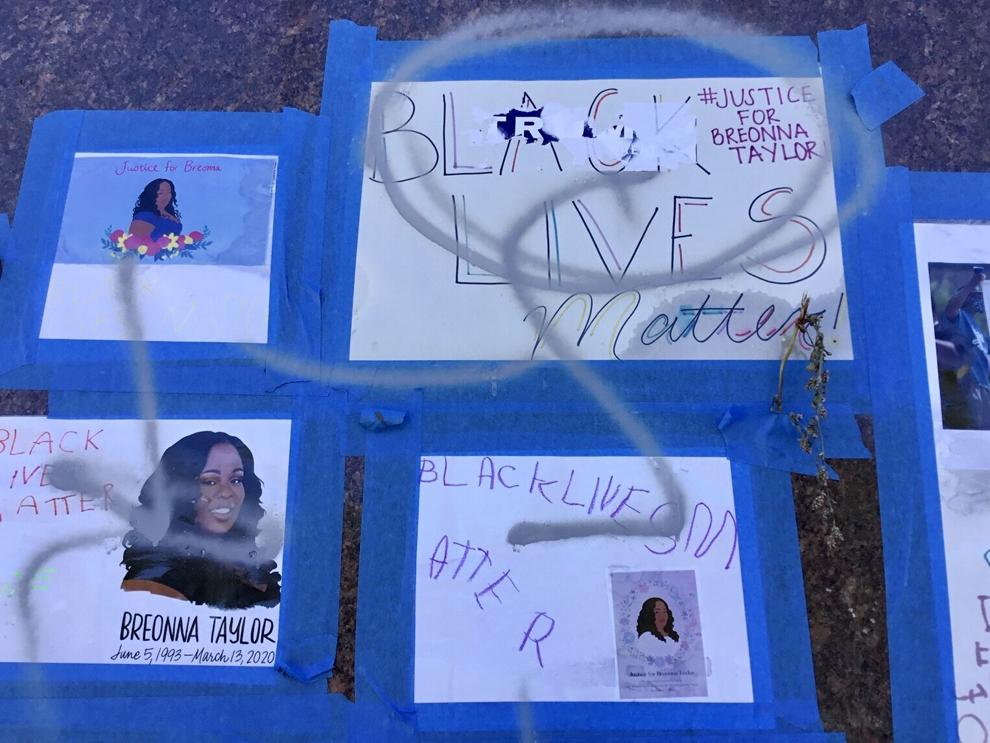 "I saw it before the kids did, and my first thought was like, 'Maybe we should just turn around. I can just fake it, and we can just not deal with this,'" Aiden said. "But then I decided just to keep going. I asked them to sit down. I said, 'Let's just sit down, and let's think about if anything's changed.'"
One said that someone had ruined their work. Aiden asked the class why they thought someone did it. "Maybe they didn't like what we had to say?" they guessed. "Maybe they're just mean people? Maybe it was a bad cop? Maybe it's someone who didn't like Breonna Taylor and thought she was a bad person?"
Aiden asked what they should do about it, and they decided to leave it. One girl said, verbatim, "We won't be stopped."
"I was like, 'It looks like maybe someone didn't like what we had to say,'" Aiden said, "but we've also talked about how important it is to use our voices — especially using our voices to speak up for marginalized people."
That Friday, Aiden emailed the Lab community:
"This is an example of how Black people are silenced every day," she wrote, "erasing our voices, damaging our bodies and killing our spirits.
"This act of vandalism was an attempt to silence our collective voices.
"We will not take our memorial down.
"We agreed that this 'mean thing' will not silence us.
"We are calling on our Lab community to amplify our voices and vision of equity and justice by adding even more to our memorial. Let's grow our memorial as a push against racism and hate.
"Use this moment and picture of hate to start the necessary and difficult conversations with your classrooms.
"Bring your classrooms to the memorial to see the display of hate that is present right in our neighborhood."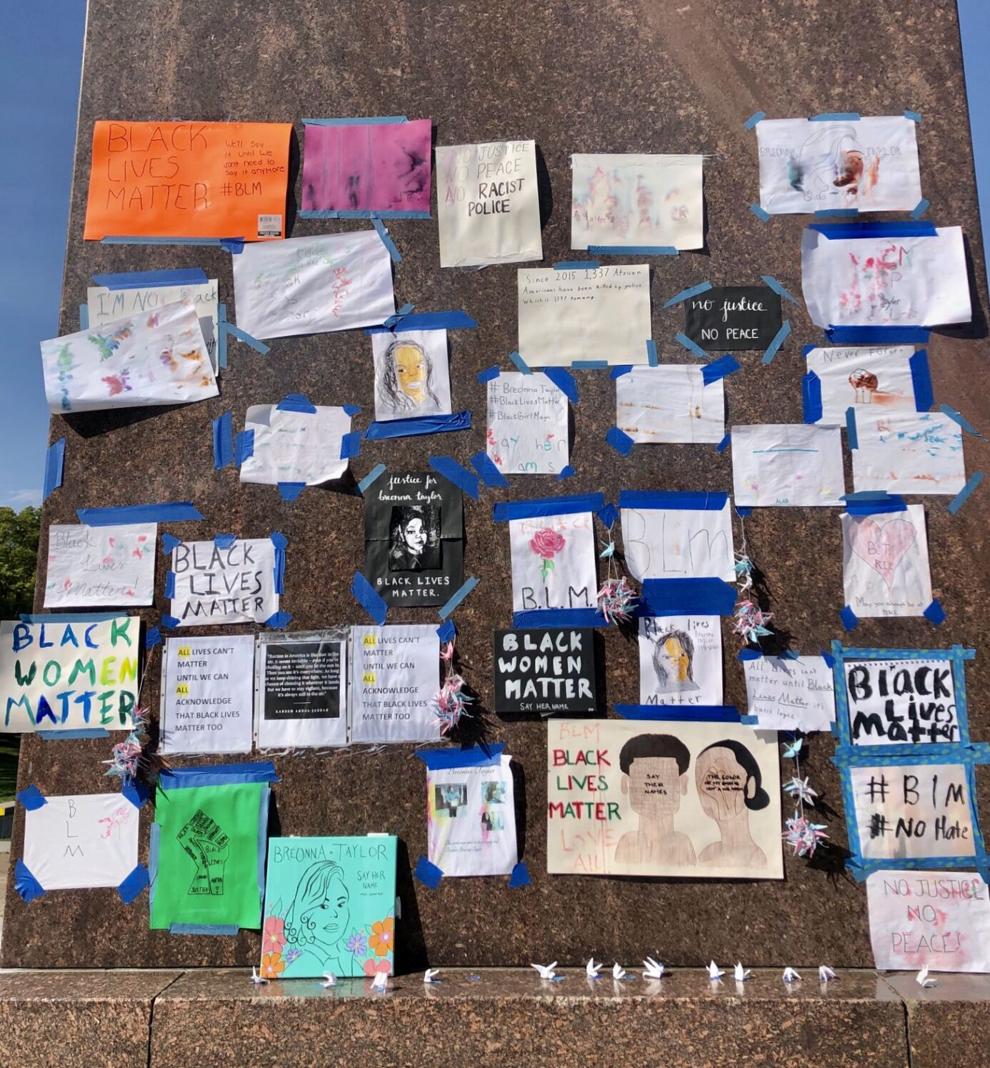 Aiden grew up in Evanston, where she never had any Black teachers. That makes the work so much more important in front of a racially diverse class, but one with only two African American students.
"For me, it's important, because it flips the narrative of what the curriculum looks like," she said. "I think that so much of what we are taught in school is not necessarily relevant, whether you're Black or White. Lab prides itself on being founded by John Dewey and being a progressive school. Part of being a progressive educator is making education relevant, and so I think that current social issues are relevant to young children.
"They're more relevant to me, and I feel like what I put into the classroom is a lot of my personal being, and also a lot of time, they don't really interact with people of color," she continued. "There's a perception about people of color, or there might be biases from home about people of color. So it's important for me to be able to give them that different perspective in their education to kind of balance out the scale on what they're learning and who they're learning about."
But Aiden said it is also her job to set her students up to be good citizens. That means understanding what the world is really like, including empathy and compassion for others.
"It's important for me to have all kids feel like they're welcome in the classroom, that they're seen, they're heard, and they're valued and honored for who they are," she said. "Being the minority in education I think helps me amplify that a little bit."
The monument has indeed grown since Aiden's email, with more pictures and signs added to it by other students from other classes. 
She said the perception that young children are not capable of understanding difficult issues is mistaken. Everything, rather, can be made age-appropriate, and adults often underestimate what young children are capable of handling and what they bring to the table.
"I see them as people, and I think it's important to push their boundaries just a little bit and give them real information," Aiden said.
This approach raised some concerns early in her time at Lab. But when people saw that it could be done right, she said, more of her colleagues tried her approach. Last year, a group of her colleagues led Lab's first-ever participation in the national "Black Lives Matter at School" week.
Even as Lab's Black Students' Association demanded the administration better address racism and intolerance at the school over Martin Luther King Jr. Day in January, Aiden praised diversity, equity and inclusion efforts.
"I feel like the administration understands that this is kind of my contribution to that, to honoring our mission," she said. "I've seen the administration acknowledge that there are some things that need to be worked on. I've seen teachers step up and want to have these conversations in their classrooms. I think that teachers are more willing to talk about George Floyd — which happened after the incidents at Lab this year — more willing to talk about Black Lives Matter, more willing to add more diversity into their curriculum.
"I think the teachers are understanding that it might not seem like it's important until it affects someone personally in the school. It's not just something that Black kids need. It's something that all the kids need as part of their curriculum."