"When I say big top, you say circus," shouted Sifiso the "Whistle Man" as he warmed up an eager crowd at a UniverSoul Circus Saturday morning show. 
After a two-year pandemic break and straight from Washington, D.C., the traveling circus' big top tent returned to Washington Park, 51st Street and Cottage Grove Avenue, for their 29th season.
The show is carefully orchestrated, highly entertaining, eclectic and, above all, fun for the whole family. A sampling of acts during the two and a half hour show include limbo dancers, horses, daring acrobatic moves, stilt walkers, motocross riders and plenty of dancing; as well as groups like Fresh the Clowns from Detroit, Xtreme Bikes from Chicago and the Havana Skaters. 
There's also an intermission, during which attendees can purchase tickets to ride a camel around the ring. 
Cedric Walker created UniverSoul in 1994 in Atlanta, with the explicit purpose "to showcase Black performers in talents besides singing and dancing." Today, it is still the only Black-owned and operated circus in the country, and is rated as one of the top two circuses in America, along with Cirque de Soleil. 
Performers hail from across Africa, North America, the Caribbean, Cuba and Mongolia, among other countries. 
In 1997, the circus toured through 10 cities including Chicago; by 2008, it had increased to 29 cities. The 2022 tour travels through Atlanta, Baltimore, Washington, D.C. (National Harbor), Chicago and Detroit (their next stop). 
Co-ringmaster and fire limbo dancer Cheyenne-Rose Dailey said the show relies on energy shared between performers and the crowd, but "that energy to give them is so easy, because we get it back 100%, especially in Chicago." 
Dailey joined the show at age 19, after a successful audition in her home country of Trinidad and Tobago. Since 2016, she's been a ringmaster. 
The show is also highly interactive — midway through the Saturday performance, Sifiso and Fresh the Clowns, a trio of teenage clowns in bright yellow costumes, held a dance competition with three kids from the audience. Later, they orchestrated an absurd "boxing match" between three unsuspecting adults also pulled from the audience.
"You allow people to see that they can become part of the show," Dailey said. 
During transitions, Fresh the Clowns perform TikTok dances and general antics, keeping the crowd engaged.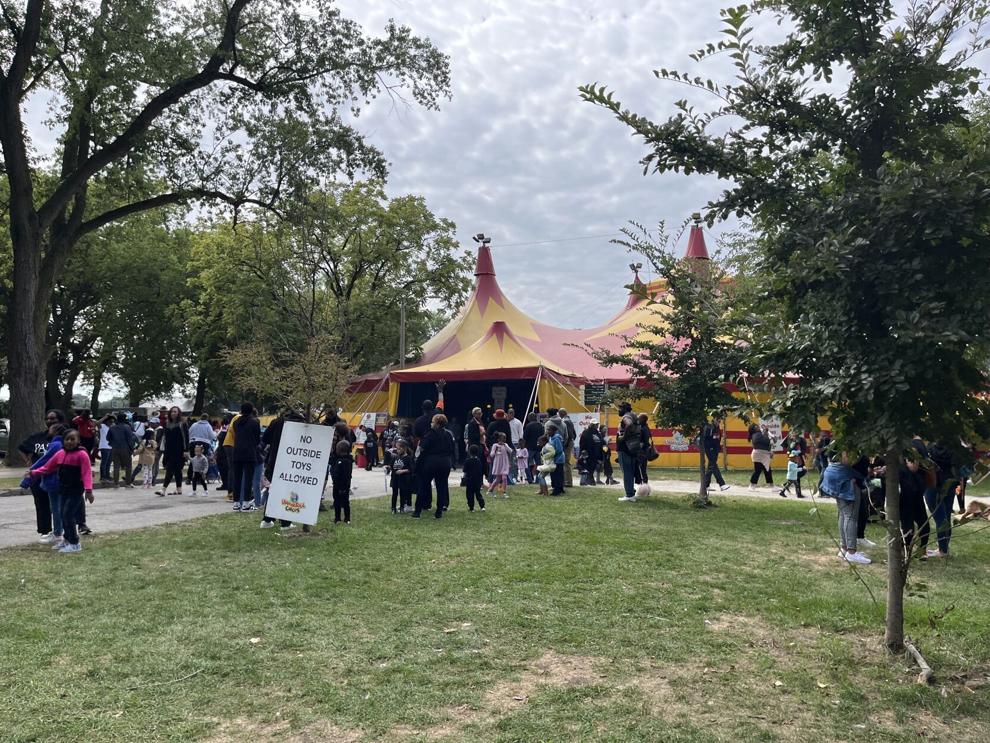 This year's theme is "anything is possible," because, Dailey said, "We were hit with this unexpected pandemic… And it really made a lot of people feel like this was probably the end."
Though they were unable to perform for two years, the UniverSoul cast still developed a number of new tricks and stunts during this downtime.
"It's really allowed us to see that sometimes taking a step back is not a bad thing," she said. "Something that we thought we would never be able to get back to, we are now here. So literally anything is possible." 
The final piece in the show is dedicated to this message: Dancers dressed in white are hoisted into the air by wires. Dailey said this dance promotes the idea of rising up out of any situation once you have love, unity and respect. 
"We are having so much fun (in Washington Park), because seeing as we've been away for two years, the love and the energy and the support that everybody is showing out to all these shows, everybody is coming with that." 
She added that "being a performer is something that we all love to do, so it never feels like work." Even on days off, "we train, we practice, we rehearse," to make sure stunts like tightrope walking or any of the other high-flying "daredevil"  feats are executed safely and professionally. 
During the pandemic, many troupe members continued to train and perform to keep their bodies in shape for their eventual return. "So being here feels great," she said.  
The circus will continue through Oct. 31, with shows on Thursday and Friday evenings and throughout the day on Saturday and Sunday. Tickets are available at universoulcircus.com/chicago.