The Chicago Plan Commission (CPC) approved a mixed-use, transit-oriented development in Bronzeville and a Chicago Transit Authority facility in the 20th Ward at its monthly meeting today. 
The 43 Green project, set to be built at the southwest corner of 43rd Street and S. Calumet Avenue, was first presented to the local community at a meeting in late 2019. The development from the Bronzeville-based P3 Markets and the Habitat Company will include 99 residential apartments, about half of them affordable, and ground-floor retail. 
The project is located right next to the 43rd Street Green Line, and along the 43rd Street bus route. In her remarks supporting the project, Department of Housing Commissioner Marisa Novara noted that around 90% of transit-oriented developments have "been on the North Side, in the West Loop, or downtown" since the city passed an ordinance to stimulate that kind of development in 2013. 
"Clearly we have a lot of work to do to establish a more equitable distribution of transit-oriented development. The value of having dense development with affordability near transit is valuable throughout the entire city," Novara said. "We consider (this project) a down payment on balancing that distribution." 
Philip Lomax Beckham III, one of the principals at P3 Markets, said he hoped the project would bring more investment to the neighborhood. "The project is making a statement to say that we have this opportunity in Bronzeville, we have what you want in Bronzeville," he said. "It's also part of bringing back a young population marketed toward young professionals, people just getting started." 
Beckham is a third-generation Bronzeville resident — he included a photo from 1955 showing his father driving his grandfather's construction park near 43rd and Prairie Avenue, a block away from 43 Green. 
"This project doesn't displace anybody...it's vacant property that we're bringing back, and bringing the vibrancy to 43rd to make this what it was decades ago."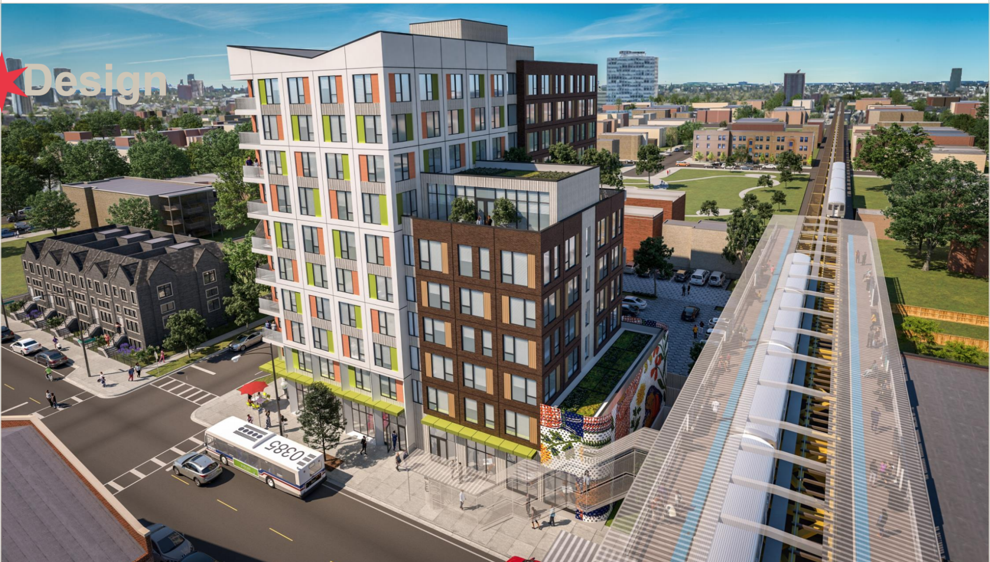 Maurice Cox, commissioner of the Department of Housing, likened the project to "something from central casting." 
"It's what we would hope for to be the type of equitable development that we want to see on the South Side," he said, noting that it was this kind of project that the city hopes to encourage with its Equitable Transit-Oriented Development plan, which is set to be finalized in the near future.
"This is an opportunity to create kind of greater housing choices on the South Side," he said. "And I want to recognize that the design team in their adhering to some of our neighborhood design guidelines with the very, very articulated massing of the building — it actually reads as three buildings — is very, very mindful and sensitive to the context."   
Ald. Pat Dowell (3rd) also spoke about her support for the project at the meeting. "I'm very happy that P3 Markets and the Habitat Company has joined forces to bring this investment to our community in the southwest corridor," she said. "This is probably the first major investment of this type in a very long time." 
CTA facility set for 20th Ward also passes, with caveat 
The second local project to pass through the CPC — though not without some debate about the community engagement process — was a rail vehicle maintenance facility proposed by the Chicago Transit Authority on a parcel of land southwest of the 63rd Street and Calumet Ave. intersection. 
Sanford Stein, an attorney representing the CTA, said that the 69,000-square-foot facility was a replacement for a previous vehicle maintenance shop that had been torn down in 2009, after which operations had been moved to Skokie. It also includes an upgrade to the adjacent stormwater retention system, as well as public art installations.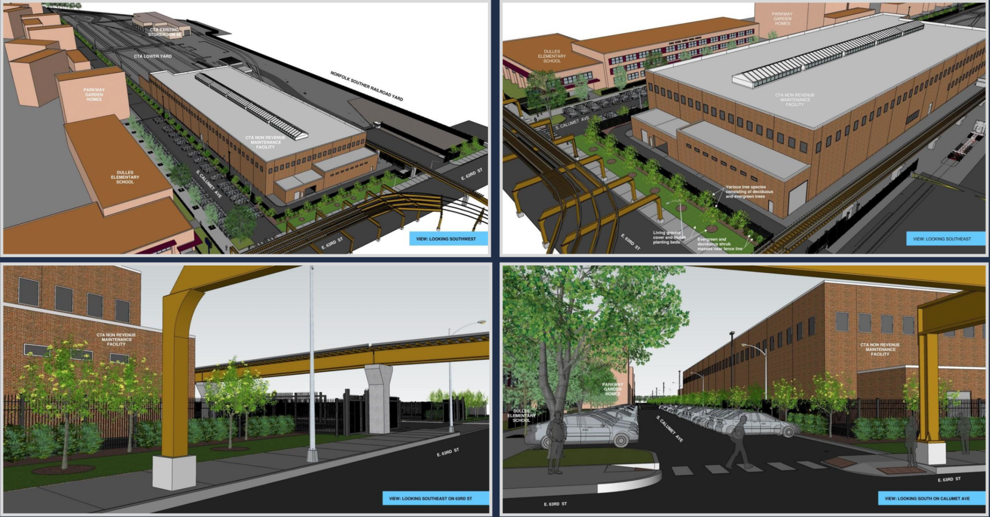 "This is a proposal to bring that back in a modern, new, architecturally pleasing building with considerable amenities — environmental and aesthetic — and to bring some of those jobs back to the city of Chicago," Stein said. 
But Ald. Jeanette Taylor (20) — who had written a letter of support for the project last year — said that the CTA had not been in touch with her to set up a community meeting to review the latest renderings. "While they're very nice renderings, and I'm sure the community doesn't have a problem with it, it would have been nice to have a conversation before it was presented to the Plan Commission."
After a discussion between the CTA representatives on the call, Plan Commission members, including Alds. Tom Tunney (44) and Walter Burnett (27), and Taylor, it was agreed that the project could move forward, with the understanding that Taylor could keep it from moving forward in the Zoning Committee until there had been a community meeting. 
"But that's with the promise that CTA has to show these renderings and take input from our community," said Taylor. But she also criticized what she described as the sometimes-fragmented nature of planning work, referencing the Friend Health project set to be built at the corner of 63rd and Cottage Grove. 
"From 63rd and King to 63rd and Stony Island, any project that includes the CTA they just definitely need to be at the table," she said. "They were talking about moving stuff to CTA but (Friend Health) knew nothing about it, and see how it doesn't make sense. The silo work just doesn't work. It's a headache."