In a cramped kitchenette-style apartment somewhere on the mid-South Side in the 1940s, neighbors squabble over the use of a communal bathroom, its dwindling toilet paper and a disintegrated bar of hand soap. The tensions (and joys) that invariably arise in those close living quarters, from the mid-20th century to today, are the subject of a new film by writer and organizer Charlene Carruthers.
The founding national director of youth organization Black Youth Project 100 and author of "Unapologetic: A Black, Queer, and Feminist Mandate for Radical Movements," Carruthers made her directorial debut with "The Funnel" earlier this year. Shifting between the 1940s and present day Chicago, the 17-minute short explores ever-relevant themes of housing injustice, spirituality and intimacy within Black communities.
The story follows Trina (Cat Christmas), a young poet sharing a similarly-cramped apartment in the present day with her mother, facing an impending foreclosure. One night, she dozes off while writing a poem about her ancestors and finds herself transported back in time: It's the 1940s and she's subsumed the life of her great aunt, Taylor, in a kitchenette that her present-day apartment is built atop of. In this vision, Trina is introduced to her aunt's secret lesbian relationship. 
Carruthers drew inspiration for the story and characters from the 2019 book "Wayward Lives, Beautiful Experiments" by Saidiya Hartman, which chronicles the stories of radical and queer Black women living in similarly tight spaces in cities in the early 20th century. In "The Funnel," this is exemplified through Taylor's secret relationship with her girlfriend, Auburn, whom she attempts to hide from three nosy neighbors.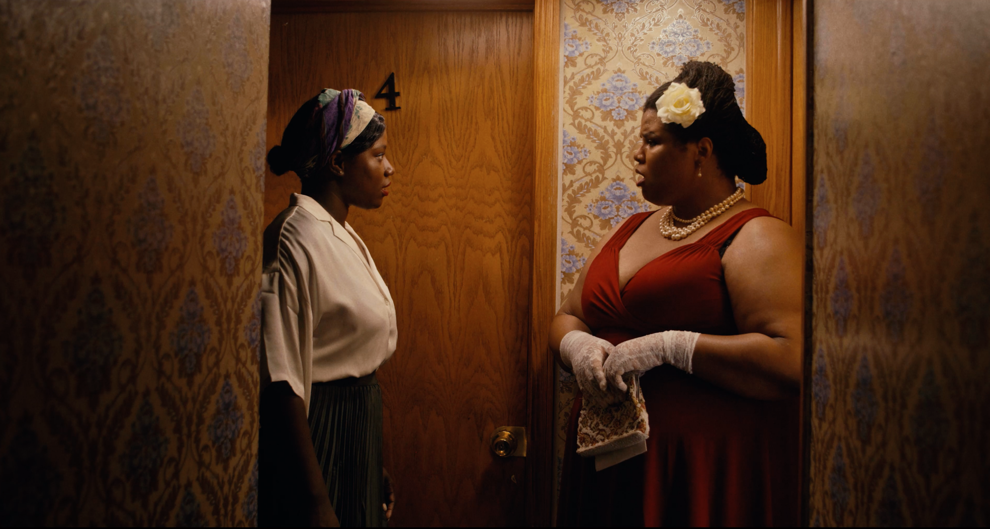 Carruthers also incorporated experiences from her own upbringing; she grew up in Back of the Yards and spent significant time in Woodlawn with her extended family.
"You could be in a two bedroom apartment with a lot of people, and figure out a way to still build love, to share food, to have fun and navigate challenges and struggles all at the same time," Caruthers said. "This is not to paint a rosy picture. It is to say that our lives were complex and I learned what it meant to not live in the single story that is told about Black people in Chicago, that we don't know how to take care of ourselves or our communities."
She wrote the screenplay as a final project in a class for her Black Studies Ph.D. program at Northwestern University. She spent several months looking through archives at the Chicago Historical Society, perusing images of Black people living in kitchenettes in Chicago from the 1940s through the 1960s, watching documentaries and speaking to descendants of those who lived in similar housing environments.  
The creation of kitchenettes – effectively micro-apartments – boomed in Chicago's predominantly Black neighborhoods during the Great Migration in the mid-20th century. From 1940 through 1960, more than 80,000 of these units were created across neighborhoods like Bronzeville, Woodlawn and Chatham.
Kitchenettes were largely the product of subdividing already existing one- or two-bedroom apartments into several smaller units. Entire families often occupied single rooms and there was usually only one bathroom per floor. Though kitchenettes popped up across the city, those on the South Side were reported to have worse overcrowding, health and safety conditions.
The densely-populated and poorly maintained kitchenettes were gigantic fire traps. Another major aspect of the story is based on the events of a 1941 fire that ravaged a Woodlawn kitchenette, 6211 S. Vernon Ave., destroying the homes of more than 18 people.
The title, Carruthers said, comes from a line in Richard Wright's short story "The One-Room Kitchenette": "The kitchenette is the funnel through which our pulverized lives flow to ruin and death on the city pavements, at a profit."
"When I think about the kind of story that I want to tell about the kitchenette, that hallway is in many ways a way we can understand a funnel, we can use it as a metaphor," said Carruthers. But, diverging from Wright, she wanted to convey a more optimistic message of resilience in spite of such poor living conditions: "It's the way that Black people are living, how they live their lives in the kitchenette building, it's so much more."
The film premiered in Chicago in September at the 40th annual Reeling: The Chicago LGBTQ+ International Film Festival, and has since been picked up for several local festivals.
The film will screen again at the 9th annual Black Alphabet Film Festival on Nov. 5 at the Reva and David Logan Center for the Arts, 915 E. 60th St., and at the 28th annual Black Harvest Film Festival, taking place at the Gene Siskel Film Center throughout the month of November.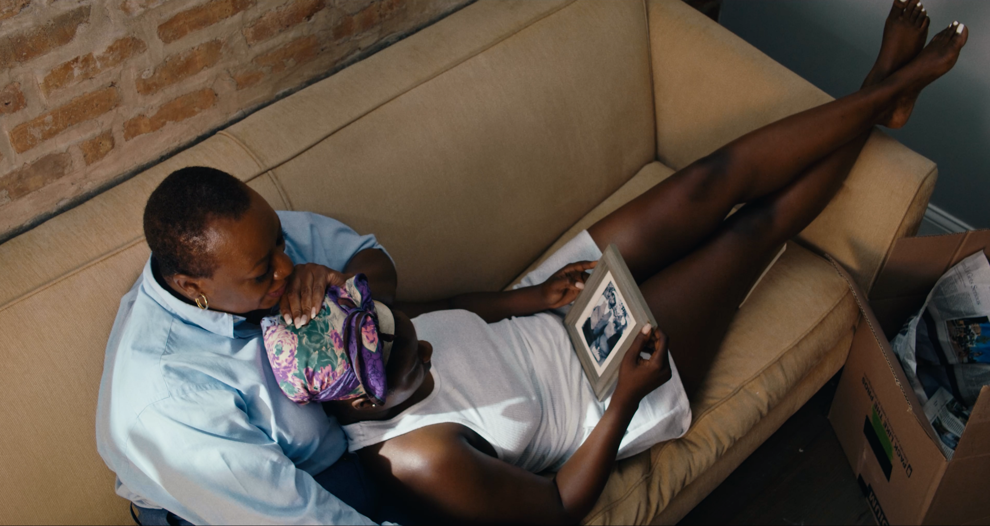 Carruthers is interested in telling more complete stories about Black people in order to devise well-rounded solutions to problems that Black communities still face today, such as people living in "unstable housing (and) dilapidated buildings."
"I grew to understand that not only do people try to make the best out of their situations, it's that those situations don't have to be that way," Carruthers said. "It is not simply the making of individual decisions by the people who live in the communities, but it's in large part due to public policies that allow these kinds of communities to exist in the way they do without the resources that we deserve."
The relationships in the film express the Black community's ability to maintain strong bonds with one another despite unsuitable living conditions.
"Black people have always found a way to create intimacy and relationships with each other. Whether it be romantic, platonic, neighborly, any sort of intimacy, even in these spaces where society encourages us not to," Carruthers said. "One of the central messages is that we can still have and we will continue to live full lives and that we have always been clear that we deserve better."
As BYP100's national coordinator for nine years and a community organizer in Chicago for more than 15 years, Carruthers views her film as an opportunity to "politicize and educate people." She also wants to expand on the legacy of Black LGBTQ films and widen their audiences.
"My hope is that people can use 'The Funnel' and their work to advance queer and trans rights, to advance housing justice, to educate people of all ages about Chicago and Black folks lives in the 1940s and the foreclosure crisis of the early 2000s," Carruthers said. "And for filmmakers, and people who love film, to see a way of storytelling that is complex and leans into the multitudes of Black life so that we actually don't have to tell a single story."
"The Funnel" will be screened at the Black Alphabet Film Festival on  Nov. 5 at 6:45 p.m. at the Logan Center for the Arts, 915 E. 60th St. It will also screen at the Black Harvest Film Festival on Nov. 11 at 6:30 p.m. and Nov. 13 at 4:00 p.m. at the Gene Siskel Film Center, 164 N. State St. It will screen as part of the shorts program "From the Block," which features short films from Chicago-born directors.