Tenants of 51st and King Drive Apartments, a 96-unit affordable housing complex on the northwest corner of Washington Park, shared longstanding concerns about the conditions of their units with new owners working to turn the building around.
At an evening meeting with tenants on April 18, representatives from Jonathan Rose Companies shared multimillion dollar repair plans for the building, which more than a dozen residents say has for years been plagued by roof leaks, mold, poor heating, mail theft and rodent and insect infestations.
In late December, Jonathan Rose assumed ownership of the building from Chicago Community Development Corporation (CCDC) and its property manager, East Lake Management, which ran the building for 22 years.
Over the last few years, tenants allege, the building's owner and property manager have been unresponsive to tenants complaints and requests for repairs.
"I've been in my apartment for 12 years, and the past three (to) four years, every time it rains, it rains in my apartment," tenant Stephanie Young told Jonathan Rose representatives. "The mice is ridiculous, the roaches is ridiculous."
Heidi Pruitt, a resident of seven years, added "The stove is out, the radiator in the kitchen never worked … "(But) I understand that you all have a lot of work cut out for you."
In 2022 alone, the building located at 5035 S. Martin Luther King Dr. was cited by the Department of Buildings for more than 50 code violations, among them walls and ceilings with holes and plaster cracking, unsafe stairways and hallways, missing doors, rodent and cockroach infestations, leaking and a defective boiler heating system.
"I think we could all agree that 51st and King is in need of deep renovation," said Brandon Kearse, Jonathan Rose's managing director of acquisitions and rehabilitation, to tenants. He estimated that the full cost of the renovation, which involves stripping much of the building down to its studs and framing, will run roughly $30 million.
On December 24, during the sub-zero holiday cold snap and just two days after Johnathan Rose took over the property, the building's boiler heating system broke. Heat was knocked out in 33 units, most of which regained it within a few days, according to Hearse.
In one portion of the building, however, heat took almost two weeks to restore due to the pipes freezing. Those residents were temporarily relocated offsite, until those issues were fully resolved on January 11.
"As soon as we took over, everything fell apart," said Mye'l Lassiter, the regional manager for Rose Community Management, the in-house property manager for Jonathan Rose Companies. "We never want you all to experience something like that again … I want to apologize for previous management that got you to where you are — the deferred maintenance, the neglect as far as property management."
Joy Carnes, a seven-year tenant of the building, was one of the residents who lost heat during the holidays. She also told the Herald that she lost heat again in her unit a couple of weeks ago and is still without it.
Chicago Community Development Corporation and East Lake Management have been the subject of numerous complaints from tenants of their other properties over the years, many of which are affordable housing complexes on the South and West sides. Tenants at these properties repeatedly cite security concerns, poor building upkeep, lacking management response, unclean water and pest problems.
Jonathan Rose purchased the building from CCDC for the balance of all existing debt on the property, which totaled $5.3 million, Kearse told the Herald. The acquisition was part of a larger purchase of the CCDC's entire property portfolio, which had been in the works for almost four years.
"At Jonathan Rose Companies, creating, preserving, and rehabilitating affordable housing is the core of our mission so we agreed to acquire the entirety of their portfolio, all of which was affordable or mixed-income housing," Kearse said. "51st and King is the most challenging property of the portfolio, in terms of physical needs, finances, operations and regulatory structuring … But it also represents the greatest opportunity for renewal."
51st and King Drive Apartments has 38 units of Section 8 housing, which the company plans to renew. In total, 91 units are affordable to residents earning 60% or less of the Area Median Income (AMI) — about $50,040 for a two-person household. These rates will also be continued, Kearse said.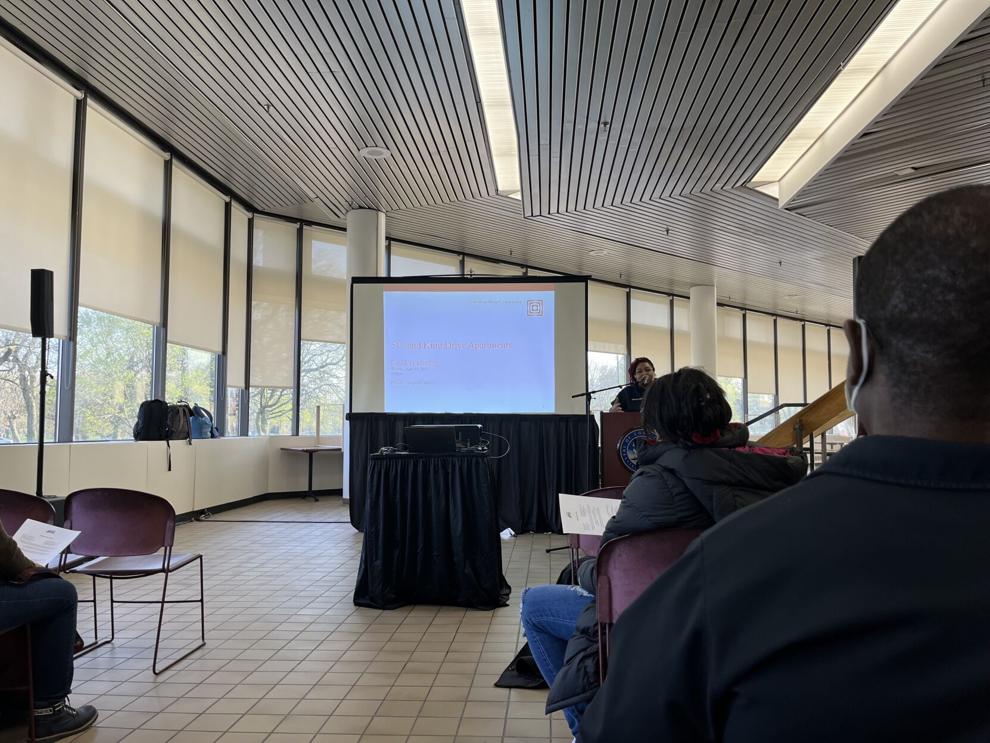 In a slideshow presentation to tenants, representatives from Jonathan Rose gave details on the timeline and types of renovations planned for the building.
"Near-term repairs" have begun on vacant units and common areas; the work includes interior unit renovations, hallway and exterior building repairs. These repairs are slated to be completed by fall 2023.
Led by contractor B&B Realty Group, the repairs are focused on mitigating immediate "life safety issues." When repairs do move to inhabited units, a company representative said, residents may be required to temporarily relocate within the property, but will not be permanently displaced. Lassiter urged residents to continue calling and filing work order requests so that the company can address continuing issues.
Jonathan Rose's development and finance manager, Dan Ping He, said that long-term repairs to the building include replacing the heating, appliances, floors and the interior and exterior stairwells.
Funding for the $30 million rehab project is not yet secured. In March, the company submitted a funding request to U.S. Senators Dick Durbin and Tammy Duckworth, and anticipate hearing back this summer. The company is also planning to submit for low-income housing tax credits from Chicago's Department of Housing in July, He said.
(Ald. Jeanette Taylor (20th), who organized the meeting, noted that Tax Increment Financing (TIF) funds could be an additional source of funding for the renovations.)
"Normally, when we take over a building, we have funding on hand to renovate it," Kearse said. "We did not do that here, we went ahead and took it over before we were allocated funding, and we'll be pursuing funding to fund the full-term renovation of the building over the next six, 12, 18 months."
According to the presentation, funding awards will be announced in late 2023 or early 2024. Renovation will begin if those funds are awarded. If not, Kearse said, repairs will be delayed at least a year.
Jonathan Rose Companies is a for-profit affordable and mixed-income real estate developer that owns more than 15,000 units across the United States. The developer also owns two other South Side apartment buildings, Woodlawn's Jackson Park Terrace, 6040 S. Harper Ave., and Englewood Gardens, 6950 S. Vincennes Ave.