The Chicago Architecture Center's (CAC) Open House Chicago returned for their annual fall event last weekend, Oct. 15-16, showcasing 150 architecturally and historically significant sites across 20 neighborhoods of Chicago. Nine of these sites were located in Hyde Park and Kenwood.
The Herald stopped by two newly participating sites, Kenwood United Church of Christ (Kenwood UCC), 4600 S. Greenwood Ave., and St. Paul and the Redeemer Episcopal Church, 4945 S. Dorchester Ave. Other participating locations include the Hyde Park Art Center, 5020 S Cornell Ave., Hyde Park Bank and Trust, 1525 E. 53rd St., and KAM Isaiah Israel, 5039 S. Greenwood Ave.
Kenwood UCC was founded in 1885 as an evangelical reformed church, then known as Kenwood Evangelical Church. Originally a small group of protestants from various denominations, the church's founding members actually broke ground on their first meeting house a few blocks from where the church sits today, at Woodlawn and Lake Park avenues. Their current building was completed in 1887 and was constructed by William W. Boyington and Otis L. Wheelock in the Romanesque style. Still the original structure, it was added to the National Register of Historic Places in 1991. 
During a tour on Saturday, Pastor Emeritus Rev. Dr. Leroy Sanders said it was "one of the largest congregations in the city of Chicago, because back in those days, the city limits ended somewhere in Hyde Park." A 138-year-old parish, Sanders has been with Kenwood UCC for 43 years. 
Sanders said Kenwood UCC was part of a similar architecture tour 15 years ago, but has not participated again until this year. 
Passing through the church's open doors, visitors would immediately encounter Renae Dameron, the UCC's custodian, sitting in a front pew. Wearing a red CAC Open House T-shirt (matching the banner and signs out front), Dameron was waiting for interested people to approach.
Dameron, a self-described "jack of all trades," said she stepped up to give the tours when the original guide became unavailable. And her familiarity with this church stretches back decades; she has attended Kenwood UCC since she was eight years old, and officially joined the church as an adult in 2002. 
In a tour around the premises, Dameron showed off their free soup kitchen — open every weekday except Wednesday — and a donations closet, which stores items like coats, shoes and socks, as well as personal hygiene supplies. 
She noted that Kenwood UCC was the only place nearby that remained open during the entire pandemic; though services were halted, the church began distributing masks, hand sanitizer and gloves. 
On the second floor, Kenwood UCC also operates a free medical clinic where patients can get health screenings. Though the center hasn't had an on-staff doctor in two years, Dameron said that  they do have two registered nurses available. (Pastor Sanders added that they are currently looking for a replacement doctor.) Educational youth development organization Ra Messu-t also has an office in the building. 
By early afternoon, more than 60 visitors had walked the church's halls, according to Dameron, who was recording the number on a clicker provided by CAC.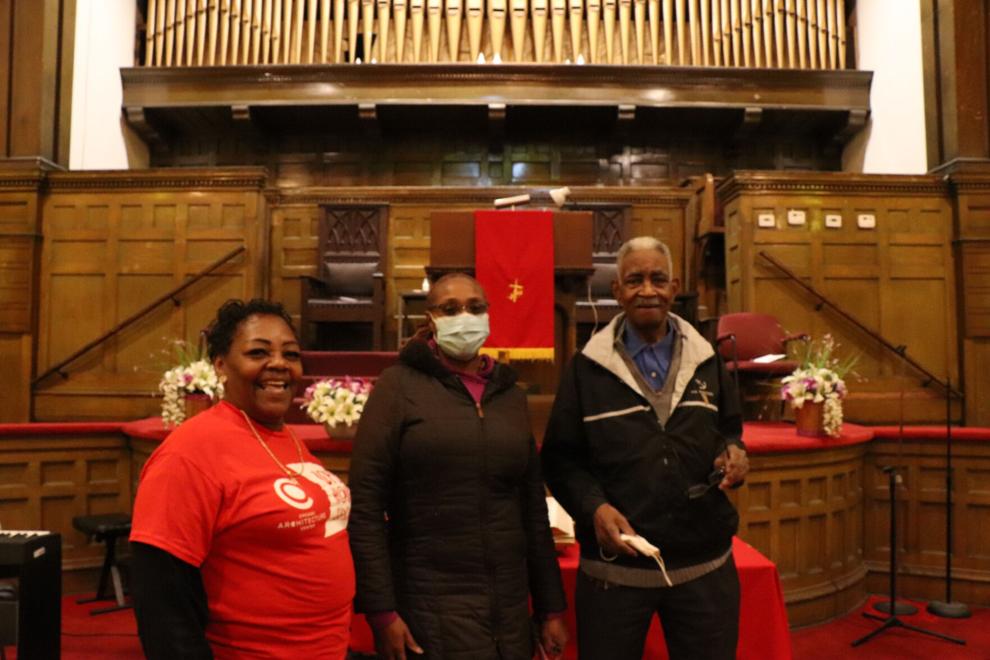 A couple blocks southeast at St. Paul and the Redeemer Episcopal Church, 4945 S. Dorchester Ave., Saxton Lukasz Jedrzejewski was similarly leading tours. 
Jedrzejewski said that when Open House organizers came to visit, calling him from outside the church, he readily agreed. "That'll be good publicity for the church. And I love what the organization (is) doing," he said.  
An hour into their opening, they had already received 21 visitors, according to their clicker. "As soon as I opened the door, there was like 15 people already coming in," Jedrzejewski said, noting that nearly all of them were seeing the space for the first time. 
A member of the congregation, Sem Sutter, also came to help host for a few hours in the afternoon., bringing along an informational sheet about the building's history. 
St. Paul and the Redeemer is a newer building, the original having burned down in a fire in 1956. "It was on a night when there were a number of church fires on the South Side… almost certainly arson," Sutter said. Only the bell was saved, and it remains in the church to this day. Ten years later, the second building, which opened in 1958, merged in name and location two congregations, St. Paul's and Church of the Redeemer. The latter was their daughter parish, originally located at Blackstone Avenue and 56th Street.
In 2002, the church did a major renovation, and the building today has chairs instead of pews. The fixtures that hang in the center of the room are typically handmade by artistically-talented members of the congregation, Sutter said.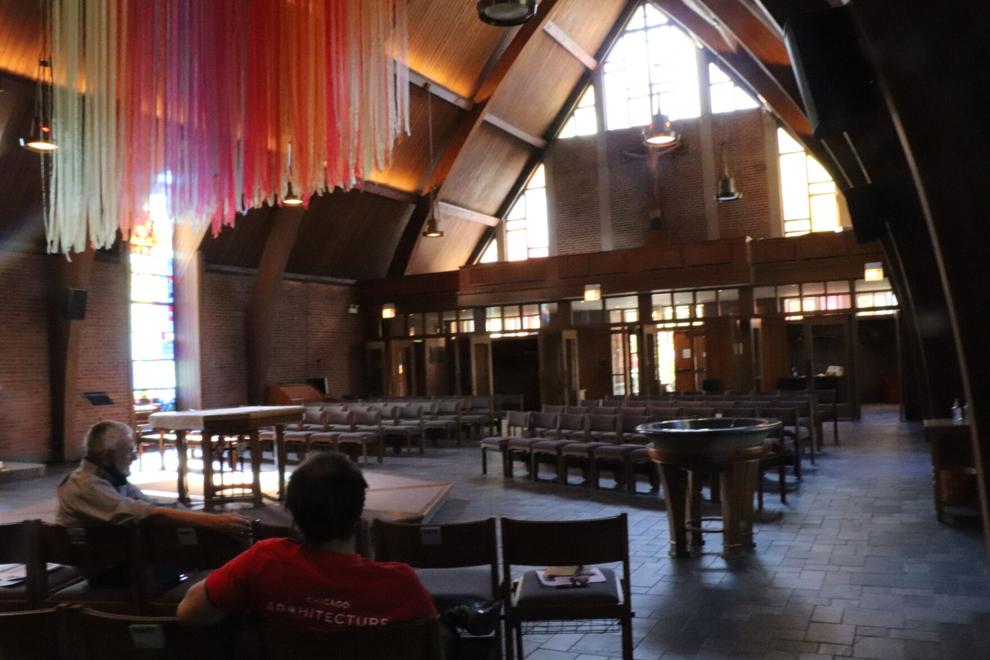 A full list of the Hyde Park-Kenwood sites that were open during the event can be found here. Across the mid-South Side, other highlights include The Forum, 318 E. 43rd St., and Regal Theatre, 1645 E. 79th St. in Bronzeville, as well as the Moorish Revival Avalon Regal Theater, 1645 E. 79th St., in South Shore.  
Open House Chicago began in 2011, named for the family of events that started in London in 1992, and arrived in New York in 2002, according to their website. Since then, more than 50 cities around the world have adopted similar events under the name Doors Open, including Denver, Milwaukee, Minneapolis and Toronto. 
CAC, a nonprofit cultural organization, has always been at the helm, and continues to partner with chambers of commerce, arts and neighborhood organizations to hold Open House every fall.