Two-term state Rep. Lamont Robinson (D-5th) has been elected alderman of the 4th Ward over Prentice Butler, the ward's current chief of staff. 
With all precincts reporting on Tuesday night, April 4, Robinson captured 66.52% of the vote and Butler captured 33.48%, according to the Chicago Board of Elections. They are separated by a little more than 4,000 votes.
Robinson emerged as the frontrunner in the 4th Ward race's first round election on Feb. 28, with Butler edging out candidate Ebony Lucas by just 104 votes to advance to the runoff.  In total, six candidates ran in February's municipal election: Robinson, Butler and Lucas, as well as Tracey Bey, Matthew "Khari" Humphries and Helen West. In the runoff election, all former 4th Ward candidates coalesced behind Butler.
On the edge of the lakefront, the 4th Ward includes parts of South Loop, Bronzeville, Kenwood, Oakland and northern Hyde Park. After seven years in the City Council seat, outgoing Ald. Sophia King stepped down to run for mayor. Capturing 1.2% of the vote in February, she placed eighth out of nine mayoral candidates.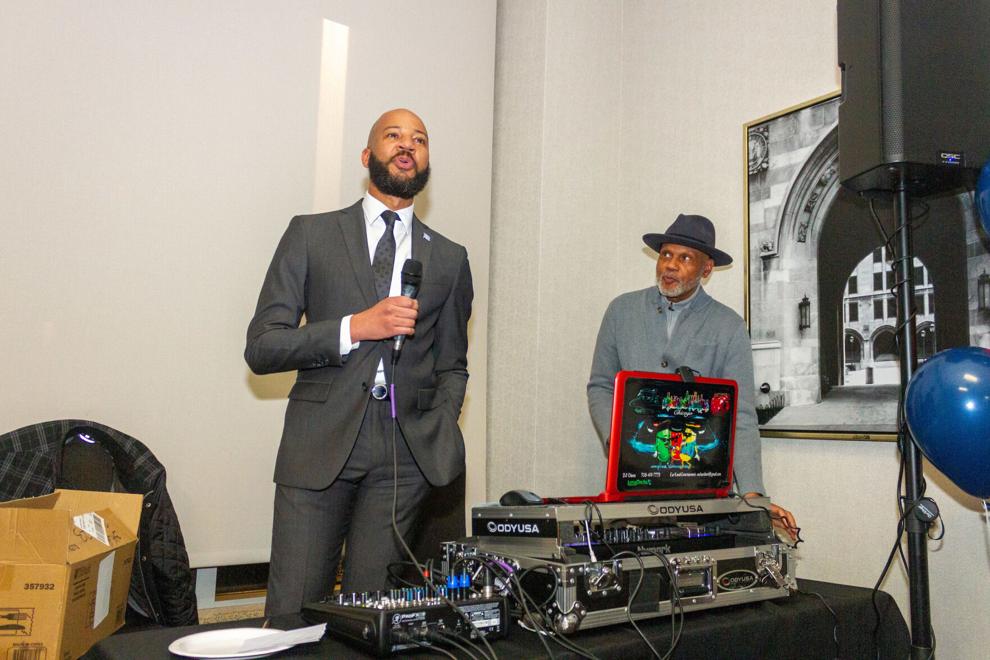 Robinson entered his election night watch party just after 8:15 p.m. on Tuesday night, hugging and greeting dozens of supporters at Hyatt Place, 5225 S. Harper Ave. The race was effectively over and he began his remarks by thanking his family, friends and campaign staffers.
"We worked endlessly to make sure that our message got out to the residents of the 4th Ward," Robinson told the crowd. "I want to thank my wonderful team for allowing me the opportunity to make history again in the city of Chicago and in the state of Illinois."
He went on to thank those who endorsed him, including Cook County Board President Toni Preckwinkle, who made an appearance at the event. Preckwinkle was alderperson of the 4th Ward from 1991 to 2010.
"There were some seeds that Toni Preckwinkle planted 20 years ago, around affordable housing, around economic development, and now by our current alderwoman, Sophia King," Robinson continued. "I want to make sure that my cousin Zion and other young folks across the 4th Ward are able to go out and play basketball, to grab a sandwich, to be able to play with their friends in a safe environment."
The Illinois legislature's first openly gay Black lawmaker, Robinson was reelected to the state house this past November, an office he has held since 2019. During the 4th Ward race, Robinson received a number of high profile political endorsements, including Preckwinkle, Governor J.B. Pritzker and Senator Tammy Duckworth, as well as the backing of several alderpeople and labor unions.
By Election Day, his campaign raised more than $630,000, with the largest contributions coming from Service Employees International Union (SEIU) locals. 
On the campaign trail, Robinson touted a list of accomplishments in Springfield, including securing $15 million in state funding for the construction of a LGBTQ South Side community center, sponsoring the Lead Service Line Replacement and Notification Act, and his advocacy to save Mercy Hospital (now Insight Hospital and Medical Center Chicago) in Bronzeville. 
On election night, Robinson emphasized the intersection between economic development and public safety; particularly his priority of making rent, homeownership and commercial space affordable. "I believe those three things will stem some of the public safety concerns," he said, with an arm around his younger cousin.
Robinson's platform stressed public safety and economic development as his key priorities, proposing to strengthen the ward's commercial corridors to improve public safety and boost the city's support for small businesses.
He told the Herald that his first act in office will be to meet with the ward's school principals and local business owners, "to make sure that I understand clearly, again, what their issues and concerns are, and to thank them for this opportunity."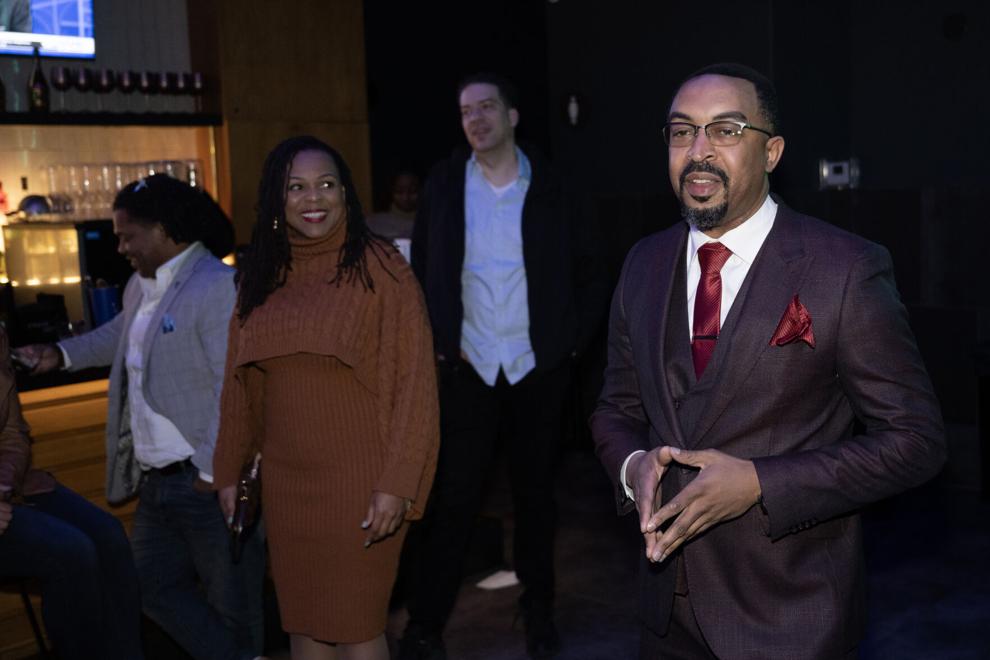 At an election night party at Hue Chicago, 67 E. Cermak Rd., Butler thanked the community, his staff and family for their support.
"The journey the last eight months has been amazing, I've learned a lot. But what I've come to really appreciate is the support from my friends, family and others that have supported me along the way," said Butler. "It's not the necessarily the result that we wanted … This is a democracy, the people have spoken. It's time for a transition. It's been 12 years of my life that I've dedicated to community and serving others. This is not the last of me, in terms of being in the space, but at this point, it's time for a change."
Since 2011, Butler has served as chief of staff for the 4th Ward alderman, working with outgoing Ald. King and her predecessor, Ald. William Burns. 
In his campaign, Butler focused on expanding equitable commercial development — zoning in on the $3.8 billion redevelopment of the Michael Reese hospital in Bronzeville and expansion of the Cottage Grove retail corridor — as well as strengthening neighborhood schools, increasing the participation of community advisory councils and improving public transit and infrastructure.
He was endorsed by King, as well as all of February's 4th Ward candidates. By Election Day, his campaign raised more than $123,800 through mostly smaller, individual donors. With a $16,000 donation, King was Butler's largest campaign contributor.
"I appreciate the love and support. I'm okay, I'm now ready for some rest," said Butler, a statement met with laughter and applause. "Finally, after 12 years I'll have a real vacation where I'll have at least a week off, something I have not done since at least 2011." 
"I want to say to everyone, thank you so much," he concluded.
Robinson will be sworn into Chicago City Council on May 15.