In a chaotic community meeting Thursday, South Shore residents loudly rebuked city plans to use a former South Shore High School to temporarily house hundreds of migrants, criticizing city officials for leaving them out of the planning process and for decades of South Side disinvestment. 
Several hundred people gathered for the May 4 meeting at nearby South Shore International College Preparatory High School, 1955 E. 75th St. Shortly after it began, residents shouted down and interrupted city officials, who quickly abandoned their presentation of the shelter plans and yielded to hearing out community concerns.  
"For decades the City of Chicago has depleted the South Shore community and redirected resources out of our community," one attendee said.  
While some attendees questioned officials on the plans for the shelter, they were often drowned out by others in the crowd shouting statements like "we don't want them here" and "close the border," arguing new arrivals should be housed in predominantly Spanish-speaking neighborhoods like Little Village or more affluent North Side neighborhoods. One attendee stood with a large sign that read, "Build The Wall 2024."  
The city is proposing using the former school located at 7627 S. Constance Ave. as a respite center, a place where migrants stay temporarily while waiting for a more permanent shelter placement. Officials said between 250 to 500 people would be housed in the school at a time, emphasizing that it's a "family site." City officials did not say how long the school would be used as a shelter.
The South Shore center is part of Mayor Lori Lightfoot's larger plan to house the more than 8,000 refugees and asylum seekers that have arrived in Chicago since late August, when Texas Governor Greg Abbot (R) began bussing thousands of migrants from the border to sanctuary cities in protest of immigration policies. 
Last week, officials reported facing a $53 million budget shortfall and dwindling shelter space as the city prepares for a surge of new arrivals from Texas in the coming weeks, calling it a humanitarian crisis. More than 80 people have been arriving per day, the Tribune reports; another influx is anticipated next week, when Title 42 pandemic-era immigration restrictions expire. 
Lightfoot's chief engagement officer Nubia Willman said the South Shore shelter will serve to house some of the hundreds of people sleeping in police stations and field houses as the city runs out of available space. 
The vacant school was chosen as a respite center for its size, affordability and "ready-to-go conditions;" it was a Chicago Police Department (CPD) training center for the past year. The shelter will have a curfew of 11 p.m. and round the clock security, according to city officials.    
But attendees' interjections soon overwhelmed the presentation, and officials abandoned attempts to talk about the plan to instead hear audience questions.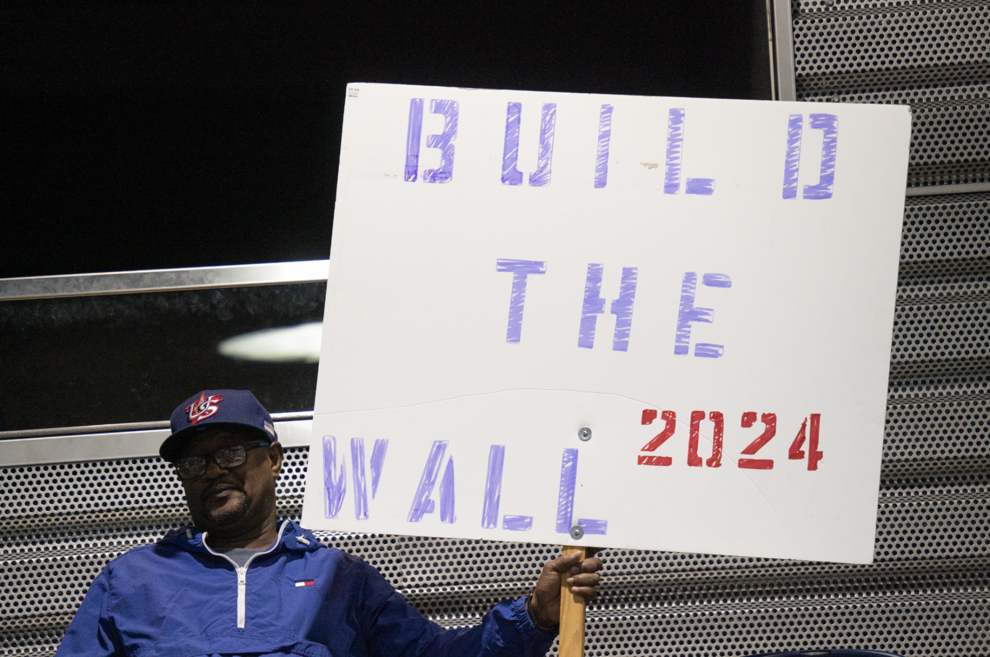 Dozens of residents lambasted officials for moving ahead with the plan without community input, in a neighborhood they say has been overlooked and under-resourced for decades. Others argued that the city should first work to fix conditions in the area before helping others, particularly helping unhoused neighbors. 
Ald. Michelle Harris (8th) spoke out against the proposed shelter, saying she was only informed of the city's plans last Thursday. "While this crisis may constitute an emergency for the City of Chicago, it does not constitute an emergency for the South Shore community nor the residents of the 8th Ward," she said.
Community tensions around the shelter mirror those in Woodlawn around a similar migrant shelter at a repurposed elementary school the city set up in early February. In community meetings and protests leading up to the city moving more than 200 people into the former Wadsworth Elementary School, 6420 S. University Ave., residents repeatedly expressed frustration at the city moving forward with plans without community input, in a neighborhood they say has also historically been neglected by the city. 
South Shore residents also expressed concern about the shelter's potential effect on property values, litter clean-up and public safety, citing a track record of poor police response times in the area. 
Several attendees criticized city officials for not fulfilling a promise to make the former high school into a community center to hold youth programs. The school has been vacant since 2014, when students were moved to the new South Shore College Prep. 
"They promised the community that building would become a center for the community, for business, for education, just like the mayor said," said Freddie Batchelor, a South Shore resident for 50 years and an advocate with the Alliance of the Southeast. "That never manifested." 
Willman said the city will provide a weekly update to Harris and community members, as was done with Woodlawn residents regarding the Wadsworth shelter.