Sylvia Fischer, a longtime public school teacher, local luminary of the civil rights movement and organizer of the 1963 Chicago Public Schools Boycott died on April 1. She was 104. 
Fischer was born in Brooklyn, New York in 1918, during the influenza pandemic. She and her two siblings were raised by her mother, a hairdresser named Anna Berkson, after her father died from pneumonia when she was just four. 
She enrolled in Hunter College, the first person in her family to do so, when it was still free to attend. Fischer graduated with what her daughters remember as a degree in the liberal arts, before moving to Chicago in 1941 to obtain a master's in social work from the University of Chicago's School of Social Service Administration. 
"At the time I left New York, I thought that was the end of the world," Fischer said in an interview for the 2017 Kartemquin Films documentary "'63 Boycott." 
"New York was everything to her, and she wasn't sure how she'd survive when she first came to Chicago," said Barbara Fischer, her youngest daughter. "But she did and she flourished."
During World War II, she volunteered as a social worker with the Red Cross in Hawaii where she met her husband, Charlie Fischer, then a captain in the Marine Corps. They were married and moved back to Hyde Park in 1946, into a house on East Madison Park that Fischer would live in for the rest of her life. 
In the early 1950s, when a second Red Scare was well underway, she protested the trial and execution of Julius and Ethel Rosenberg, an American couple and former U.S. Communist Party members accused of spying for the Soviet Union.
Throughout her adult life, Fischer also participated in the anti-Vietnam War movement, the International Brigades during the Spanish Civil War, and the US-China Friendship Committee, making several trips to China. She was also a champion of the labor movement as an active member of the Chicago Teachers Union. Her husband was also a union negotiator for the Packinghouse Workers Union, a meatpackers union headquartered in Chicago that was an early supporter of the civil rights movement.  
In the late 1950s, Fischer decided she didn't want to be a social worker, went back to school at the Chicago Teachers College and became a teacher at Kenwood Grammar School.
At Kenwood, Fischer befriended fellow teacher James Forman, the only Black instructor at the time. Forman left Chicago soon after to work on early voter registration in Fayette County, Tennessee, where Black sharecroppers were being evicted from their land and denied federal aid for registering to vote. He would later become the first executive secretary of the Student Nonviolent Coordinating Committee (SNCC), and contacted the Fischer's about supporting this organizing in the South.    
In January 1962, about 30 local supporters convened for the first meeting of the Chicago Area Friends of the Student Nonviolent Coordinating Committee (CAFSNCC). Fischer and Lawrence Landry were co-chairs. 
Founded as an organization with the primary aim of raising money and supplies to support SNCC's work in the South, the CAFSNCC soon pivoted to focus on local issues. 
"It became obvious that many people's interest revolved more around what was happening in Chicago" Fischer said in the documentary. "Within time, they began migrating towards issues in Chicago, and the key one at that time were the schools." 
Chief among members' concerns was the overcrowding of majority-Black schools. In the 1960s, predominantly Black schools were often subjected to the use of  'Willis wagons,' the portable school classrooms placed on parking lots and playgrounds,  and "double shifts," where students attended school in two shifts of four hours each. 
(Fischer's elementary school classes were often relegated to the 'Willis wagons.')
The Fischers held meetings at their house on East Madison Park, which soon became a center of the organizing effort.  
The house played host to food drives, the Freedom Singers tours of Chicago, Dick Gregory concerts — a Hyde Park comedian who was also very active in SNCC — and was the planning ground of the 1963 Chicago School Boycott. 
"There were meetings constantly here in the house, in terms of planning, and I'd be up until about 1 or 2 o'clock in the morning sometimes, and then go to school rather exhausted," Fischer  recounted in the documentary. "But it was a very stimulating period of time, very creative, and with a lot of very wonderful people involved."
"I can't think of anybody that was intimately involved with SNCC that at some point didn't stay at the Fischers," said Fannie Rushing, a longtime friend of Fischer's.  
"Mom was a very social person, she loved to be around people," her daughter Barbara Fischer said. "They'd have parties, and a lot of friends ... and when they became real involved in the civil rights movement, all sorts of people came through." 
On October 22, 1963, more than 250,000 students and tens of thousands of teachers — about half the district —  boycotted Chicago's public schools in protest of segregation. Thousands of protestors gathered outside of the Chicago Board of Education, demanding the resignation of CPS Superintendent Benjamin Willis, integration and equitable school funding.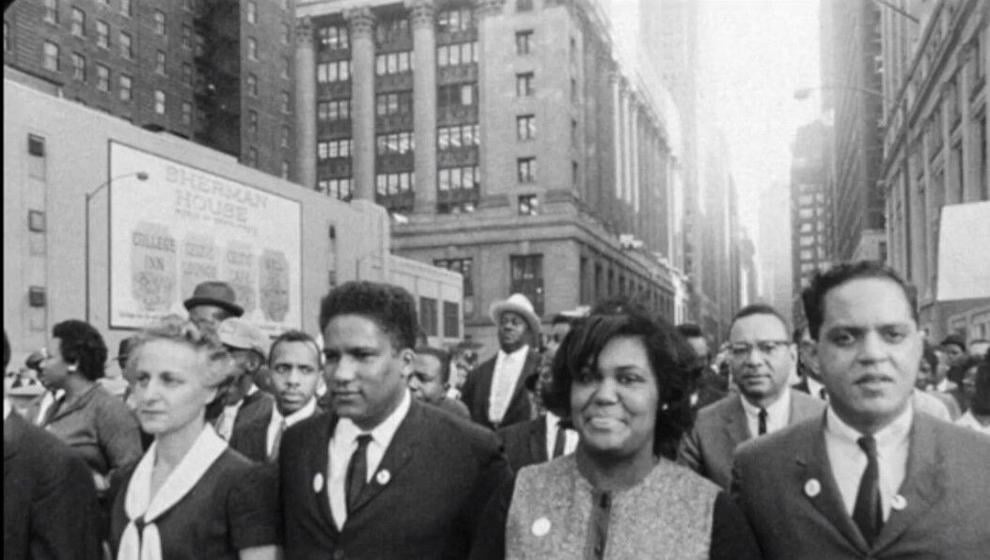 On that day, now remembered as Freedom Day, Fischer appeared at the head of march in a historic photo, linking arms with Forman, Landry and Lillian Gregory.
"Downtown, they were so fearful that we were letting loose a bunch of young people, that they'd be rioting downtown," Fischer said in the film. "Nothing like that took place. As a matter of fact, if I remember correctly, downtown at the mayor's office, they opened up the doors on either side of the building, in anticipation of the fact that we would break down the doors, and we just marched through the hall." 
The night before, she added, her husband had received a call "with a final plea to call off the demonstration for fear of the mayhem that would take place downtown. And we went, naturally, because we didn't expect that that would happen." 
During the boycott, Freedom Schools were set up around the city where parents could drop their children while protesting. One such school was located in Hyde Park's St. Paul & the Redeemer Episcopal Church, 4945 S. Dorchester Ave. 
"We were filled, the turnout was outstanding, and we felt that they would have to respond in some way to our demands because it was so overwhelmingly supportive through the entire city," Fischer said in the interview. 
The boycott proved successful. The district soon withdrew the 'Willis wagons,' and slowly began integrating schools. "We felt we had really significantly accomplished what we had set out to do," she said. 
The boycott was followed by a second Freedom Day on February 25, 1964. In May 1966, four months before the end of his term, Willis resigned.
Throughout the 1960s, as a member of the Coordinating Council of Community Organizations (CCCO), a racial justice coalition that included the Congress on Racial Equality, the Urban League and the NAACP, the Chicago Area Friends of SNCC helped organize the Freedom marches, the "Stop! Don't Shop Downtown" campaign and urged the "Silent Six" Black aldermen to fight back against Mayor Richard Daley's political machine.   
Time as an educator  
When Kenwood split into two schools, the lower grades went to the newly built Shoesmith Elementary School. Fischer followed her students to Shoesmith, where she would teach first through third grade for several decades.
In the Kartemquin interview, Fischer said the younger grades were an age she "liked very much," and that she thoroughly enjoyed teaching, which she found very stimulating and creative.    
In the late 1960s she took a few courses at the U. of C. during a sabbatical from Shoesmith, which introduced her to the concept of open classrooms, where students are free to move about the classroom and engage with a variety of activities throughout the day. She also convinced the principal at Shoesmith to let her trial keeping the same class from first through third grade.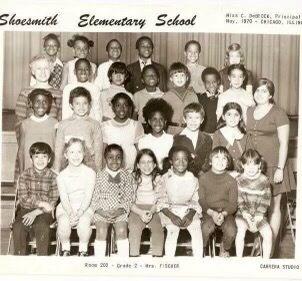 Though she was often stuck in a mobile classroom unit, her daughter Barbara Fischer said,  "She also found during that time that she could implement some of these innovative things more easily, because she was isolated more from the main building." 
"She was a very creative teacher. I can remember helping at home with cutting out things to put up on bulletin boards. She was just constantly doing art projects, she played enough piano to be able to sing songs with the kids," Kathy Fischer said. "She also had very close relationships with a lot of the children's parents. It was a common thing for a parent to come to our house and sit down on the couch in the living room and talk with her, during the evening or on the weekend, about their child."
Her students have strong memories of their time with her, and when the word spread that she had died, many got in contact with the Herald. They fondly recalled her alternative methodologies, which they said felt ahead of the time, her growing plants in the classroom, field trips to nearby Farmer's Field and the public library, and making soup with the class for Thanksgiving. 
"She encouraged curiosity and questions," said Liz Knepler, a former student. "Everybody respected her, she had that demeanor … you just didn't want to disappoint her." 
Some of her former students stayed in touch with her throughout their adult lives. Michael Young, the son of activist and doctor Quentin Young (who founded the Committee to End Discrimination and helped to desegregate Chicago hospitals) held a reunion with her and other former students seven years ago.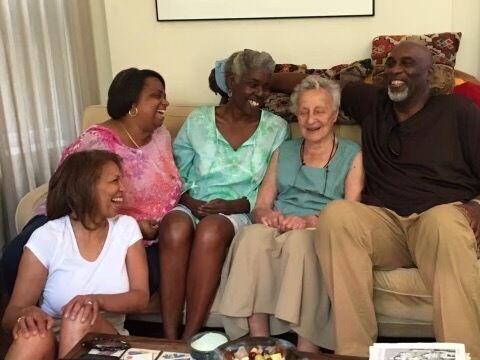 Her daughters recalled a walk-out at Hyde Park High School down 63rd Street, which ended in their and their classmates' arrest. "At some point after an hour or two, our mom showed up at the door, and the sergeant opened the door to her, and said 'Okay lady, which one is yours?'" Kathy Fischer said. " She opened her arms, swept them across the scene and said 'all of them.'"
"(The sergeant) let them all go … she put as many kids into the International Harvester Wagon as she could cram into it, and drove people home." 
Later life 
During her later years, Fischer continued to organize and stand up for a number of progressive causes. She also began to work on preserving the history of the Chicago Area Friends of SNCC and the civil rights movement with Rushing, her longtime friend and fellow organizer. 
Rushing, who is a history professor at Benedictine University said, "I met Sylvia when I was 17-years-old, I was still in high school and became very interested in the student sit-in movement." Rushing left school to work full-time for the movement and started working in the CAFSNCC office, which was then located 39th Street and Cottage Grove Avenue. "And so at least twice a day, seven days a week, Sylvia and I talked about what was going on in the office, what needed to go on in the office," she said. 
Since then, Rushing said they talked daily about everything — politics, the movement and their shared love of music.  
The archival project was catalyzed by Forman's death in 2004 and the realization that many people involved in the movements of the 1960s were beginning to die. It turned into a 20-year archival and oral history project, which is now housed in the Vivian G. Harsh Research Collection of Afro-American History, located in the Carter G. Woodson Regional Library, 9525 S. Halsted St.
The Chicago SNCC History Project holds an annual Black History Month Conference, which for many years was held at Roosevelt University, the alma mater of James Forman. The organization also holds smaller seminars throughout the years, speaking with CPS students, the Chicago Freedom School and community groups to grow youth awareness of the movement.
Many people recalled Fischer's yearly summer trips to their second home in Nova Scotia, something her daughters said typified her adventuresome spirit. 
"She packed us in the car and drove for four days by herself, camping out at night with these two little girls, seven and eight years old, and a dog," Barbara Fischer said. "She liked to try new things … and didn't let the general sexism that was really dominant in society then hold her back at all," Kathy Fischer said.
She is survived by her daughters, Barbara and Kathy Fischer, and son Charles Fischer. Her sister, Beatrice Brodsky, also a Hyde Park activist, died in 2001.