Tucked away in the University of Chicago's Regenstein Library, a sweet and somber exhibition pays homage to the little-known but nonetheless pioneering art historian, Paul B. Moses.
"Paul B. Moses: Trailblazing Art Historian," is as much a showcase of Moses' research on French Impressionism as it is a memorial to a beloved educator and father, who was murdered at the age of 36.
The exhibit was curated by the historian's son, Michael Moses, a physical education teacher of more than three decades at the  U. of C. Lab School. Only three years old when his father was fatally shot in a carjacking by two white men in 1966, Michael Moses said he assembled the gallery in part to better understand the man he never had the chance to know. 
"The exhibit gave me the opportunity to basically find out who he was, who he is, who he may have been," said Michael Moses. "I was always afraid to ask (my mother) about my dad… I felt that the pain of what she went through was still there, and I didn't want to open any old wounds."
The gallery is a large collection of yearbooks, canvases, essays and other memorabilia spanning Moses' 36 years, arranged chronologically so as to lead visitors through his life. Viewers pass by glass cases displaying faded class photos from the 1940s, yellowed love letters, hastily jotted field notes, postcards, oil paintings and newspaper clippings of his art criticism. The gallery's final few cases lay out news clippings reporting the murder, condolence letters and a eulogy.
Almost every item in the exhibition come from boxes kept for decades by his wife, Alice Moses. Like her son, Alice Moses taught at the U. of C. Lab School for more than 20 years. 
"Anything that my dad ever did, she saved," said Michael Moses. 
After Alice Moses died in 1994, the boxes sat idle for years. It wasn't until the early 2010s, Michael Moses said, that he began to consider exhuming the archive for an exhibit, but "I couldn't have been more of a novice."
The exhibit finally came together after a chance encounter with Stephanie Strother, a Ph.D. student in the U. of C.'s Department of Art History, at a dog park down the block from Moses' home. After a friendly conversation, Strother, whose research focuses on art of the late 19th and early 20th centuries, would go on to co-curate the exhibit with him.
In doing so, "Stephanie has (co-created) an exhibition that seeks to honor (Moses') greatest legacies: His groundbreaking scholarship, exemplary teaching, and essential humanity, all of which were celebrated by his family, friends, colleagues, and students," reads a description on the department's website.
When attendees leave the gallery upset and angry that his father's life was taken so young, Michael Moses said, "I (tell them) yes, but also, celebrate the diversity of what he did in his short life; how many people he touched through his art and his research."
And a full life it was.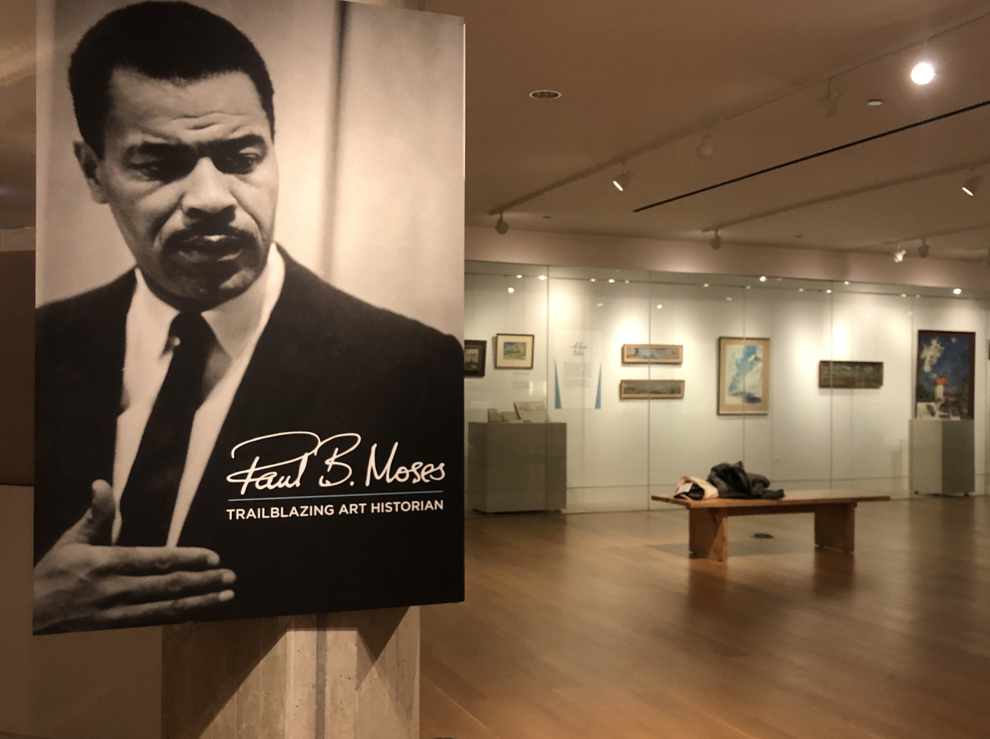 The gallery begins with Paul Moses' birth in 1929 to working-class parents, a house painter and laundress, in Ardmore, Pa. In 1948, Moses matriculated at Haverford College, a school he grew up down the street from; he was the university's first Black student. Because no white student would agree to room with Moses, he lived at home through his freshman year.
In spite of the racism Moses was met with, he remained enrolled in the college, pursuing studies in art history and appreciation, with a penchant for 19th century French paintings — a period known for the art movement of Impressionism. During this time, he became the protégé of Philadelphia art collector and philanthropist Albert Barnes, and by his junior year, Moses received a scholarship to study at the Sorbonne Université and École du Louvre in Paris. 
Though he was determined to pursue a career as an art historian, Moses' path to academia was winding. In 1952, just one year after graduating magna cum laude from Haverford, he enlisted as a private in the U.S. army, serving as an interpreter in France for two years. In 1954, he returned to the U.S. for a brief stint as a university instructor in Philadelphia, then traveled back to Europe three years later to teach at the American Overseas School of Rome. 
Between teaching and traversing world class museums, he also had a brush with Hollywood; Moses was a featured extra in the 1959 religious epic Ben-Hur, a portion of which was filmed in Italy. Donning the armor of a Roman soldier in first century Jerusalem, Moses shared one scene with Charlton Heston, and then — seeming to prefer the world of still images — promptly retired his career on the silver screen.
Throughout these years oscillating between the U.S. and Europe, Moses was not only a connoisseur of art, but also a painter himself. The focal point of the Regenstein gallery was a glass wall encasing several of Moses' canvases and drawings. The pieces ranged from small notebook sketches of Haverford's campus to large, impressionistic oil and watercolor paintings depicting idyllic seaside scenes or vast countrysides. 
Reminiscent of the Impressionist painters he admired — such as Edgar Degas and Camille Pissarro — Moses' landscapes feature loose, expressive brushstrokes and a luminous palette, but are dotted with more contemporary structures like telephone poles and ice sheds. 
"Clouds are certainly a major focal point in every piece too," noted Michael Moses. "Why that is, I don't have a clue."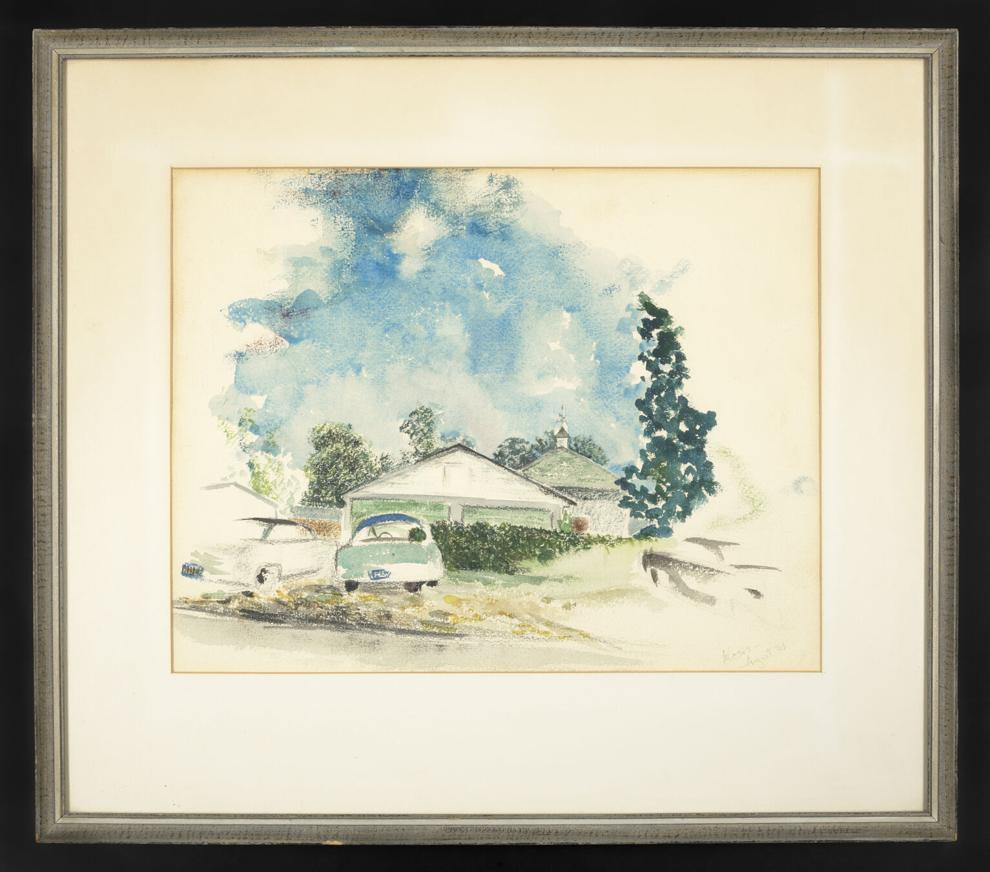 He was also an avid collector, and mixed in with his work were several monotypes — a type of print — attributed to Pissarro and caricatures by Honoré Daumier.
In 1959, he returned again to the U.S., this time as a masters student in fine arts at Harvard University. His research focused on late 19th century French prints and Degas, and he remained in Cambridge, Mass. following the program's completion to begin working towards a doctorate. 
During this time, Mose met Alice Johnson, a graduate of Cheyney State Teachers College in Pennsylvania, who had already spent several years teaching in New Jersey and Oxford, England.
In 1961, while on a research trip in Europe, Moses received word that he was being considered for a position at a school in Lower Merion, a suburb of Philadelphia; he would have been the school's first Black teacher. In June of that year, he wrote to Johnson that he was to return to Philadelphia: "Once in the city I hope that I may be permitted to see you again. Merely from the practical point of view you and your mother would have use of my strong arms and my stronger back in fixing up your new home. So, as matters stand… My services will be at your disposal." The two married the following spring.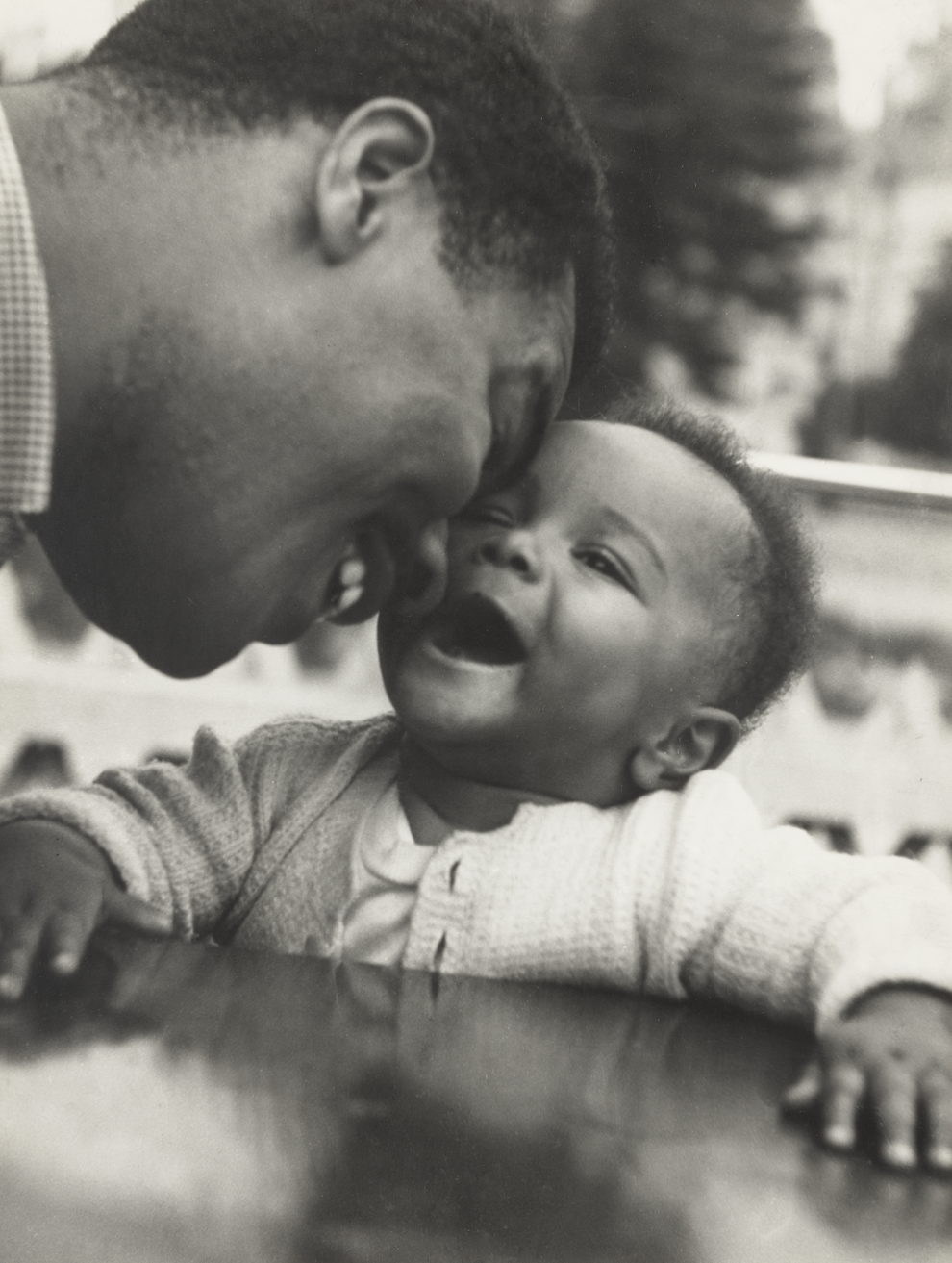 The couple moved to Hyde Park that summer and Moses began work as an instructor in the U. of C.'s Department of Art. A beloved instructor of courses on French Impressionism and other humanities, Moses made waves in the U. of C.'s ivory tower for his refusal to teach "The Adventures of Huckleberry Finn" for the novel's poor treatment of race; a fight he was for years alone in.
In 1963, the newlyweds gave birth to their only son, Michael Moses.
All the while, Paul Moses continued working on his dissertation, which focused on the prints and monotypes of Degas. Research for the book often brought Moses back to France, and in one such fieldwork trip he observed a private art collection in which, to his utmost elation (as evidenced by field notes and letters to his wife), he discovered several unpublished etchings and sketches by Degas.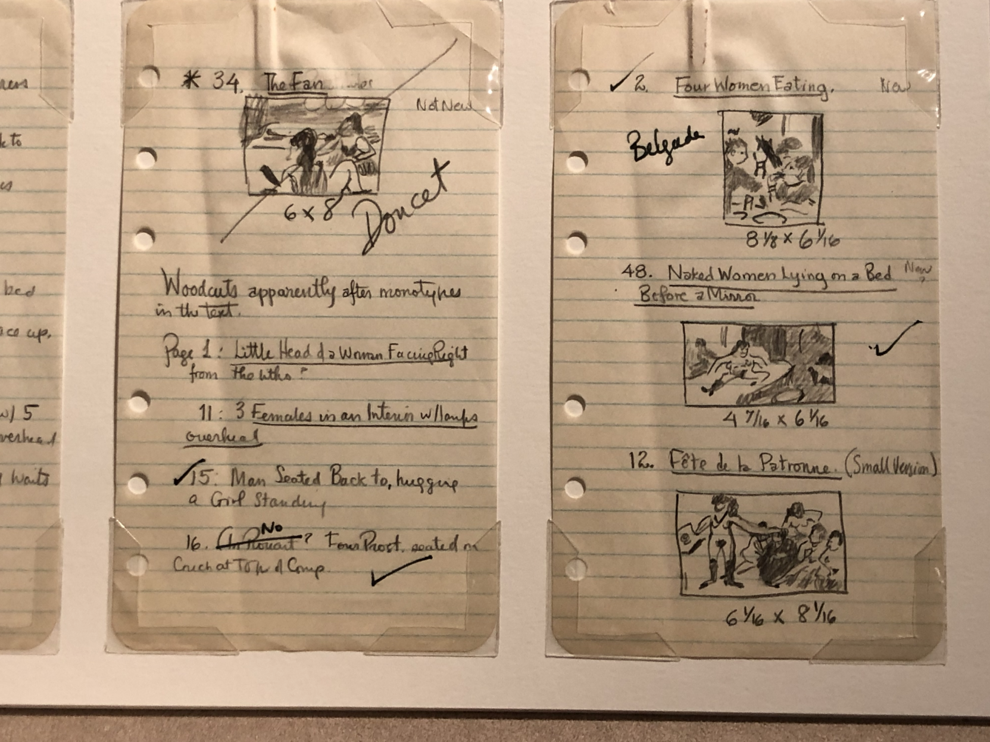 In the remaining few years leading up to his death, Moses' career in academia and the world of art criticism began to take off; In 1964, he was promoted to Assistant Professor of Art and Humanities at the U. of C. and curated the country's first significant exhibition of Degas' etchings. For the next two years he would also jury art competitions and give lectures around the city — events where he was often the only Black person in attendance — as well as fill the role of resident art critic for the Chicago Daily Herald. (Clippings of these reviews can't seem to be found online, but have been preserved by Alice Moses.) 
It all came to an abrupt end on March 24, 1966. After driving their son's babysitter home, Moses was fatally shot by two young white men who intended to steal his car and (as they later confessed) drive it to California. 
News of the killing spread fast and wide; by the next day, a story with the headline "Art Historian at U. of Chicago Is Shot to Death in the Street" ran in the New York Times.
A public outpouring of sympathy for the family followed. Condolence letters from friends and strangers arrived in droves, several of which are on display in the gallery's final case.
In one especially touching letter, Pat, a young friend of Michael Moses' writes to Alice Moses: "I am sorry Mr. Moses died… I remember when he took us to the museum… I will say a prayer for Mr. Moses. Michael may share my daddy."
Letters also came in from Moses' former students in Rome, describing him as an instructor who was gentle, compassionate, encouraging and possessed 'a sort of magic' for teaching art. One such letter on display writes: "One of my dreams for the past few years was to find Mr. Moses and find out what ever became of him. Hopefully to see some paintings of his or as it worked out to see some of his writing… I will treasure his memory for as long as I have one."
Beside the letters is a short and sorrowful eulogy from Alice Moses, beginning with the simple line, "Now it is all over." 
"One terrible day," she writes, "has ruthlessly taken away from you all the rewards of life… We weep without end; no day will take from our hearts our eternal sorrow."
A small relief from the gloom cast by such grief, the final item in the exhibition is a poem from Michael Moses, penned sometime shortly before the gallery's opening.
Titled "Relentless," the poem questions why his mother kept his father's life buried in boxes for decades, but ultimately rejoices in having finally uncovered this legacy. In a triumphant final stanza, Michael Moses writes, "I am now him. I live his dream. I know who he is!"
"When other (lab school) faculty members go over to see the exhibit… They're really taken aback when they see what's been put together," Michael Moses said. 
"They just think I'm a gym teacher, and then they'll tell me, 'I had no idea about your father.'"
"Paul B. Moses: Trailblazing Art Historian," is on display until Dec. 16 at the Regenstein Library, Hanna Holborn Gray Special Collections Research Center, 1100 E. 57th St. Free.