"It's huge and it seems surreal, but it's also like you can stand here and see it," mused artist Amanda Williams on a brisk Oct. 15 morning as she watched volunteers plant 100,000 red tulip bulbs across several vacant Washington Park lots.
The volunteers stooped over the dark topsoil of four brownfields surrounding the intersection of Prairie Avenue and 53rd Street, burying the bulbs six inches below the surface in an effort to dissuade thieving squirrels.
The brownfields had been divided by Williams into 21 garden plots laid out in the footprints of 21 residential buildings that had once stood at the sites. Decades ago the dwellings had gone into disrepair and been torn down as a result of redlining, the racist federal practice of mortgage insurance denial that resulted in credit denial to residents of predominately non-white neighborhoods.
"We can't see policy, infrastructure, whatever," said Williams, "but those weird shapes (the residential building footprints), they are just such a strange landscape."
The tulip plantings are part of Williams' new project, "Redefining Redlining," which she explained is being developed in part so that people can both visualize the magnitude of the impact of redlining and see that its impact is manageable.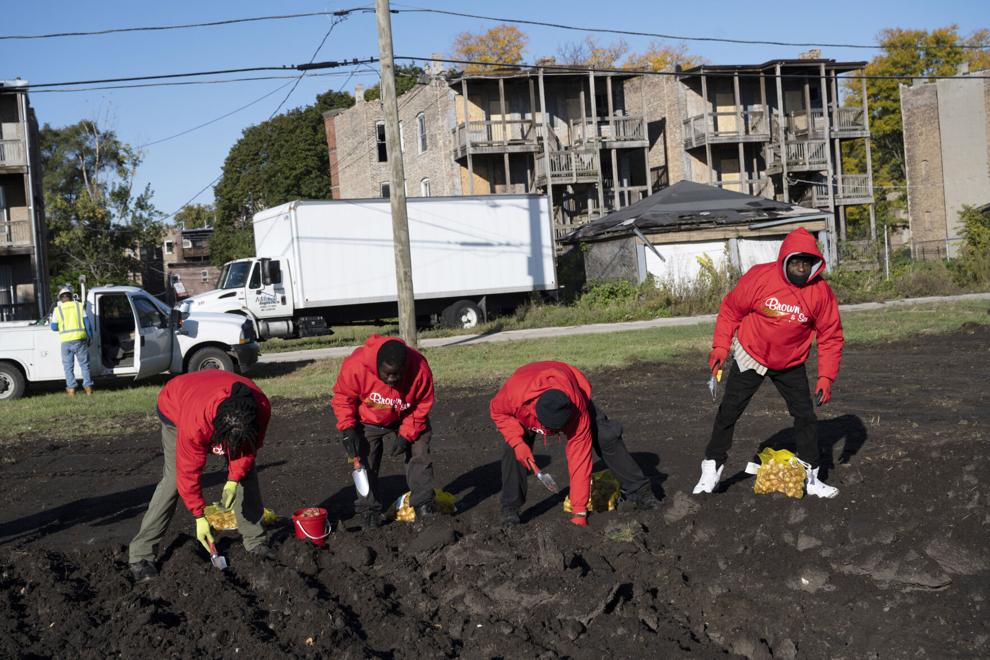 Williams, a recent MacArthur Fellow honoree, is creating the project in collaboration with Emerald South Development and its Terra Firma initiative, which is actively cleaning and beautifying 205 acres of empty lots in the Washington Park, Woodlawn and South Shore neighborhoods.
In its biography of Williams, the MacArthur Foundation wrote, "Amanda Williams is an artist who uses ideas around color and architecture to explore the intersection of race and the built environment. Her works visualize the ways urban planning, zoning, development, and disinvestment impact the lives of everyday residents, particularly in African American communities."
"Redefining Redlining" isn't the first time Williams has put these ideas into practice on the South Side.
From 2014 to 2015, Williams – covertly and without permission – painted a series of homes in Englewood that were slated for demolition. The paints for her project, "Color(ed) Theory" were saturated and eye-catching, born of a process to develop a "unique, culturally coded, monochromatic color palette based on hues found primarily in consumer products marketed toward Black people along commercial corridors on Chicago's South Side," she wrote in her artist's statement.
"The project emphasized how colors have socially constructed associations that are inextricably linked to race and class," she continued.
Photographs of the houses painted during the "Color(ed) Theory" project are in the permanent collections of the Museum of Modern Art in New York City, the National Museum of African American History & Culture in Washington, D.C., and the Art Institute of Chicago.
All eight of the featured houses have since been demolished.
The practice of artists converting vacant spaces into productive and community changing places has a significant history on the South Side.
In the late 1990s, the self-taught sculptor Milton Mizenberg took 12 chainsaw-carved wooden sculptures out of his studio and placed them in two empty lots near his house at the intersection of 41st Place and Berkeley Avenue, in Chicago's Oakland neighborhood. He dubbed the impromptu collection of sculptures The Oakland Museum of Contemporary Art.
"There was a Hell hole here at the time," explained Mizenberg in a short 2011 documentary. "It was so terrible that lots and streets were full of cans and bottles."
"Something hit my heart and told me... go outside, go outside," he continued. "So I said, 'Well, why don't I put some sculptures on these lots with cars sitting around… And the first thing to do was to get out the door and do it. You can't do it inside. You got to go out, and that's what I did."
Mizenberg began carving sculptures outside on the lot itself, "in front of people, gangs and everybody," he added. "I told them this artwork is yours; I don't own it… And that's what started me seeing the change in the Kenwood and Oakland area."
Williams was raised in the city's Auburn Gresham neighborhood and now lives in Bronzeville with her husband and children.
The genesis of "Redefining Redlining" lies in a conversation Williams had with her husband, Jason Burns, about the practice of options trading within commodities markets.
During that conversation, Burns used the Dutch Tulip Market Bubble – also known as Tulipmania – of the 17th century as an example of how speculative markets function. Inspiration struck Williams.
"This idea of the bulbs, the speculation of the possibility of the bulbs, (just) made sense," she said. "Like you do this thing, and it's going to be this other thing." 
It was a "no-brainer," Williams added, to imagine that one "can literally make a line (of tulips) to think about redlining." 
As she thought about the project and a "groundswell of opportunities" began appearing that could bring it into existence, Williams said she settled on "actually showing the houses that should still exist, were that policy not in existence."
She found the Sanborn Fire Insurance maps, which, according to the Library of Congress, were produced from 1867 to 1961 and contain detailed information about properties and individual buildings in approximately 12,000 cities and towns in the United States, Canada and Mexico.
And since the Sanborn maps "give us a pretty accurate sense of what buildings were here just at the time that redlining probably is really starting to entrench itself," she said, Williams used them to define footprints of the residential buildings that had been lost through redlining.
As Mayor Lori Lightfoot and Ald. Pat Dowell (3rd) joined the volunteers and planted tulips in the gardens on that brisk mid-October morning, Williams reflected on her efforts and those of the multitude of other artists and developers who currently are working in nearby South Side neighborhoods within the intersection of development, history and art. These include Emmanuel Pratt with Sweet Water Farms, Bernard Loyd with Build Bronzeville, Dorian Sylvain and Rahmaan Statik with various mural projects, Bill Hill with the Dorchester Botanical Garden, Theaster Gates with Kenwood Gardens, the Luv Institute and its Parade of Hearts, Tonika Johnson and the Folded Map Project and others.
"We'll look back and this would have been a moment," said Williams. "We understand the power, it's coming from every angle, creativity."
The tulips are expected to bloom sometime in April.