A development being built at 353-363 E. 51. St. seeks to breathe new life into the 51st Street corridor while preserving its history. Developers of the 17,200 square-foot project say the space will offer dining, shopping, a gym and art space as early as October.
Policy Kings, a development team of Hyde Parkers Corey Gilkey and James Daughrity, are behind the project. Their name harkens back to the number games "policy" that generated revenue, employment and promoted Black businesses in Bronzeville from the 1930s to 50s before the Illinois State Lottery forced its end. 
Daughrity and Gilkey are looking to revive this history. "We want to preserve what our name is of Policy Kings, so bringing back policy and our dollars circulating for the beautification of that area," Gilkey said. "We have taken on the responsibility to help it grow and to push so that more people can come through that corridor."
According to Gilkey, the $6.1 million project is estimated to create 40 full-time and 16 part-time jobs. All the properties inside will be owned and operated by the Policy Kings.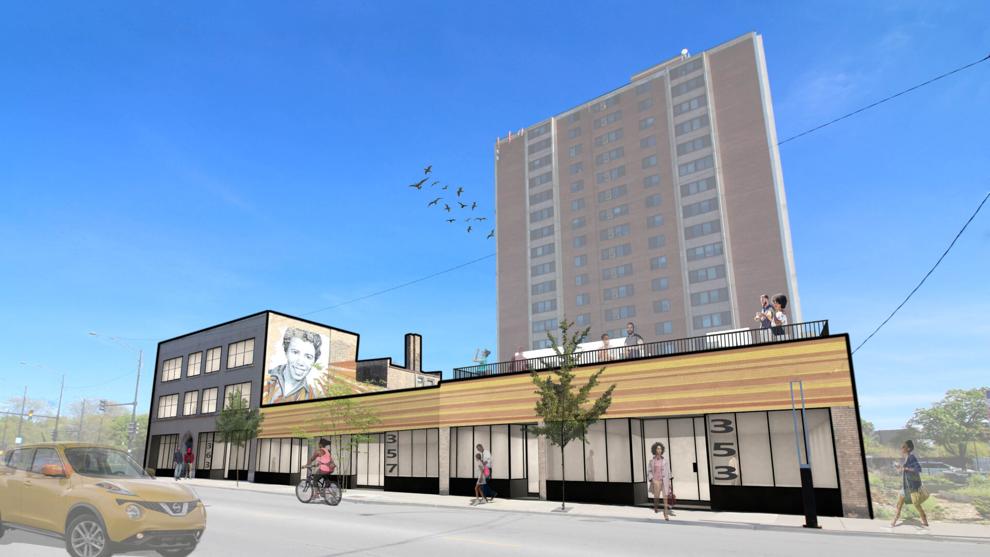 There will be a women's sneaker store, Queenz, and a new location of Leaders 1354, Gilkey's streetwear store. Policy Kings got started in a Leaders store, when Daughrity wandered in and met Gilkey. With a shared interest in social impact entrepreneurship, the duo partnered on nonprofit projects around the globe to mentor aspiring entrepreneurs. Since 2014, Leaders and Policy Kings have taken this work to Haiti, Nigeria, Ghana, Senegal, Ethiopia and South Africa.
Merging localism with global reach, the building will have six apartments for short-term residential stay to welcome global nonprofit partners and offer flexible living options that suit the increasingly hybrid world. "We have retail, fashion, entertainment, a gym, everything you need for that traveling person who will be there for three to four weeks for work," Daughrity said. "So they can really take in the full culture, and we can feed your mind, body and soul in one location."
The space, which has been vacant for over a decade, was once occupied by Cain's Barber College. "The barber shop is a community networking event," Gilky said. Daughrity and his family used to be regular customers, and now Policy Kings wants to carry on Cain's legacy as a hub for neighborhood connection.  
Policy Kings architect James Silvestro is renovating the building with the ethos of "adaptive reuse," and plans to preserve the original structure while reimagining the space inside. Design plans also feature a mural of Lorraine Hansberry, writer of the 1959 play "A Raisin in the Sun."
The team has also partnered with The Nascent Group, a Black woman-led development firm that promotes minority owned business. Jasmine Michaels, Nascent's director of marketing and communications, said that financial lenders often deny investment and lending to minority entrepreneurs. 
"I think that a lot more Black entrepreneurs in Chicago need to be aware that there are options for one thing, that you just sometimes have to really look and really know who has your back," Michaels said.
When banks denied Policy Kings a loan, community lending organizations like Chicago Community Loan Fund and Local Initiatives Support Corporation stepped up and are providing a portion of the funds. The project also received a $2.3 million Neighborhood Opportunity Fund, and has been endorsed by Alderman Pat Dowell (3rd) and the 51st Street Business Association. 
Daughrity has worked in commercial real estate for nearly 20 years and says it is still an "old boys network." He said he is hopeful that the Policy Kings project will bring minority representation into the field and promote investment on the South Side.
"Just having the representation of us actually purchasing a building, going through the development process and actually doing something that's creating a catalyst for the 51st street corridor is us being leaders that show it can be done," Daughrity said.