Northwestern Medicine is moving forward with plans to build a $100 million Bronzeville outpatient care center on the 4800 block of Cottage Grove Avenue. 
On June 2, city and hospital officials announced that the 120,000-square-foot facility is expected to serve more than 50,000 patients annually. 
Officials said the facility will have an immediate care center, as well as offer primary and sub-specialty care (e.g. pediatrics and women's health), provided by Northwestern physicians. There will be an on-site pharmacy and diagnostic services, including CT scans, mammograms and ultrasounds. A cancer center will offer chemotherapy. 
There will also be room for community programming and retail space on the ground floor. 
Dr. Kimbra Bell Balark, who will be the center's medical director, said at the Thursday announcement that the new facility is intended to have a "generational impact on the health and wellness" of the community. 
Bell Balark is an Arkansas native, a graduate of the historically Black Meharry Medical College in Nashville, Tennessee, a board-certified internist, a fellow of the American College of Physicians and an assistant professor at Northwestern's Feinberg School of Medicine. Her practice has a special focus on hypertension and diabetes.
She served as medical director of Near North Health Corporation's Denny Community Health Center, 150 E. Huron St., a federally qualified health center, from 2002 to 2008. All of the patients there were underserved and previously did not have access to quality health care, she said.
"As a wife and mother, I can relate to the importance of access to quality health care for the entire family unit, and I recognize that the lack of access to quality health care — both physical and mental health care — can destroy families and the communities in which we live," she said. "I am passionate about educating and empowering individuals when it comes to taking charge of our health care."
While the facility in Bronzeville is new, Northwestern Memorial HealthCare CEO Dean M. Harrison noted at the announcement that his health care system has longstanding partnerships with area organizations.
Northwestern Medicine and the Near North Health Services Corporation have been clinical partners for 55 years. Then in 1999, when the Near North Komed-Homan Health Center opened at 4259 S. Berkeley Ave., Northwestern began providing Kenwood patients with access to clinical and medical care, including mammograms, colonoscopies, X-rays, and mental health, heart, eye and diabetes care.
Since 2014 Northwestern Medicine has also worked in partnership with Bright Star Community Outreach, 333 E. 35th St., a nonprofit community services services organization. Through the partnership Northwestern assists with Bright Star's TURN Center in Bronzeville, which provides counseling and other anti-violence social services, and on health care career recruitment.
Harrison added that the NM Scholars program, a partnership with Chicago Public Schools and George Westinghouse College Prep, 3223 W. Franklin Blvd., prepares students for careers in health sciences with mentorships, summer programming, distancing learning and ACT test prep.
Last August, Northwestern representatives announced the program's expansion to Kenwood Academy, 5015 S. Blackstone Ave. On Thursday officials said it's now due to expand to Daniel Hale Williams Prep High School, 4934 S. Wabash Ave., and Bronzeville Academy Charter School, 4930 S. Cottage Grove Ave.
In addition to serving tens of thousands of area patients, Mayor Lori Lightfoot said on Thursday that it's expected to create around 1,000 temporary construction jobs and 100 permanent jobs in health care to staff the facility. Lightfoot contended that Northwestern is committed to linking area residents with employment opportunities, having hired a recruitment manager to identify South and West Side candidates for permanent positions two years ago.
"This will help to further ensure that patients in Bronzeville will be treated by an inclusive workforce that mirrors the rich diversity of the community and the city as a whole," Lightfoot said.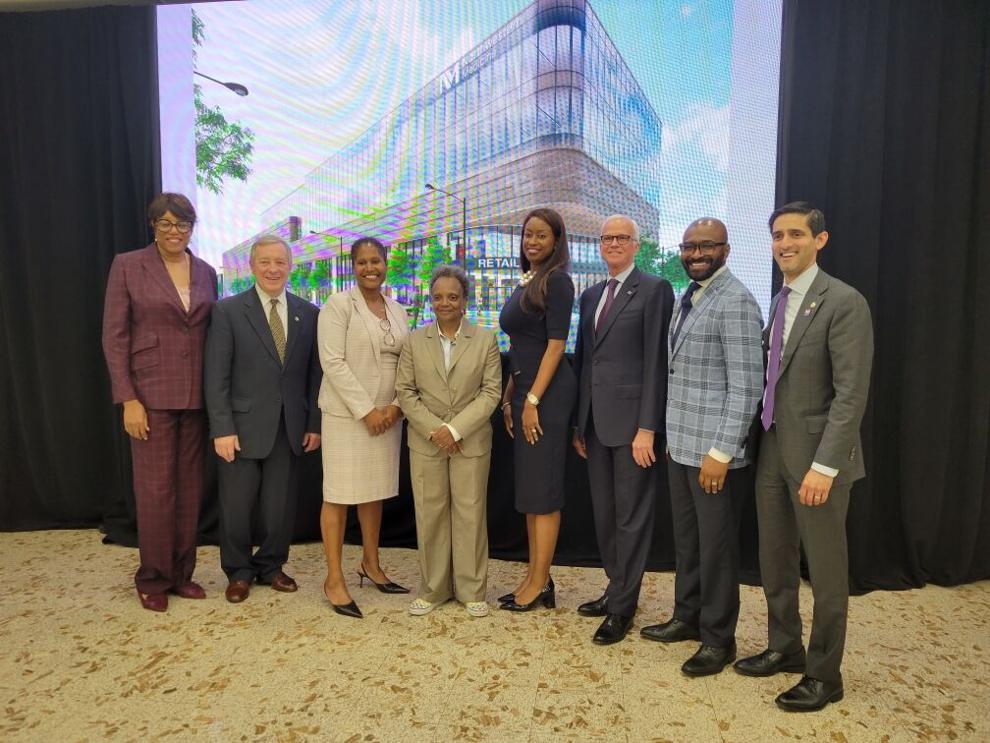 The development comes as Cook County Health moves forward with plans to rebuild Provident Hospital, 500 E. 51st St., as a new outpatient and inpatient facility. A Michigan company called Insight bought Mercy Hospital for $1 last year and plans to reopen the facility as Insight Hospital and Medical Center Chicago, 2525 S. Michigan Ave. 
Ald. Sophia King (4th) thanked Northwestern for listening to her office and the community, saying they went "above and beyond the call of duty" to solicit community feedback.
"Northwestern is definitely a welcome addition to other (new) developments on the Cottage Grove corridor," King said, referencing the public-private housing development 4400 Grove, the Lillian Marcie Theatre performing-arts center and Bright Star's TURN counseling center.
The mixed-housing development 4400 Grove in particular, alongside its commercial tenants, got city support as part of Lightfoot's Invest South/West initiative. Because of that program and investments like Northwestern's, King said, "Cottage Grove will once again become a pedestrian- and destination-oriented corridor.
"People now, because of the investments made today, because of the businesses and other initiatives that have sprung up just in the past two years, can literally walk to buy clothes, to get food, to get entertainment — and now, can walk to get their health care needs met."