The Bedford limestone layered along Promontory Point is easy to build with and carve into. 
Quarried in southern Indiana beneath shale and sandstone, it is almost pure calcite and can be cut into massive blocks that will stand up well to intense temperature changes, making it a popular building material after the Great Chicago Fire. (The limestone on the lakefront has some imperfections that made it unsuitable for construction.) Much of the neo-Gothic campus of the University of Chicago, including Rockefeller Chapel, 5850 S. Woodlawn Ave., was built with it. 
One Hoosier geologist, writing reverently about the industry in his home state, found Bedford limestone's properties so remarkable as to be inscrutable to ordinary people: "How any stone of such softness when quarried, of such an even grain, so capable of being cut and carved almost with an ordinary jackknife, a stone which one commonly thinks of as being unusually easy to convert into lime and one which looks the part, could survive the severe fire tests put upon it, is a matter hard for the layman to understand."
The laity has nevertheless turned its jackknifes and hammer and chisels on it with enthusiasm over the decades, carving thousands of designs into the limestone and dolomite blocks that have abutted Lake Michigan. Those overlooked works of folk art are the subject of "Lakefront Anonymous: Chicago's Unknown Art Gallery," a new book by William Swislow and Aron Packer. 
One of Swislow's arguments is that we don't usually notice all this art, which can be hard to spot and remember. 
"It's perplexing that these artistic treasures line Chicago's best-known outdoor amenity yet remain almost invisible," he writes. "Some of the carvings are faded or can be hard to decipher, but many of them, once you notice they are there, exhibit a powerful presence." 
His own interest in the carvings extends across 20 years but, on a recent tour of Promontory Point and Morgan Shoal, he still had trouble finding some of the designs he wanted to show. He clambered between different levels on the rocks before doubling back, looking for a fleur-de-lis that would not reveal itself. 
Unlike spraypainted graffiti, which is often gone as suddenly as it appears, the carvings tend to take a long time to fade. "All of it is weathered and some entirely lost, whether to natural erosion or to human construction," writes Swislow. "The anonymous carvers who created this art did it to no particular effect other than leaving behind their mark."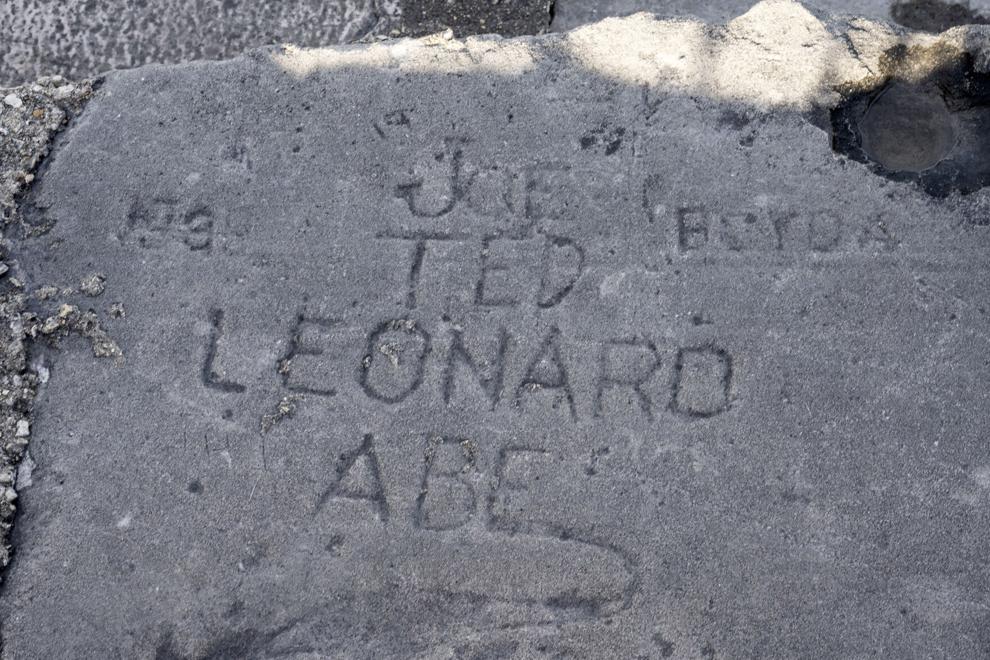 Swislow first became interested in folk and outsider art as a young journalist in Chicago, "really because it was affordable and I was sucked in," he said. After a stint at the Tribune and as an executive at Cars.com, he now runs Interesting Ideas, a website covering outsider art and other kinds of vernacular and marginal culture.
Packer, a longtime Chicago gallerist, got into the carvings during the eighties when he noticed them during his bike commute to work by the lake. 
"He had an interest in self-taught art and in photography, especially the work of photographer Aaron Siskind, and especially Siskind's photographs of relief carvings," writes Swislow in "Lakefront Anonymous." "So he was primed when he first noticed the stone carvings during one of his rides." 
Packer wrote the first article about the carvings in 1991 for the British magazine Raw Visions. His photographs were featured in a show the next year at the Chicago Cultural Center. 
Many of the carvings are small designs, often names and dates rendered with varying degrees of artistic intent and legibility — Morgan Shoal, which was completed a few years earlier than the Point, has several rocks almost completely covered in stone signatures. (Even those without dates can be roughly periodized; "Bud" and "Dutch" are, if still alive, probably quite old.) 
Though most of the artists are undiscoverable, Swislow did find Bob Nachtrieb, who chiseled his and his girlfriend's full names into the Point in 1964. He and Linda Turner are married now and living in suburban Joliet, where Nachtrieb is involved with the local preservation society. 
In an interview, Nachtrieb recalled the Sunday morning he and his friend Clifford Weaver decided to head down to the lake for a round of carving. (Weaver and his girlfriend, Donna Florence, are also still together.)
"We would go early Sunday morning when we were less likely to be accosted, and we wouldn't have our wallets with us so nobody could steal our money or whatever. Then, because we were kids who spent a lot of time studying in our chairs, we thought, well, let's jog down to the Point." 
Weaver and Nachtrieb took three blocks of 55th Street at a run before being stopped by a pair of police officers who asked for their names.
" 'Let's see your IDs,' they said. 'Well, we said, 'We left them up there because you know we didn't want to get mugged or something.'
" 'We're gonna book you here, we're going to take you in', says the bad cop, and the good cop says, 'Wait a minute, you said you're going to go down to chisel your names in the rocks. Well, where are your chisels?' And they were in my back pocket, so I pulled out the chisels and the cops said 'Go ahead.' Then they took off, so we didn't get booked."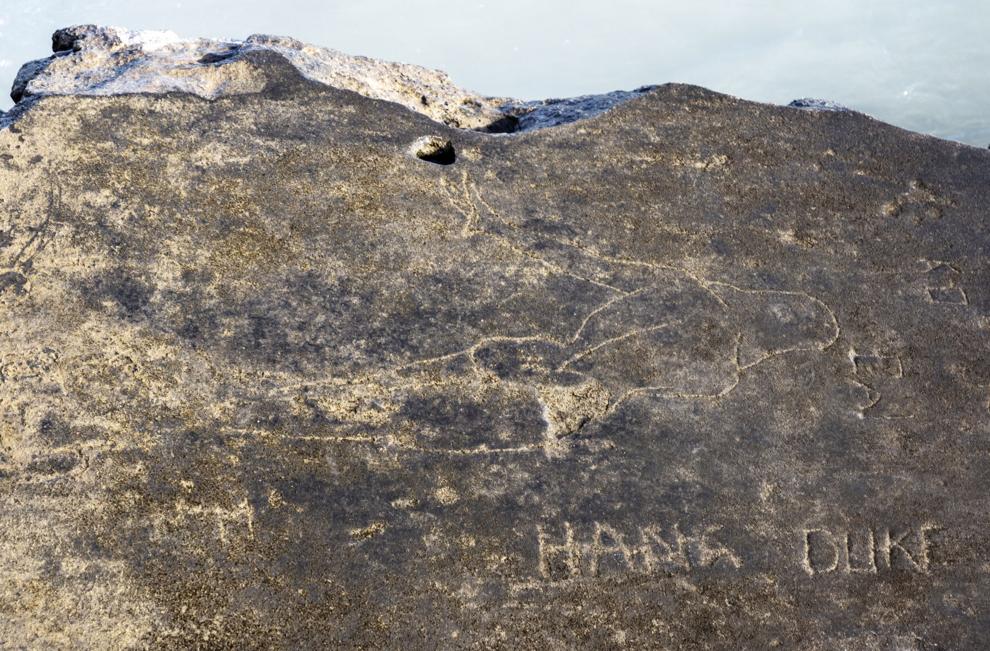 On the south side of the Point are a small collection of "bathing beauties" — female figures that are so faded they're almost indiscernible, though one appears to be a reproduction of a popular Betty Grable pin-up. Swislow suspects they were done by soldiers stationed at the Nike Missile site in Jackson Park during the 1950s and '60s. 
The lakefront near Hyde Park is one of Chicago's last refuges for the carvings. In the '90s, the Army Corps of Engineers began replacing worn-out revetments along the entire lakefront, leading to the unceremonious disposal of much of the limestone.  
"Its initial mandate was to take the most economical approach to addressing erosion and recurrent flooding of Lake Shore Drive," writes Swislow. "A reconstruction sympathetic to the cultural and recreational treasures that might be affected, including those treasures that almost no one recognized, was not the first priority." 
Though the city stepped in with funding that preserved public access to the lake — the Army Corps had planned to replace the stones with rubble — few of the carvings were preserved. At the Rocks in Lakeview, local residents managed to save some of them at what was once a popular gay hangout. New concrete and steel steps have proven less amenable to art; perhaps people are simply less likely to try their hand at carving. 
At the time, both the Point and Morgan Shoal were skipped by the Army Corps after a drawn-out battle with neighborhood residents calling for preservation of the limestone revetments; in the intervening years, lake damage and freeze-and-thaw cycles have continued to take their toll on the rocks. Now, a redesign of Morgan Shoal is underway that will add 7 acres of parkland, while a new planning process is set to begin this fall for the Point. 
Swislow worries that the preservation of the carvings will not be a priority in either case, and they might therefore be lost — dumped as fill into the lake or carted off somewhere. He would like to see the Army Corps adopt the community's plan for the Point, which would preserve the carvings in their original locations. 
Michele Lemons, a spokesperson for the Chicago Park District, wrote over email that "this issue will be studied as part of the planning and community engagement process and we will be seeking input from stakeholders as we move forward." 
Whether many stakeholders will speak up for the carvings remains to be seen. For Packer and Swislow, drawing attention to their cause has been an uphill battle. Even publishing the book was difficult: Despite some interest from a local press, they ended up having to run a Kickstarter campaign and self-publish it. Press coverage has been hard to come by. 
"For the most part, no one is paying attention now either," Swislow writes at one point in "Lakefront Anonymous," after quoting an artist's recollection of his undisturbed chiseling. "This carver … undoubtedly was mostly just passing the time, certainly not intentionally creating art with a capital 'A.' And if for posterity, posterity has hardly noticed."