Weeks after announcing their union campaign, workers at the Museum of Science and Industry are demanding that museum leadership end what workers allege are union-busting tactics.
Before the museum opened on Wednesday morning, April 26, more than two dozen workers gathered on its front steps under the banner of the new proposed union, the Museum of Science and Industry Workers United (MSIWU). Joined by several local elected officials and labor leaders, workers delivered a signed pledge committing to "free and fair (union) organizing" to the museum's CEO, Chevy Humphrey, asking her to publicly commit to not interfere in organizing efforts.
"My coworkers and I are forming our union to ensure that our workplace is healthy and safe. We are forming our union to get the fair pay and benefits we need to live comfortably," said Marcus Banks, a guest engagement representative whose work involves selling tickets and facilitating field trips. "We should have the freedom to do that without management interference." 
More than 50 guest engagement facilitators, educators and other workers at the museum announced intent to unionize as MSIWU with American Federation of State, County and Municipal Employees (AFSCME) Council 31 on April 12. In an open letter announcing the new union, MSIWU states that workers are organizing to "address the internal inequities" at the museum, and are seeking higher wages, more professional development opportunities and stronger health and safety protocols.
Since then, workers alleged Wednesday, top-level management has engaged in "a divisive campaign of misinformation meant to confuse employees." These activities include holding all-staff meetings, sending emails and posting fliers intended to dissuade workers from organizing, they say.
"On one hand, (upper management) is being overly nice," said Santi Van Lysebettens, a guest engagement representative for more than three years. "Suddenly there's a humidifier and a Keurig machine in our break room. Suddenly we see our CEO on the floor."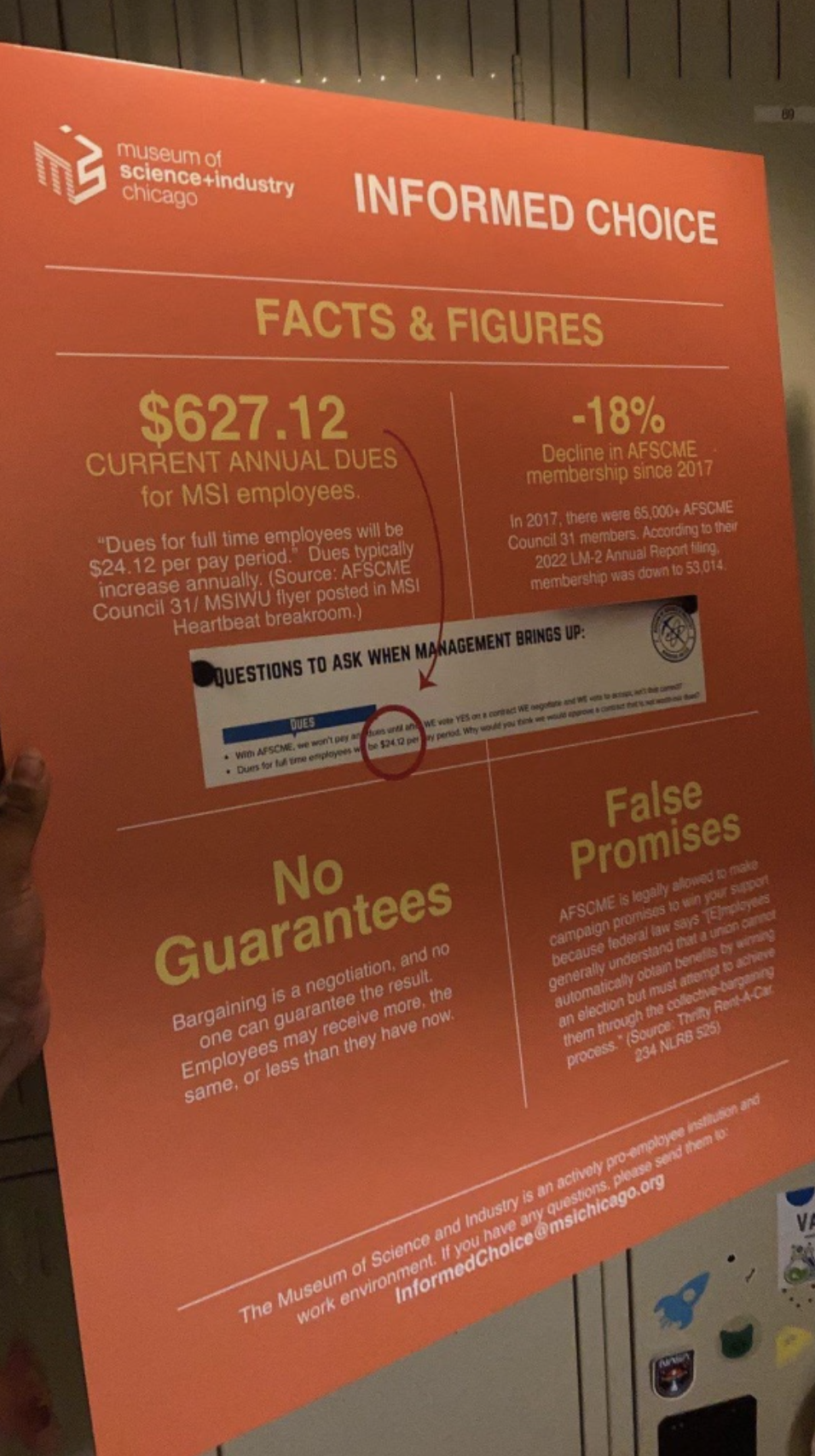 At the same time, Lysebettens said, large MSI-branded posters providing "facts and figures" on the union have gone up in the break room. Among these figures — which organizers allege contain misinformation and anti-union talking points — the poster highlights the cost of union dues (approximately $24.12 per pay period) and an 18% decline in AFSCME Council 31 membership since 2017. (Union membership has been in steep decline nationwide for decades.)
With large text reading "No Guarantees" and "False Promises," the poster also implies that workers' current benefits won't be guaranteed with a union and that AFSCME organizers are making empty campaign promises to win worker support.
In a 5:05 a.m. email sent to all staff last Friday, April 21, Humphrey wrote that she's kept up at night with concerns about "the protection and continued nurturing of MSI's open and inclusive culture."
"MSI wants all employees to make an Informed Choice on this matter. We support, and will protect, your right to make an informed and private choice, free from intimidation, bullying, or pressure," she wrote.
In the email, Humphrey alleges that workers have been bullied into joining the union and said she will continue to send "educational and fact-based information" to workers as organizing efforts continue.
"(The email) claimed the workers on the organizing committee are bullies. Do we look like bullies?" Lysebettens said, gesturing to the crowd of workers. "We won't let top management demonize us and we won't let them separate us. We're going to keep talking to one another, sharing information and supporting one another in any way we can, because that's what our union is all about."
In a statement, MSI public relations director Kelsey Ryan said, "We respect and will protect our employees' right to make a free and informed choice on the question of union representation. At the Museum of Science and Industry, we value science and the progress that our society has made through asking questions.
"Our goal is to protect and empower each employee's ability to ask questions, to access information, and to learn so they may make an informed choice as to whether they wish to be represented by a union."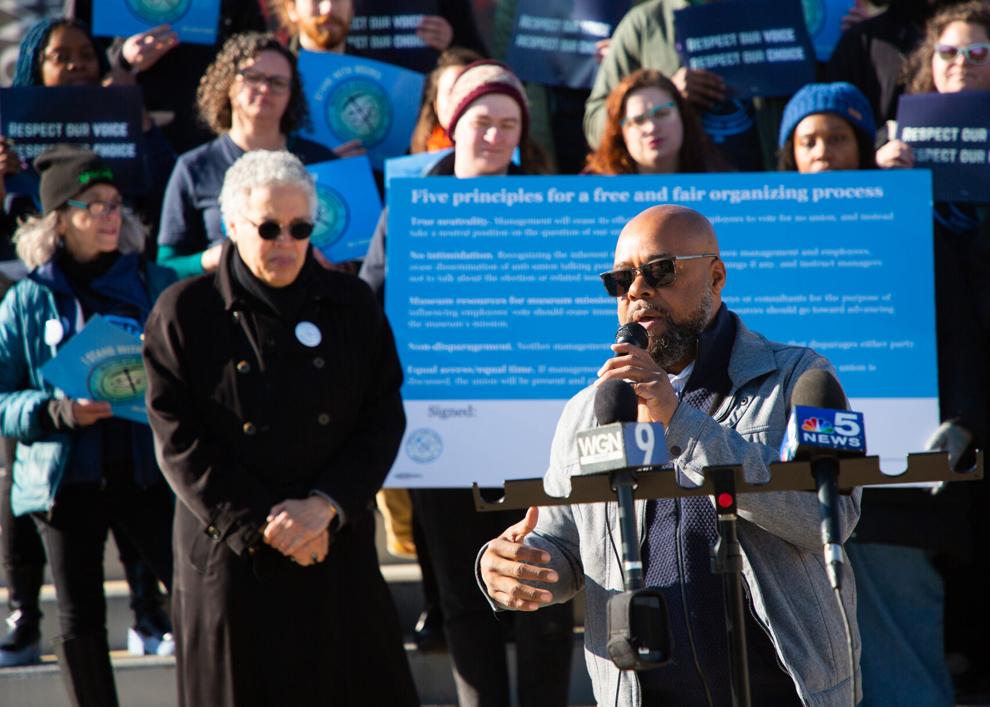 Workers were joined Wednesday by Cook County Board President Toni Preckwinkle, Ald. Jeanette Taylor (20th) and 5th Ward Alderman-elect Desmon Yancy, whose ward contains the museum.
A former labor organizer with the Service Employees International Union (SEIU), Yancy said, "I'm grateful to be able to stand here in support of workers in this ward ... anything you need from me, I'm here for you."
MSIWU, so far
Workers are in the process of signing union authorization cards and have not yet filed for a ballot election with the National Labor Relations Board. 
The prospective bargaining unit for MSIWU would represent about 140 workers in the museum's guest experience, operations and education departments. Another 60 craftspeople at the museum are already unionized with the International Brotherhood of Electrical Workers (IBEW) Local 134.
According to Banks, who is also on the MSIWU organizing committee, organizing efforts are "inspired by a willingness and passion to make the museum better and make it a better place for workers."
"It comes from a place of loving working there but (also) to ensure that working there is easy," he added.
Low pay is a key issue for workers, Banks said, as most make between $17 and $20 per hour. He estimated that more than half of his coworkers are struggling financially each week.
"I make around that amount and I live in Hyde Park, it is not easy," said Banks. "I definitely have to scramble."
The living wage in Chicago for a single adult is about $19 per hour, and $36 per hour for an adult with one child, according to the MIT living wage calculator. 
Other contract goals include instituting anti-discrimination policies and an overhaul of the museum's health and safety protocols, such as providing paid sick leave.
MSI workers join a wave of union organizing at other museums and cultural institutions around Chicago. Since last January, workers at the Art Institute of Chicago, School of the Art Institute, Field Museum and Newberry Library have won union elections, all affiliating with AFSCME Council 31. Last month, more than a dozen workers at Lincoln Park's Notebaert Nature Museum also launched a campaign to unionize with Council 31.