In the wake of a July 4 mass shooting in Highland Park that left seven people dead and dozens more injured, Gov. J.B. Pritzker is calling for a ban at both the state and national levels on military-style assault rifles and high-capacity magazines. The mid-South Side's state senators and representatives are joining these calls.
"While I support an assault weapon and high-capacity magazine ban at the state level, we urgently need federal regulation on the weapons of war and high-capacity magazines that are used only for mass murder," Pritzker said in a statement released last week. "Illinois is not an island, and even with some of the strictest gun laws in the nation, our state is only as safe as the state with the weakest laws — many of which border Illinois." 
The weapon used in the Highland Park shooting has been identified as a Smith and Wesson M&P 15, a semi-automatic rifle that holds 30-round magazines of 5.56mm ammunition. The alleged shooter, Robert Crimo III, reportedly used three such magazines during his attack on a Fourth of July parade, firing off more than 80 bullets in a matter of just a few minutes. 
The letters "M&P" stand for "Military & Police," though it and others like it are widely available to civilians at sporting goods stores throughout the country. 
The weapon used in Highland Park is also similar to guns used in other recent mass shootings, including the May 24 shooting at an elementary school in Uvalde, Texas, that left 19 children and two teachers dead, and the May 14 shooting at a Buffalo, New York, grocery store that killed 10 people. 
All those weapons are modeled after the Colt AR-15, a semi-automatic version of a rifle originally designed for military use. 
On July 11, Pritzker and Highland Park Mayor Nancy Rotering were at the White House for an event with President Joe Biden marking the recent signing of the Safer Communities Act, the first significant federal law addressing gun violence in nearly 30 years. Laws created by the act include extended background checks for gun purchasers under 21, more funding for crisis intervention programs and further criminalization for arms trafficking.
"We had a number of conversations immediately after the attack in Highland Park and I've been impressed with the way they've handled things. It's been extraordinary," Biden said. "And as the three of us have discussed, we have more to do." 
Cook County Board President Toni Preckwinkle also attended the bill-signing.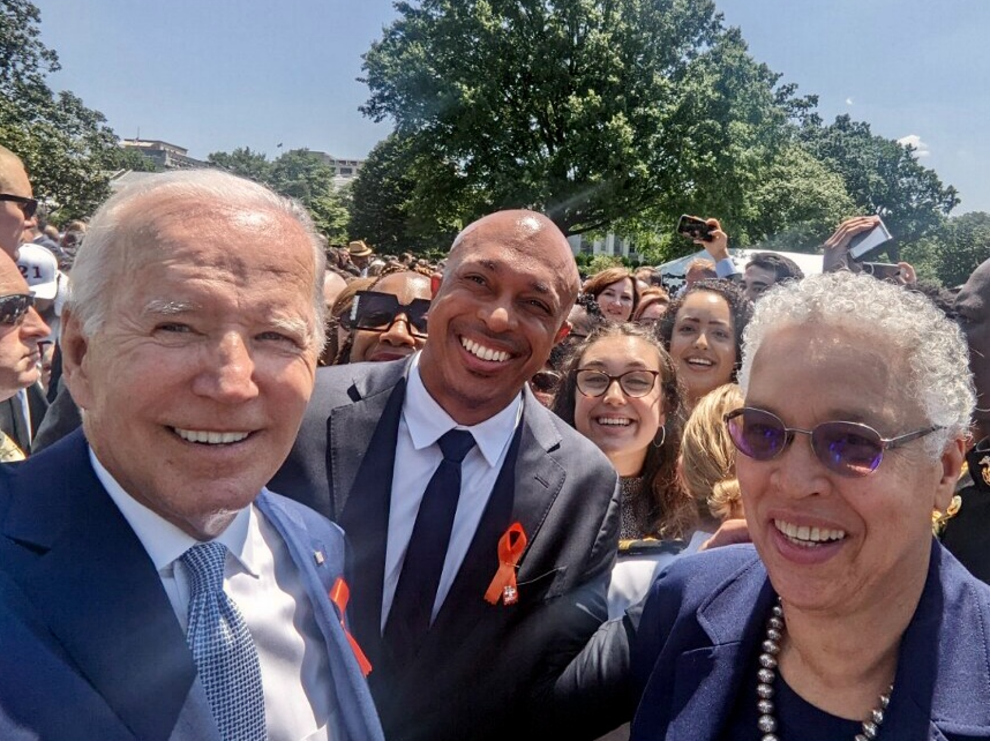 Later that day, Pritzker appeared on CNN's "State of the Union," and he repeated calls for additional measures to control gun violence, such as banning assault rifles and high-capacity magazines . 
The mid-South Side's state senators are in agreement about banning assault rifles, and the area's state legislators all said they want to pursue gun control legislation, but it is unclear when the General Assembly will reconvene before its scheduled date.
Rep. Lamont Robinson (D-5th) listed six pieces of legislation the Illinois General Assembly could act on, adding that more "is being proposed, contemplated and discussed": 
Freshman Rep. Maura Hirschauer (D-49th), an organizer of a chapter of Moms Demand Action for Gun Sense in America from Batavia, introduced HB 5522 in January, but it was never considered in a substantive committee. Since the July 4 mass shooting in Highland Park, however, 50 more lawmakers, all Democrats, have signed on as cosponsors.
Both Sens. Mattie Hunter (D-4th) and Robert Peters (D-13th) say they want to ban assault weapons. Hunter added that she would like to have an automatic five-day waiting period before purchasing firearms.
"But the problem is anytime you're talking about any gun laws, we can put all kinds of systems in place, but if someone is determined, and if they've already made up their mind that they want to harm someone, it can happen," Hunter said. "And it will happen."
She blames "a combination of things" for Illinois' endemic gun violence, including the prodigious number of firearms of all kinds circulating around to links between mental health and gun violence.
"And then you have in my district, and on the South and West sides, you've got violence. But it's different," Hunter said, noting that local shootings are often personal or retribution-related.
Peters said the discussions and debate on gun control and abortion rights before the legislature returns to Springfield in the fall will take time.  "To be frank, it's really painful and upsetting (expletive)."
However, Peters said there is "a definite appetite" to ban assault, and he said that "appetite changes based on the organizing power of people."
"One thing to say to the broader public is, at least I know in the district I represent, people want to see us deal with the proliferation of guns," Peters said. "But I also think that everyone needs to call people who don't necessarily live in the district, who live in other districts, and tell them to let everyone know in every position of power that they, too, want us to do something.
"Something that is bold, so that everyone can go outside and enjoy a parade or a park or go to school. And I think that this is where the urgency that we're in also needs to be pushed into us being leaders in organizing a more fervent grassroots effort so that we can have some serious, systemic change."
He noted that state power is limited because of Illinois', and his district's, proximity to Indiana, with its permissive gun laws. But he said the situation in Highland Park — Crimo's background could have triggered Illinois' red flag law — needs to be prevented from happening again, and the "boundaries of this conversation around gun manufacturers" and investors need to be wrestled with.
Peters said he wants to have a focus on the supply side of gun manufacturing as well as holding firearm manufacturers and suppliers at higher levels of liability, though he noted that the federal 2005 Protection of Lawful Commerce in Arms Act, which protects firearms manufacturers and dealers from being held liable when crimes are committed with their products, "makes that a little more complicated." 
Illinois lawmakers had planned to convene a special session this summer, though it has yet to be scheduled.The proposed special session was first announced by Pritzker on June 24, the same day the U.S. Supreme Court released a decision overturning Roe v. Wade, the landmark 1973 case that legalized abortion nationwide.
The next scheduled meeting of the General Assembly is Nov. 15, when the regular fall veto session convenes.
Asked if the governor would consider putting gun control measures on a special session docket alongside abortion rights measures, a spokesperson said, "Illinois has taken the very important steps to strengthen our laws. But now, we will once again review everything we know about this gunman in the context of our laws and determine what more we can do to continue our public safety work. 
"As the governor has said, his administration will work with the General Assembly to ensure we take on the gun lobby and do everything we can to further strengthen our gun safety and red flag laws. As this investigation progresses in the coming weeks we will learn more about this incident and if the law may have fallen short, and it is imperative we have all of the facts so we can work together to strengthen the laws already on the books. As we learn more, we will begin discussions with members of the General Assembly and advocates to get their input on not only legislation, but also timing."
Reached for comment, Buckner said "we have to be committed to looking at everything," calling recently "ridiculously high shooting numbers" in Chicago, the Highland Park parade shooting "a much too familiar pattern." 
"We have to look at laws that we have already put on the books and what the practical implications are," he said. "We have to make sure the public is informed of the tools at all of our disposal to keep guns out of the hands of people who shouldn't have them. I expect that our work in Springfield will focus on doing whatever is necessary to keep our communities safe."
Tarver, however, took a dim view about whether the legislature will convene to address gun issues soon.
"I don't see anything happening in a special session — although I would hope we'd have one — because there is still a general election," he said. "Unfortunately, I think that would factor into what would be proposed and how people voted.
Hancock reported from Springfield. Capitol News Illinois is a nonprofit, nonpartisan news service covering state government funded primarily by the Illinois Press Foundation and the Robert R. McCormick Foundation.