As summer shades into fall, Hyde Park-Kenwood's food programs continue their operations in the face of continued demand during COVID-19. 
Some are pre-pandemic stalwarts, like the pair of food pantries in Hyde Park and Kenwood located at Hyde Park Union Church, 5600 S. Woodlawn Ave., and St. Paul & the Redeemer, 4945 S. Dorchester Ave. 
Others have steadily expanded their footprint: Since April 2020, the LGBTQ center Brave Space Alliance has serviced more than 200,000 people through its crisis pantry network and delivery service, while Woodlawn-based Market Box, started last year, continues to distribute to 400 households on the South Side. 
Still others have sprung up, disappeared and found new life again. One project in the latter category is the Love Fridge, now located at Augustana Lutheran Church, 5500 S. Woodlawn Ave. The refrigerator is part of a citywide mutual aid group that places the appliances in different neighborhoods, where local residents are responsible for stocking them with food that anyone can take.
There are currently 26 different fridges scattered across Chicago, many of them on the South and West sides. 
A Love Fridge first came to Hyde Park last August, when it was located in the alley behind 57th Street Books, 1301 E. 57th St. It was removed a few months later after a request from the city; organizers said they had mistakenly thought it was on private, rather than public, property. "The decision was ultimately made for us when a city employee told us to have it moved because it was on city property," one said. 
Perhaps more importantly, the group worried about accessibility and safety during the winter, when alleys in the city tend to fill with slush and ice, making them difficult to walk through and dangerously slippery. 
Though the group said it was looking for a new location, a refrigerator didn't return to Hyde Park until this June — this time the result of a concerted effort from Augustana, the University of Chicago Community Service Center (UCSC) and local residents like Yael Hoffman at UChicago Medicine. 
Kafi Moragne-Patterson, who until recently led UCSC, said the effort to revive the Love Fridge in the neighborhood began during the U. of C.'s week of service oriented around Martin Luther King Jr. Day in January. 
"One of the volunteer opportunities we had was with the Love Fridge organization — we helped them take food to over 15 locations across the city," Moragne-Patterson said. "That sparked interest in movement in that way, and a group of us doing that work said, 'Let's bring one to Hyde Park.' "
Through the Hyde Park–Kenwood Interfaith Council, Moragne-Patterson, Hoffman and other advocates got in touch with Augustana. 
"In the past we've done a community breakfast — we haven't been able to do that since the pandemic," said the church's pastor, Nancy Goede. "This is nice to be able to do this, it sounded like it was something that would fit right in." 
 The fridge, which is open 24 hours, is on church property — Moragne-Patterson noted it was "one of the first things we made sure of" — and sheltered from the elements under a big overhang by the front gate. There's also separate shelving space for cans and dried goods. (Goede emphasized that people should not drop off clothing, and that donations for eggs, milk, and frozen foods are especially helpful.) 
Drawing on her experience with the Interfaith Council's work, Goede also observed the rise in demand for hunger programs over the course of the pandemic, and predicted that need could increase as government protections increasingly fall away. "When the unemployment supplements run out and the eviction ban is lifted, that might result in large numbers of people (using them)."
Jan Deckenbach, director of the Hyde Park Kenwood Food Pantry located at Hyde Park Union Church, said that the number of people using the weekly pantry has begun to tick up again to between 40 and 50 a week. She isn't sure exactly why. 
"After all the (stimulus) payments to people started, our number started going down, but now they're starting to go up again, similarly to this time last year," she said. "I feel like it's just been a crapshoot all the way through. It'll be interesting to see more people come once the evictions get started." (While the federal eviction moratorium was struck down last week by the Supreme Court, the statewide order is still in effect until at least September. 18) 
Every third Saturday of the month, the pantry has also been hosting a health fair by Chicago Street Medicine where clients can get their blood sugar and pressure checked, as well as ask questions of a doctor. "It is a chance for people who may have been scared to go to the doctor or don't have health insurance to talk to an actual doctor, and we hold it outdoors," said Deckenbach.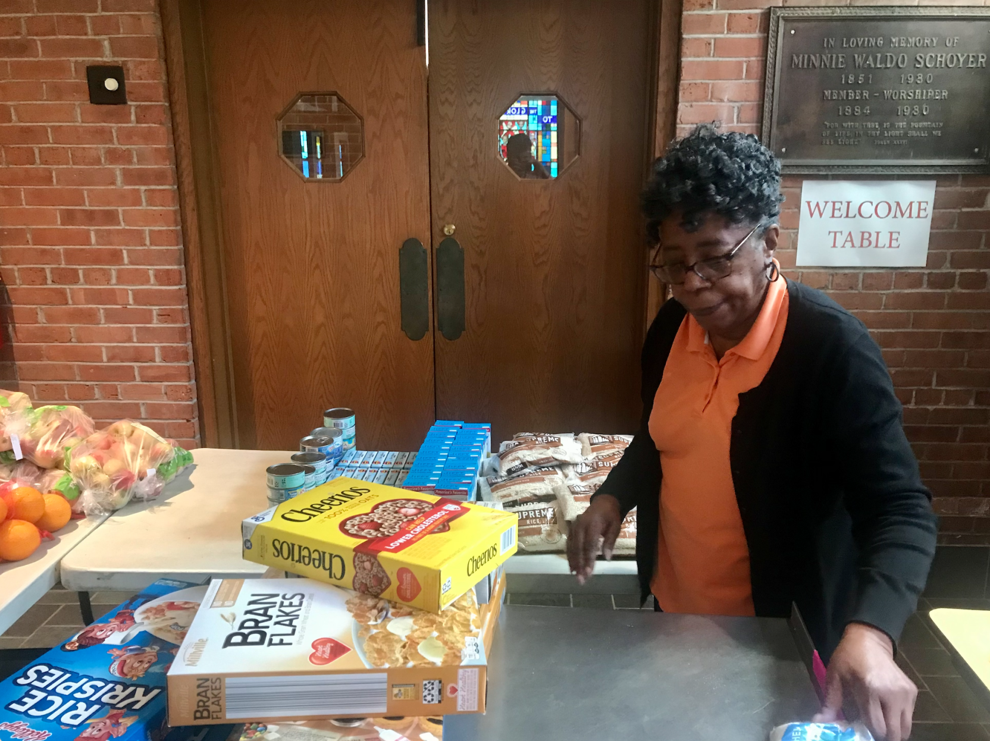 At St. Paul & the Redeemer, usage went down at the beginning of the summer, but has been ticking upward again in recent weeks to around 50 people. Like Deckenbach, pantry coordinator Shirley Knight doesn't have a sense of what the reason for that is. "I don't know why. I don't know if people just realize we're here now," she said. 
Raising awareness of the pantry has been a longstanding concern of Knight's — in May, she told the Herald that the church "could easily serve 100 people, 100 families." 
"We've encouraged our regular guests to tell their friends," she said. "We've had a couple of people that live in South Shore. So, you know, I think it's going to take some time." 
When asked what policy changes she might like to see, Knight said she was worried about food stamp benefits if Republicans took control of the federal legislature — President Joe Biden recently announced the largest permanent increase in the program's history, which will take effect in October. Apart from that, she was skeptical that much political progress would be made. 
"I don't see our public servants rushing to carry the mantle about anything — I think it's got to be grassroots."