Principal Karen Calloway, a longtime educator and administrator at Kenwood Academy, is the recipient of this year's Golden Apple Award for Excellence in Leadership.
Calloway was surprised with the award during a scholarship assembly on Friday, May 12. She believed she was there to celebrate the senior class for receiving $68 million in scholarships, but the student speeches were soon drowned out by cheering as president of the Golden Apple Foundation, Alan Mather, appeared onstage — gift basket and large novelty check in tow— to present Calloway with the award.
"I'm just proud to be in a profession that allows you to give and actually you get back — what I get back is the $68 million, what I get back is your success and your ability to be great," Calloway said. "There are many people my age who are still trying to figure out what their purpose is. I've found it."
In a misty-eyed acceptance speech, Calloway said that she never intended to become a principal, and was scared when she first took the job. "My vision for myself has always been that I want to leave the world better than it was when I came. I was to make sure that I pass on impact, that's what's important to me," she said. "And I can do that one student at a time."
"If you're my student, you're my student forever. No matter how long, how old you get, I always will have your back," she added.
Calloway began her 21-year career at Kenwood as a school counselor in 2001. She then moved into different leadership positions throughout the school, becoming the counseling department chair, dean of students and an assistant principal, before stepping into the principal role in 2018.
She also encouraged students to keep their passion for knowledge, noting that she is returning to school to obtain an Ed.D. in Administration and Supervision with Superintendent Endorsement from Loyola University part-time, while remaining Kenwood's principal. "You never stop learning, you're always looking to get better," she said.
She thanked her team at Kenwood and the local school council, her family, friends, former students, sorority sisters, pastor, Ald. Sophia King (4th), and the Director of Undergraduate Scholar Support Services for Golden Apple, Jordan Lanfair — many of whom joined her on stage. "It would never happen alone," she said, embracing her mother and son.
A number of students spoke about the ways in which Calloway has pushed, supported and listened to them, crediting her with their successes.
The leadership award honors exemplary performance by a principal or head of school "who has had a significant and sustained positive impact on the school, created a culture of inclusivity, and delivered dramatic student growth," according to the Golden Apple Foundation.
The foundation also annually awards several Excellence in Teaching awards and provides financial aid, mentorship and training to dozens of Illinois students interested in education through its Scholars and Accelerators programs.
Calloway and one other principal, Kathleen Lopez Rodriguez of Charter Oak Primary Academy in Peoria, were chosen from 130 administrators nominated for the leadership award.
Calloway has said that she'll stay at Kenwood for at least another 20 years, according to CEO of Chicago Public Schools Pedro Martinez.
The award comes with $5,000 for Calloway and $5,000 for a project of her choice to benefit Kenwood. Calloway said she is considering putting the money towards helping Kenwood students with access to post-secondary education or using it to renovate Kenwood's dance studio, the Chicago Sun-Times reports.
Wrapping up the assembly originally purported to be about students' college plans, Calloway said "We'll talk about a few things about my expectations for you after high school when graduation comes."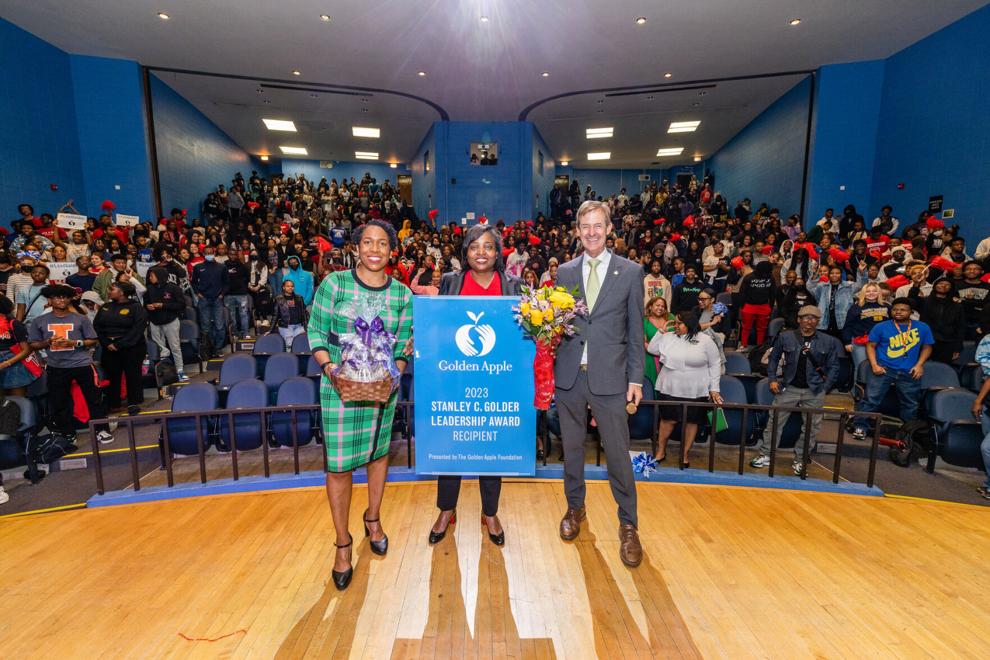 Herald editor Hannah Faris contributed reporting.