KAM Isaiah Israel will be able to add stained glass repairs to its list of renovations after tentatively receiving a $250,000 grant from the city's Adopt-A-Landmark program. 
The Kenwood synagogue, 1100 E. Hyde Park Blvd., is already partway through a $5 million project that will fix the domed roof, replace the restrooms and repair the interior plaster.
Congregation President Kineret Jaffe said they had also identified the stained glass windows as in need of restoration but hadn't been able to budget for it in the initial campaign. 
Once leadership heard about the Adopt-A-Landmark program, which requires that funding be used for a public-facing restoration, they thought it might help close the gap. 
"Stained glass windows are clearly something that meet the criteria, so we decided to apply for the grant," Jaffe said.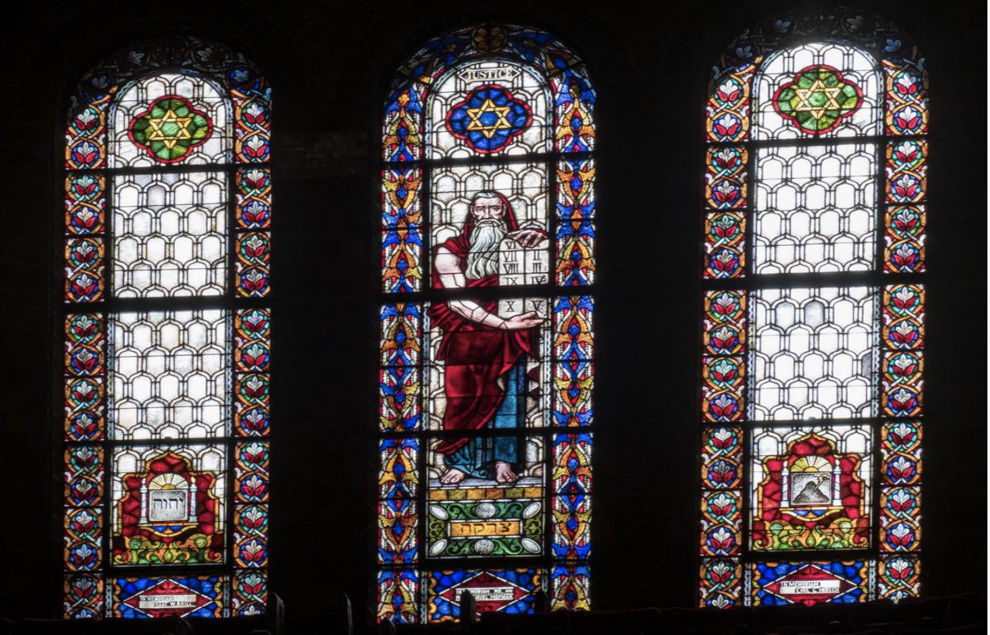 They were one of a dozen projects to win preliminary approval for the funding, the city's Department of Planning and Development announced on Nov. 22. Other local projects to be awarded the grant include the Muddy Waters House, 4339 S. Lake Park Ave., and the Emmett Till and Mamie Till-Mobley House, 6427 S. St. Lawrence Ave.  
All projects still require full approval from the city's Landmarks Commission. 
KAM's stained glass windows include depictions of the prophet Isaiah and Moses with the Ten Commandments. For the restoration, the synagogue will use Daprato Rigali Studios, 6030 N. Northwest Highway, which is also working on the larger renovation project.  
"They are already on tap to do the restoration of the interior. And now that we know we have the funding to do the stained glass windows they'll be the ones that we hire and they will coordinate the work because, needless to say, stained glass windows are set in walls and we have to figure out how all of that fits together," said Jaffe.  
The window restoration will cost approximately $428,000, leaving the congregation to come up with a little less than $180,000 after the city grant. The separate $5 million fundraising campaign is inching closer to its goal; Jaffe said KAM has raised nearly $4.4 million to date. 
Jaffe said she hopes the renovations will be finished by 2024, in time for the centennial of the building. The congregation itself is even older, tracing its roots back to 1847. 
On Sunday, Dec. 5, at 2 p.m.,  the synagogue will hold a "stairemony" to dedicate the newly completed front stairs to the sanctuary and bury a time capsule. To attend, RSVP by calling 773-924-1234.