Jonathan Jackson, scion of one of Chicago's most prominent families in politics and activism, has easily won election to the U.S. House of Representatives. Jackson will succeed  longtime Rep. Bobby Rush in the 1st Congressional District seat in January
"I am so honored to be your representative from the 1st Congressional District in Illinois, headed to Washington, D.C.," Jackson said in a brief election night victory speech.
The mood of the crowd inside the South Shore Cultural Center, 7059 S. South Shore Drive was buoyant, elevated by a driving, electrified blues band that played throughout the evening.
Jackson promoted his election as a right and good development for his famous family.
"People are proud to be Kennedys, and they should be," he said. "People are proud to be Daleys, and they should be. And some people are proud to be Bushes, if you want to be. But Chicago, you have made me proud to be a Jackson."
"All we do is win, win, win," Jackson said, quoting the DJ Khaled song that played as he entered the ballroom.
Turning to the future, Jackson said he heard his soon-to-be constituents and that their needs inform his priorities.
"The 1st Congressional District is in pain. People are hurting," he said. "I heard from the senior citizens, the 'special citizens,' who are having to cut their medicine in half, because they don't have enough to make it from prescription to prescription. I've heard from those who have worked an entire lifetime, who don't have enough money to go to the hospital."
"We need 'Medicare for All.' We're going to fight for healthcare for all. We can afford it; it's a function of political will."
He called for more affordable housing and economic development in the district to improve constituents' quality of life, along with significant development of public transportation and pandemic preparedness. 
After listing the accomplishments of his father, the Rev. Jesse Jackson, he closed by saying that he wanted to be just like him in his own public service.
In a subsequent interview, Jackson said there are no profitable mass transit systems, observing the necessity to subsidize them. He tied mass transit to commuting, calling it a worthwhile investment for the sake of working people and the taxes they subsequently pay. 
"We have to look at making transportation affordable," he said. "We have to look at a housing grid that's connected to mass transit, so people can get to work."
Asked about two of the most animating issues among voters today, abortion rights and inflation, supposing House Democrats will be in the minority following the midterm, Jackson expressed optimism and said he is waiting to see what all the results are.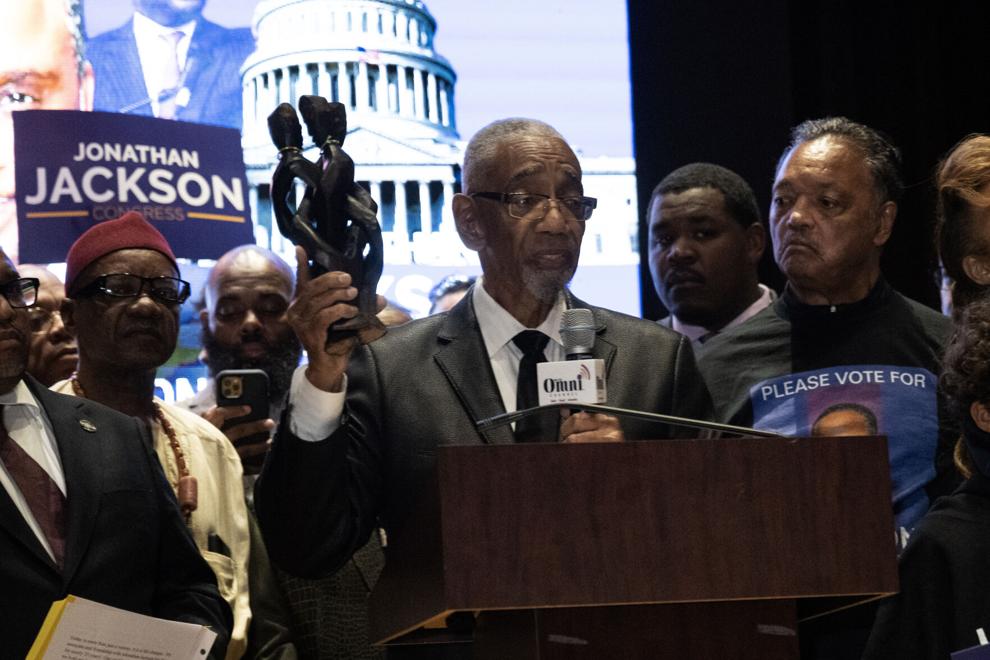 Rush spoke before Jackson took the stage, shortly after 9 p.m.
"I want you all to know that there's one reason I'm here tonight: the Jackson family," Rush said. "I'm part of their family, and they're part of my family."
After 30 years, Rush said the time was right to leave Congress and focus on work in Chicago.
"When voters spoke, they elected a man who I predict will be the best congressman that the 1st District has ever had," Rush said. "And I know of what I speak," he said, naming the long line of Black congressmen back to Rep. Oscar Stanton De Priest (R) in 1929.
Rush promised to work with and mentor Jackson as he prepares to take office. Concluding his speech, rather than a torch, he passed an African statuette to the representative-elect.
Jackson, 56, is a graduate of North Carolina A&T State University with a master's degree in business administration from the Kellogg School of Management at Northwestern University. He has worked as a partner in a beer distribution business and as a business professor at Chicago State University, and he has a long history of activism with his father and the Rainbow/PUSH Coalition.
He was in Washington Sunday with other incoming members of the Congressional Progressive Caucus.