On 56th Street just east of Cottage Grove Avenue, century-old ornate wooden gates open onto the University of Chicago playing fields. Though the entrance may look awkward in its humble setting today, those gates once stood between crenelated towers near 1100 E. 57th St. and opened onto a stadium for 58,000.
When I arrived in the 1970s, sports at the university were literally a joke. Second City had a famous skit mocking the very idea. The campus bookstore sold a gag T-shirt that listed the university's Big Ten football championships: 1899, 1905, 1907, 1908, 1913, 1922 and 1924. I thought those championships represented a genteel past before commercialized college football. It wasn't until I read Robin Lester's 1999 book "Stagg's University" that I realized how wrong I was.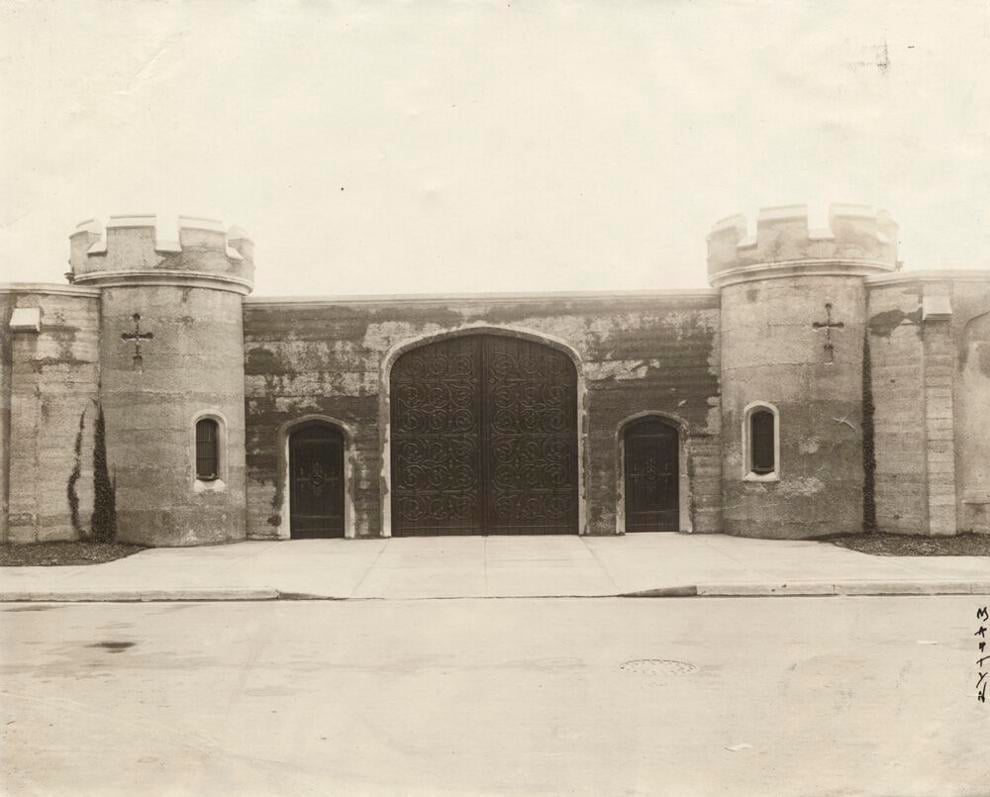 In 1890, William Rainey Harper, the university's first president, had the job of creating a major institution from scratch. Football was already associated with top universities, and if Chicago had it too, Harper thought, it would signal that his new school was among the best of them. Football could also solve his other problems: attracting donors and students. A winning football team would get newspaper coverage, attract paying spectators and convince Chicagoans — particularly wealthy Chicagoans — to identify with the school. He also wanted to tap into the intense Chicago boosterism around the 1893 World's Fair.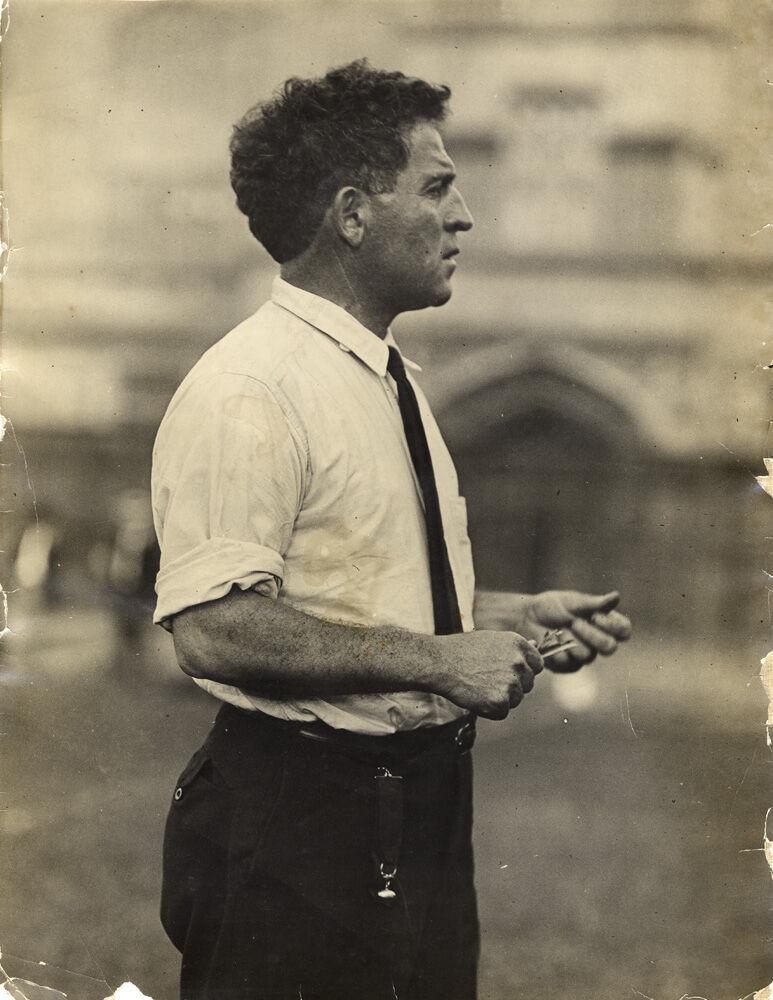 Even before there were students, Harper convinced Amos Alonzo Stagg, a nationally famous baseball player and Harper's former student at Yale, to come to Chicago. The first building constructed for the U. of C. was a shack to store gear for Stagg. Marshall Field had agreed to lease his land from 57th to 56th Streets, between Ellis and University Avenues for playing fields. The students helped build the first bleachers. On a campus with no traditions, football provided a common purpose.
After the school opened to students in 1892, 14 players showed up. Luckily, Stagg needed only 11 because students played both offense and defense. Most knew nothing about football so Stagg himself played quarterback. The school's trustees chose the name Goldenrods, but the yellow dye ran, mud easily stained their clothes and "yellow" gave the opposition an easy taunt. The team switched to the Maroons in 1894. 
On Thanksgiving Day in 1893, Chicago played powerhouse Michigan. Harper sent special invitations to wealthy Chicagoans and gave them the best seats. Special excursion trains brought crowds to Hyde Park from Michigan, to the relief of hotels standing empty after the fair. Though Chicago lost, it was such a success that the Chicago-Michigan Thanksgiving game became a tradition until 1905, when the conference canceled Thanksgiving games.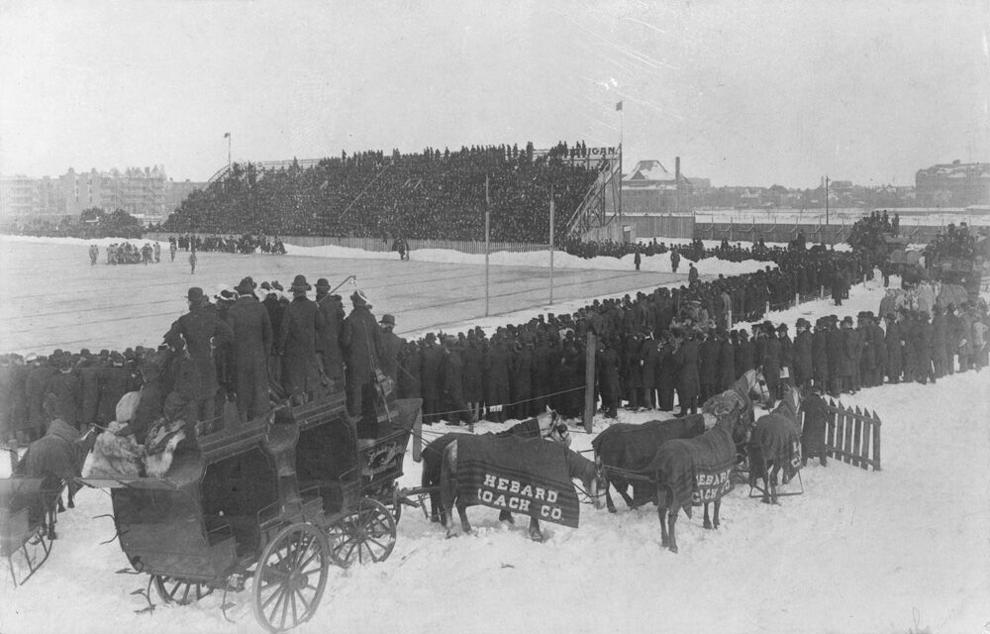 For the next 50 years, football shaped the campus social calendar with pregame rallies, banquets, bonfires and fraternity dances. There were a lot of fraternities, at least 32 by 1932. Football fueled social events around the neighborhood and filled the local ballrooms. 
Stagg insisted that players had to be amateurs and banned drinking, smoking or gambling. Though eventually Chicago had more athletic scholarships covering tuition than other Big Ten schools, he refused to provide any other financial incentives. Many tuition scholarships supported the minor sports. Chicago was the only Big Ten school that competed in all the sports, with many championships across the board. Harper and Stagg believed team sports built moral fiber and all students had a sports requirement. 
Football, however, was always different. It was all about winning. In the early years, the team lived in special housing in luxurious Hitchcock Hall, had their own dining table and maintained very questionable academic records. The bells in Mitchell Tower rang a curfew just for them. They took easy courses with sympathetic professors who gave grades even when players never showed up in class. Harper thought they deserved special consideration because they literally risked life and limb for the good of the school. 
One classmate remembered the players in 1897 as "a gang of tough gorillas!" So many college players were killed and maimed during games that Congress considered banning football. Instead, rules were changed in 1905 to avoid dangerous scrums.
By 1899, Harper got his winning team. The Maroons crushed the opposition, going 12-0-2 in regular play and 4-0 in conference play. Harper and Stagg ignored the fact the 1899 team was known for hard drinking. They also turned a blind eye in 1905 to the lack of moral fiber in their star quarterback, Walter Eckersall, who took the team to a national championship and was later expelled the moment he was ineligible to play anymore. 
The Maroon schedule built an audience by scheduling weaker opponents early in the season to guarantee victories, because early wins brought spectators. Stagg added numbers to the backs of players' jerseys to help the spectators follow the play. Harper himself suggested adding a scoreboard for the spectators. Because Chicago was the biggest city with the biggest gate receipts (ticket revenue), Stagg insisted on home games, playing 90% of their games in Hyde Park between 1896 and 1905. Football also filled the many neighborhood hotels with visiting teams and fans. The home games didn't, however, mean an easy schedule. The team played many games outside the conference against famous opponents, knowing that it would advertise the school. 
U. of C. football became so embedded in the city's psyche that 50,000 people requested tickets for the 1905 Chicago-Michigan game — twice the number of seats. Harper died in 1905, after seeing his team declared a national champion. 
In 1913, the university built permanent stands along Ellis Avenue, boosting the seating to 32,000. The Chicago Tribune led a campaign to name it "Stagg Field," due in part, they said, to growing tired of wasting ink printing the official title: "The Athletic Field at the University of Chicago." 
Revenues rose from $30,000 in 1915 to $211,796 in 1924 as interest in college football soared. The Maroons won Big Ten championships in 1922 and 1924. The 55th Street Businessmen's Association recognized the boon that crowds coming to Hyde Park meant to them. They celebrated Stagg and the hometown team with a large annual banquet and helped recruit local high school athletes. 
Stagg campaigned for an immense permanent stadium south of 60th Street to compete with the other Big Ten schools, who were putting in 100,000-seat stadiums. The university balked at the debt and instead used football profits to increase the seats at Stagg Field to 58,000. In 1926, the Chicagoan magazine (Chicago's answer to the New Yorker) listed the games as a thing to do about town, pointing out that the new stands were "an exceedingly impressive mass of steel and concrete with all modern conveniences." 
The end of Chicago football, however, was already in sight. Winning teams required a large number of experienced athletes, extraordinary talent and year-round training. Ever since the reforms in 1905, Big Ten eligibility rules had created problems for Stagg. Players had to meet standard admission requirements and carry regular class loads. The U. of C. had tough admission standards and a heavier course load because of the quarter system. Other schools offered physical education majors so training itself could count as coursework. Other schools wooed elite players with big financial incentives. Stagg refused. Even without the money, elite players from Chicago high schools still wanted to come to the university but couldn't get past the admissions. 
There was also new competition for audiences. When Soldier Field opened in the South Loop in 1925, large non-university events left Hyde Park for the lakefront. The University of Notre Dame started playing all its home games in Soldier Field in a conscious bid to become a Chicago home team. Hyde Park businesses, especially the hotels, suffered, along with the gate receipts.
After 1924, Stagg's football teams weren't winless though their teams and players were smaller. As the Chicagoan noted in 1927, Stagg compensated by inventing formations that were "intricate, smooth, and deceptive …using a baffling hidden ball strategy, varied by complex patterns of passing."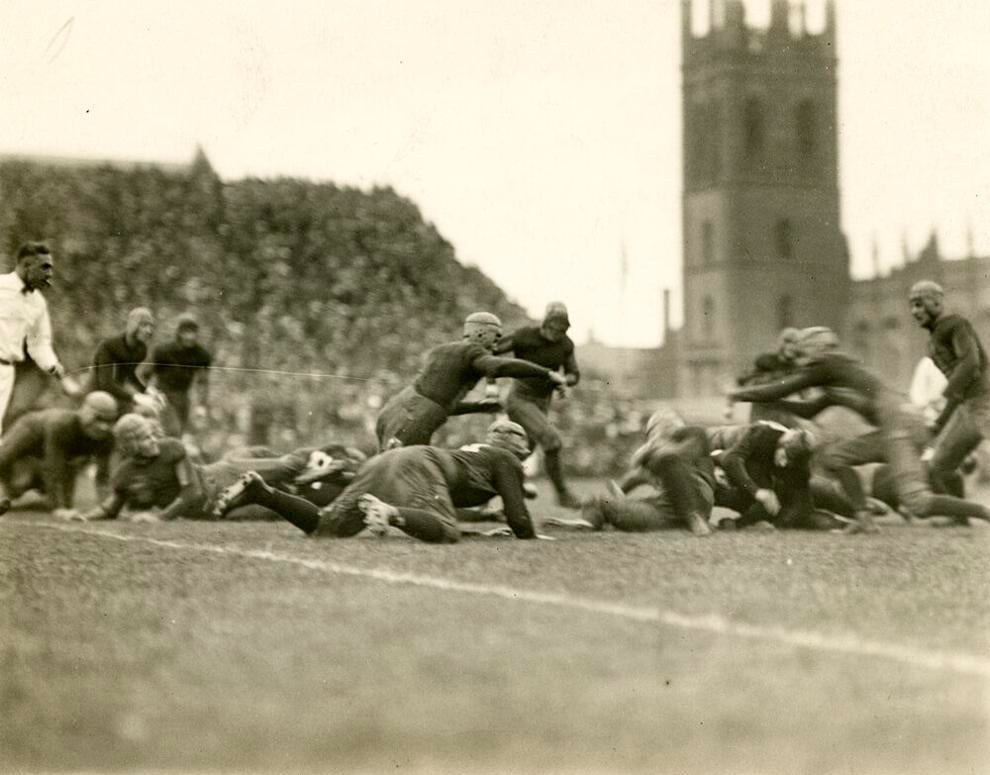 Then Robert Maynard Hutchins became president of the university in 1929. Where Harper imagined a university engaging with the world through professional expertise, Hutchins saw the university as a refuge where students read Aristotle. The pool of possible players shrank sharply. Hutchins reorganized the college so that students could start coursework in their junior year of high school, rendering all of them ineligible to play sports because they hadn't graduated from high school. The new curriculum attracted transfer students who also weren't eligible. Hutchins introduced sweeping survey classes that required no attendance, but everything rested on a comprehensive exam every spring — during spring training. The exams were anonymous, so there were no more favors. Hutchins didn't care because, as he argued, football, fraternities and fun didn't belong in any university.
When Stagg's contract was up for renewal in 1932, Hutchins made an offer Stagg had to refuse. Stagg left. From 1933 to 1935, the combination of a talented coach, Clark Shaughnessy, and an exceptional player, Jay Berwanger, briefly lifted the team to a .500 record, but after Berwanger graduated, a sea of empty seats in the expanded stadium witnessed catastrophic defeats. In 1939, alumni cried out that something had to change. Hutchins agreed: he eliminated football. The Chicago Bears scooped up the legendary C logo and Clark Shaughnessy. 
The university, however, was still a success in sports still played by amateurs. In 1939, the U. of C. won Big Ten championships in water polo, tennis, fencing and gymnastics. But Hutchins disliked it all, and the school left the Big Ten in 1946. 
Getting rid of football had consequences. Donations to the endowment plummeted and  undergraduate enrollment dropped. No longer on the sports pages or in the high schools recruiting players, the university fell off the map for Chicagoans. At one time, most undergraduates came from Chicago and lived off campus. After Hutchins arrived, that was no longer true. 
Eventually, intercollegiate sports crept back. During urban renewal, the blocks between 55th and 56th streets, Cottage Grove to Ellis avenues were leveled and became university playing fields. When the NCAA created Division III competition in the 1970s, the university remade a sports program scaled for student athletes. As for the old Stagg Field, the stands were torn down in 1957; the space had become more famous as the site of the first controlled nuclear reaction than for sports.

If you see something around Hyde Park that makes you ask, "What's that about?", let me know at hydeparkquestions@gmail.com. I might be able to find the story.