Two statues in Nichols Park tell of a dream some people had during urban renewal. As with most utopias, the dream was dashed on the rocks of human nature. 
After World War II, Hyde Park was at a crossroads. During the war, there was a massive expansion of industry in Chicago; workers flooded into a city without enough housing. Landlords illegally subdivided poorly maintained, aging apartments. Too many families shared bathrooms, cooked on bad wiring and died in fires. People moved frequently, caring little about the community. They bought cars, streets were congested and small stores suffered because people shopped where there were parking lots. Crime was so high in May of 1952, 25% of the crime in the city of Chicago happened in Hyde Park. 
In 1949, a gathering at the Quaker meeting house formed the Hyde Park-Kenwood Community Conference (HPKCC) to see what grassroots volunteers could do. They reported unsafe buildings, organized block clubs and, as urban renewal progressed, improvised tot lots (small playgrounds for young children). It was the baby boom and there were a lot of tots. Unfortunately, demolition damaged the trees. In 1960, one such tree fell on a toddler named Winifred Moulton and killed her.
Official Urban Renewal arrived after 1954, seeking to engineer a modern Hyde Park that was stable, middle class and integrated. The first phase tackled the oldest parts: Hyde Park A (Kimbark Avenue to the railroad tracks, 57th to 54th streets) and Hyde Park B (Kimbark to Blackstone avenues, 54th to 53rd streets). Urban planners believed that a neighborhood needed three acres of park for every 1,000 people. Central Hyde Park had zero acres. In addition to pocket parks, the planners created what would later become Nichols Park; they cleared everything from  Kenwood to Kimbark avenues, 55th to 54th streets, including well-maintained buildings that had welcomed the Japanese-American community when the government allowed them to leave the internment camps during World War II. They couldn't return to the West Coast Exclusion Zone, so they came to Chicago. 
The buildings along 55th Street were mixed-use, with retail at street level and apartments above. One of the shops was the High-Low Foods Store, 55th Street and Kimbark Avenue, fondly remembered for the sawdust under the butcher, kid-sized carts and hot dogs called "tunies," which were made out of tuna fish. Another was Breslauer's, 1312 E. 55th St., a dry goods store with a post office substation, which later relocated to Kimbark Plaza for its parking lot. Augustana Lutheran Church at 54th Street and Kimbark Avenue also gained a parking lot when it moved to its current location near 55th Street and University Avenue. The Neighborhood Club on Kenwood Avenue stayed because it conformed to the designated land use of recreation.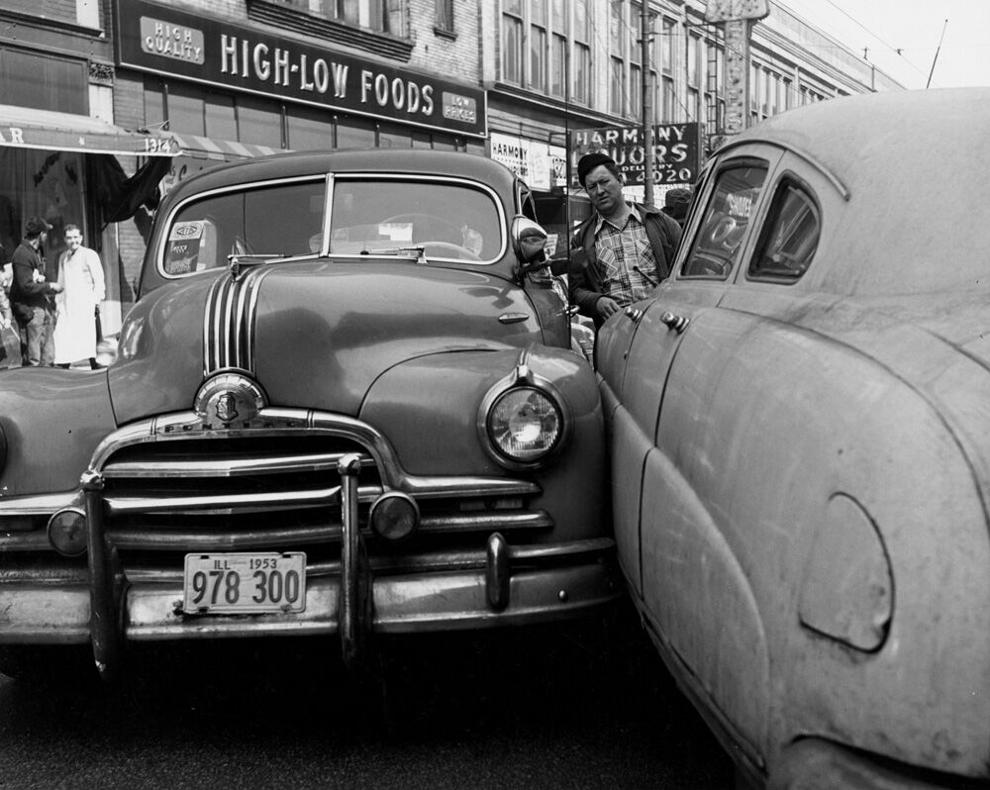 HPKCC thought that, if the new parks successfully brought people together in well-kept green spaces, then all those who were writing off Hyde Park as too squalid and dangerous would be proven wrong. They formed an ad hoc sculpture committee to bring something modern to the parks that would entrance children. The committee chairs were Miriam Elson, a specialist in child development, and Muriel Beadle, who was writing "A Child's Mind," a guide for mothers in raising toddlers, and was married to George Beadle, the Nobel Prize-winning University of Chicago president. They had no idea what they were getting into.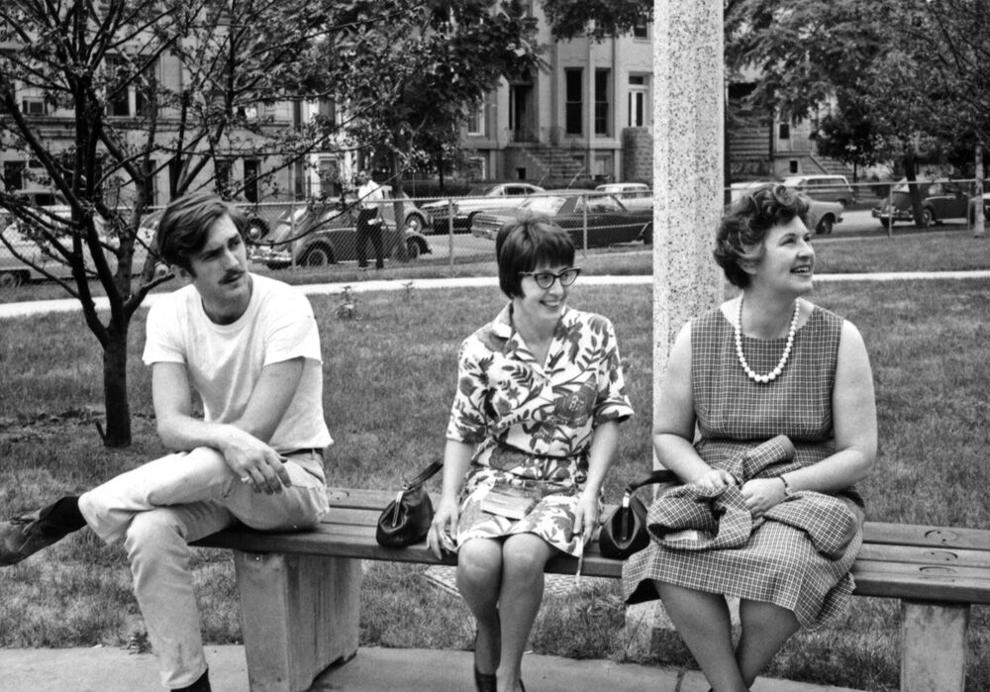 The Chicago Park District was certain their vision wouldn't work. They offered a statue of Christopher Columbus on a tall base that would deter vandals. Another suggestion was that they scatter interesting fragments of demolished buildings around the park and call them sculptures. The committee argued for something modern and child friendly. 
The committee couldn't afford established artists, so they sponsored a contest for students at the School of the Art Institute downtown. The top three entrants would get $200 each in prizes, and the committee would pay for their time and materials to build the full-size sculptures. The jury was distinguished. Harold Bouras was the art critic for WFMT radio; Joseph R. Shapiro, who was in the process of founding president of the Museum of Contemporary Art; Joshua C. Taylor was an art professor at the U. of C.; Charles Dornbusch was an architect; and Cosmo Campoli was a renowned sculptor and instructor of design at the Illinois Institute of Technology. Out of 56 entries, the jury chose Jerome Skuba, Gary Wojcik and Yvonne Hobbs; Peter Zetler received an honorable mention for his idea of benches shaped like bongo drums. 

The committee started with a small memorial fund created in memory of Winifred Moulton, the toddler who'd been killed. Though most of the donations were $10 or less, some donors jumped at the committee's offer to  inscribe the name of anyone they chose on a tile for $100. The committee hoped that raising money from the community would develop a sense of ownership, and they were delighted when one of the largest donations came from St. Thomas students' bake sales. 
The committee raised $5,000, but the building and installing the sculptures was plagued with problems.
The first was a freeform design by Jerome Skuba that they earmarked for Spruce Park at 54th Street and Blackstone Avenue. Skuba, who lived on 53rd Street, had a toddler, so he knew how to entertain small children. The statue — a frame of steel rods covered with white polyester fiberglass resin — was installed inside a circle of memorial tiles made by David Waddell, naming three children: Winifred Moulton, Scott Abrams and Cynthia Fiske. The statue reminded people of the cartoon beagle Snoopy from "Peanuts," the popular comic series by Charles Schultz. As Muriel Beadle wrote in a letter, "it is very well-loved and heavily used." Skuba had gotten the manufacturer's assurance that their resin would survive Chicago weather, but the manufacturer was wrong. The surface chipped and cracked, so Snoopy was removed, repaired and reinstalled. The committee repeatedly repainted it with marine epoxy paint, partly to protect the fiberglass and partly to cover the endless graffiti. 
The committee reported to the HPKCC board that "it was a shock to the committee to discover that modern sculpture requires rather elaborate engineering, industrial equipment and outlays of both time and material." They needed more money. The B.F.Ferguson Fund for public sculpture, which bankrolled some of the most notable monuments around the city, including Lorado Taft's "Fountain of Time" on the Midway, turned them down, saying sculpture in crime-ridden Hyde Park was a waste of money. Luckily, the Woods Fund was intrigued by the utopian vision and donated $10,000 to the committee.
The second installation was Gary Wojcik's fountain "Spinning Water," which doesn't spin. The fountain was dedicated in June of 1968, along with the donor tiles. The tiles, created by Albert Schlick, memorialize Josiah Willard Gibbs, Robert Van Goor, William Bela Hoffman, Lazar M. Perryman and Harry Schneiderman – The only common thread among the names is that someone paid $100 to memorialize them.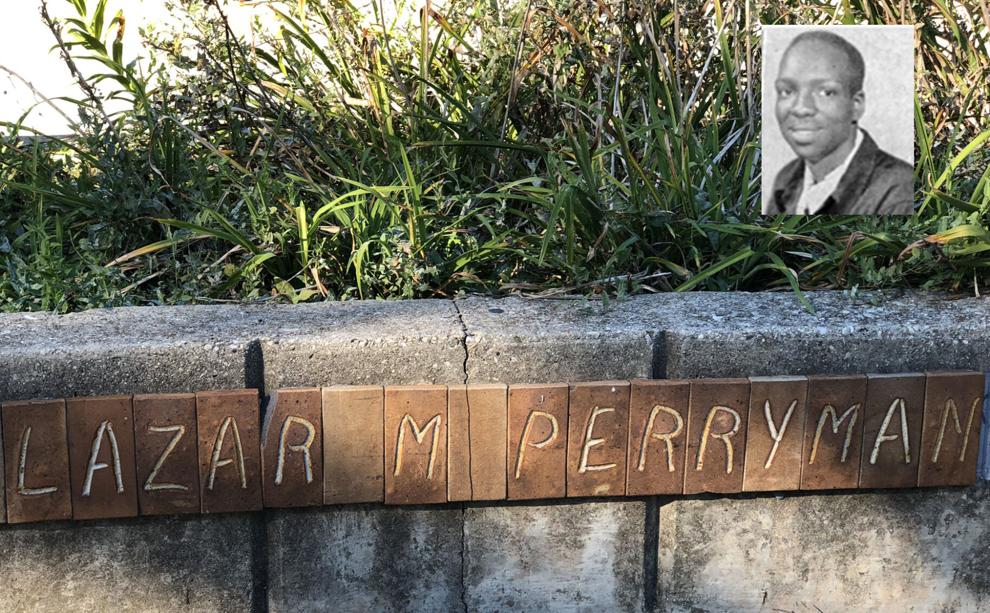 Wojcik had designed "Spinning Water" to perch on a seven-foot-tall tube, high enough for children to run underneath. The two-dozen curved copper arms were intended to cause water to form a circle around the pole, draining into a shallow circular basin where children would play. Instead, however, the Park District constructed a crescent pond with high sides that leaked and grew algae. Pranksters stuffed gum in the arms of the fountain — originally made of plastic tubing instead of copper — to block the flow of water. The shrubs in the planters along the rim hid the sculpture, and the whole setup walled off the park. The committee wasn't happy. 
The headaches from the first two sculptures were nothing compared to the first-place entry by Yvonne Hobbs of Barrington, IL. Two wing shapes curved around each other, creating an intricate space that children could crawl into, under and over. The jury was enthused about the promised play of light and shadow, and how rain and snow would interact with it. It would perch triumphantly on top of the hill just north of the Neighborhood Club.
The tiny model had to be transformed into a 20-foot-wide armature of steel mesh covered in cast stone and resting on four points. After Hobbs won, she revealed a problem the committee hadn't considered: She didn't have the skills to build it. If the committee wanted it, they had to find someone else. Everyone they approached said no — the weight distribution was unworkable. One said they'd consider recasting it in aluminum for $50,000. Finally, after 18 months of searching, the committee gave up and apologized to Hobbs, returning her model. Hobbs waited a year before writing back to accuse them of unethical behavior, which horrified Elson and Beadle. They had tried so hard. 
The committee felt they'd promised the Woods Fund a third statue so they kept searching. They were excited by a coiling spun aluminum structure by Francois Dallegret, a utopian futurist intrigued by their project. The committee spent months problem solving before Dallegret announced that it couldn't be done. After that defeat, Muriel Beadle exclaimed to the Woods Fund that "we are about as despondent as a group of optimists can be."
Luckily, a large bronze egg was sitting in sculptor Cosmo Campoli's living room. It was on the art market for $10,000, but he too had a utopian vision for urban parks. He was designing an exhibit called Cozmopoliz Campopoliz — a model city for children — and slashed the price to fit the committee's budget. 
In the 1950s, Cosmo Campoli (1922-1997) was a rising star. After serving in World War II, he went to the Art Institute of Chicago, where he joined other veterans to form the Contemporary Art Workshop. Art critics dubbed the group the "Monster Roster" for their use of gruesome imagery and commentary on suffering. In 1959, a renowned Museum of Modern Art exhibition called "New Images of Man" featured Campoli's disturbing "Birth of Death" sculpture. But in the 1960s, Campoli experienced a rupture. He stepped off the art world trajectory, stopped processing trauma and focused on the possibility for joy.
The Bronze Egg in Nichols Park stands atop two other eggs on a granite nest. Its satin finish is a sharp contrast with the tortured surfaces of his earlier work. It's comical and childlike, but, for Campoli, it's also profound. A former farm boy, Campoli said that watching a bird settling on her eggs was the most peaceful thing he could imagine. When he held an egg in his hand, he felt like he was holding the whole universe, so he named the sculpture "Bird of Peace." Back then and to this day, many people just call it "The Egg." Some sites list a different name because Beadle was worried that Mayor Daley's park appointees were the kind of men who would reject anything with "peace" in the title. She thought even they would have to support motherhood, so the official application called it "Guarding the Nest."
The statue was installed in the grass near 54th Place inside a ring of tree stumps. It immediately became a gathering place. In 1970, Campoli reported that "I have seen mothers resting on the stumps while their children play. I have also seen hippies quietly contemplating and musical groups playing around it, all in all… from a human standpoint I would consider it very successful."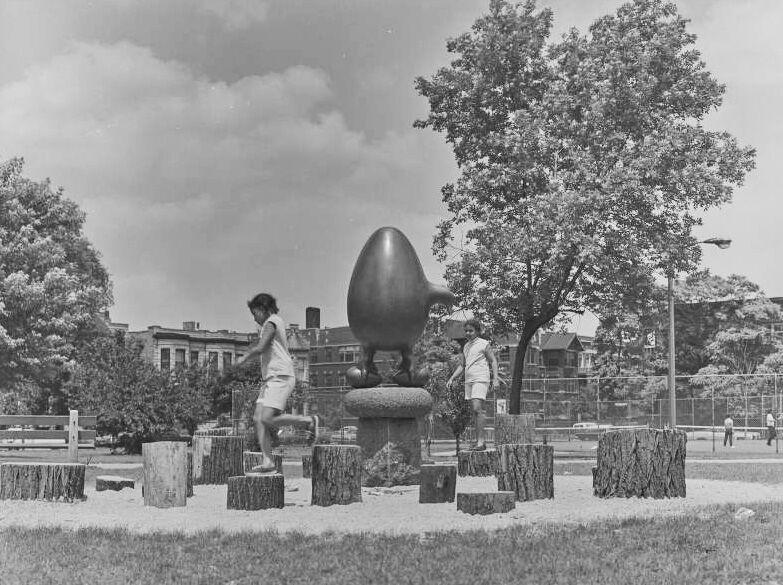 The committee, however, was not happy. Their dream that the new Hyde Park would treasure its parks did not come true. Beadle worried: "Almost as soon as we repaint it, the Skuba piece gets written on with spray paint. The fountain and its setting have a shabby look. And I think it's only a matter of time until the Campoli piece is damaged." By 1971, she exclaimed, "I am now DONE" as the sculpture committee dissolved. Without the committee, the Park District quickly removed Snoopy and Wojcik's fountain was put in storage. Over the years it kept appearing and disappearing, and spent a 12-year stretch misplaced under Soldier Field. With its original post lost, the fountain is now quite short.
It took two decades before the Park District named the park. John Fountain Nichols (1912-1980) wasn't famous, but he was beloved. He earned his BFA at the Art Institute after serving in World War II, just missing Campoli. He then worked as an architectural draftsman with the Department of Urban Renewal and taught art to children. Neighbors remember him as a gentle soul, always ready to stop and talk when he bumped into them in the park. 
Beadle's fear that "Bird of Peace" would be damaged came true. Multiple attempts to steal it meant a series of expensive repairs, the worst of which happened in 2000. Thieves dragged it over stones and concrete before abandoning it in a backyard on Kimbark Avenue, where a neighbor's dog found it. The bronze was so gouged, it wasn't clear it could be salvaged. Painstaking restoration brought back the surface by thinning the bronze, but it can't be repaired again. At first, the Park District refused to put it back in the park, but with the extension of the park to 53rd Street, they agreed to tuck the restored "Bird of Peace" next to the new fieldhouse that opened in 2004, where it seemed safe, though it can no longer bring people together.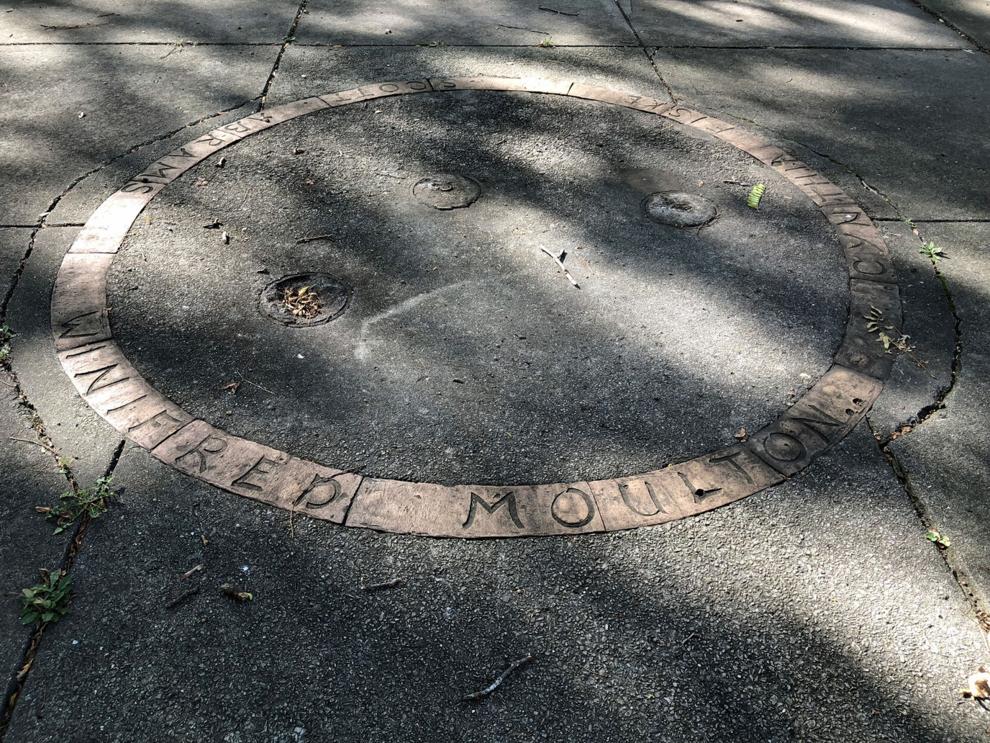 While working on this story, I walked over to Spruce Park to see if anything remained of Snoopy. The circle of names still sits inside a circle of benches, where a man was sitting with his possessions neatly stacked next to him. As I raised my camera to take a picture, he exclaimed, "oh, you're taking a picture of Winifred!" We had a long conversation about Winifred, the neighborhood and his long life. The committee might not have created utopia, but, as Campoli said, from a human standpoint, they did succeed.    
If you see something around Hyde Park that makes you ask, "What's that about?", let me know at hydeparkquestions@gmail.com. I might be able to find the story.