AYO Foods, the popular line of West African frozen food owned by Hyde Parkers Perteet and Fred Spencer, has partnered with former Top Chef contestant Eric Adjepong to introduce a pair of new recipes.
Adjepong, who was a finalist on season 16 of the reality television show, draws on his Ghanaian heritage when cooking. ("He was the first West African contestant on Top Chef," the New York Times wrote after his appearance, "introducing some viewers and judges to dishes like fufu and egusi stew.") Perteet Spencer said that he shares a mutual desire with the AYO Foods couple to bring West African food to more people. 
"AYO is a community centered around a celebration of West African food and when you look at folks to be key in this community, Chef Eric was on the top of our list," said Perteet. "We are so incredibly excited to partner with him this way and bring his dishes to more people." 
The two new dishes will be waakye, a blend of Sea Island red peas and jasmine rice slow-cooked with coconut oil and millet leaves, and chicken yassa — braised and marinated chicken with caramelized onions.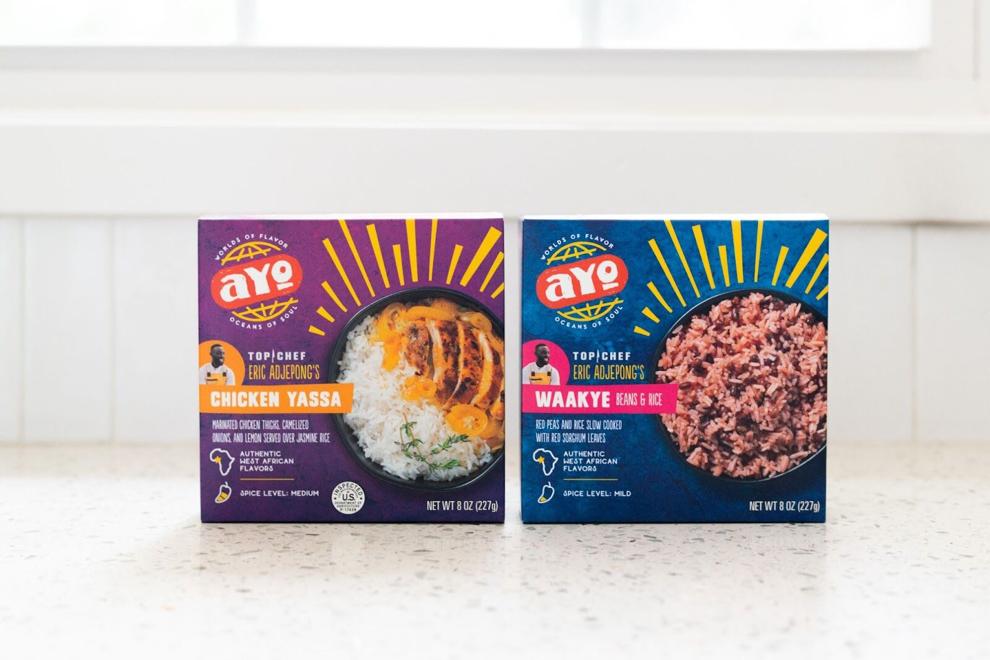 "Our inaugural partnership with Chef Eric paves a way for more partnerships in the future and bringing in known West African experts in the culinary world," said Perteet. 
Since launching AYO Foods in mid-2020, making it the first West African frozen food line in the United States, Fred and Perteet have expanded to 250 retail stores across the country. (Their goal is to hit 3,500 within another year.) The dishes they currently sell include jollof rice and cassava leaf stew; they also recently introduced puff-puff, a sweet, fried bread, as well as a pair of hot sauces sold exclusively at Fresh Markets. 
"There's a lot of pride, a lot of excitement for what's to come. But there's lots more to do," said Perteet.