Harper Avenue returned to its pre-pandemic Halloween popularity Monday evening, Oct. 31 as several thousand people trick-or-treated along its 5700 and 5800 blocks.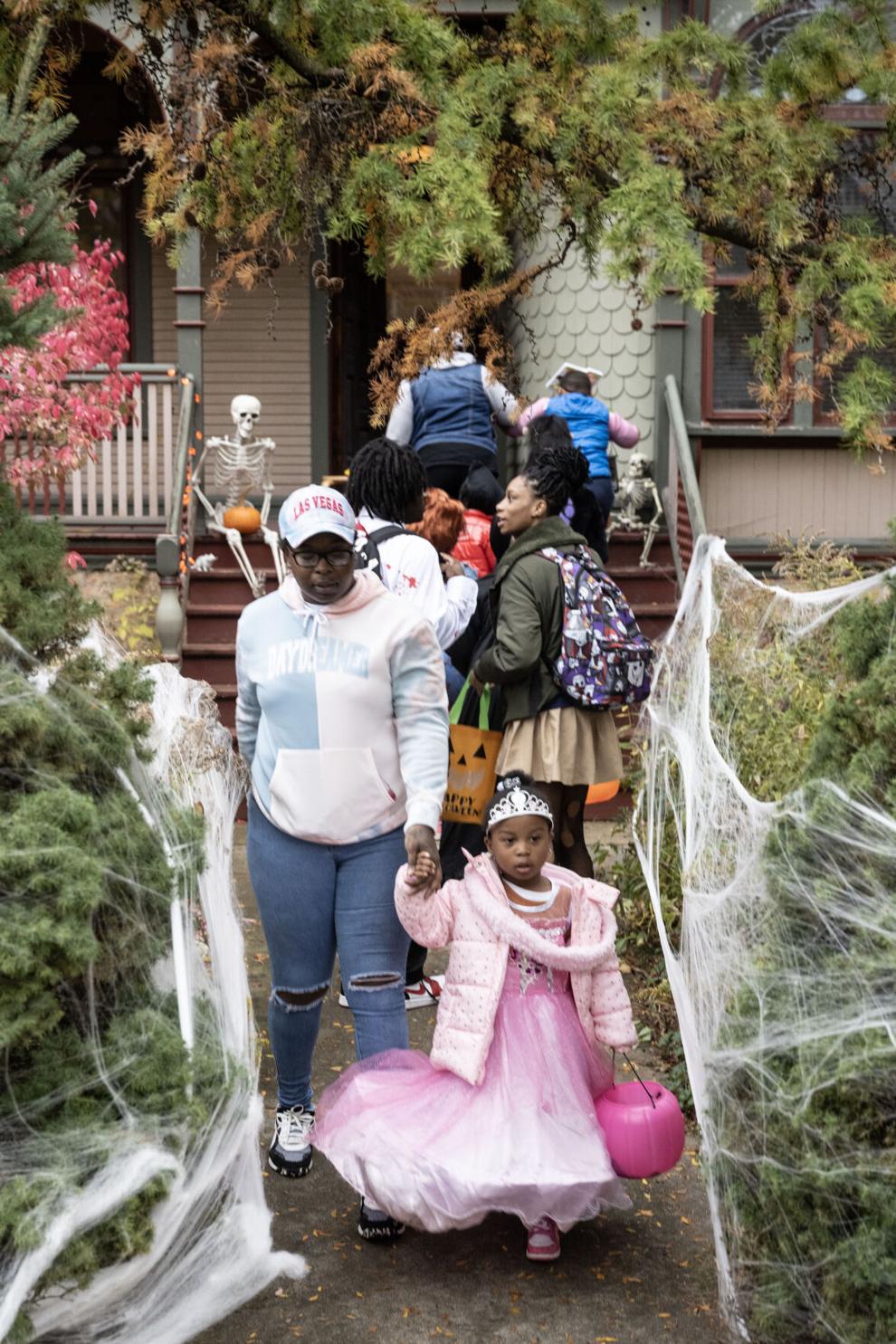 Dinosaur costumes seemed to be the rage as several candy-container-carrying T-Rexes wandered up and down the street, periodically stopping to pose with ladybugs, Spidermen, elevators, girls with a pearl earring and others.
Avenue resident Lauren Moltz, donning a metallic-blue sequined evening gown and black wig —"Somebody said I looked like Cher" —  estimated that she handed out close to 2,000 pieces of candy over the course of the evening.
Up on 53rd Street things were a bit different.
Since 2016, the evening hours of Halloween in Hyde Park have been plagued by disorder and occasional episodes of vandalism and injury to pedestrians.
In anticipation of large numbers of older kids flooding the commercial blocks of 53rd Street once again, resident Bennie Currie met with Hyde Park Collabooration volunteers in Hyatt Place Harper Court, preparing them for an evening of maintaining a visible presence around the neighborhood —   standing on the street, handing out candy and encouraging the kids to have a good time.
Musician Thaddeus Tukes and the Chicago Freedom Ensemble, who partnered with the Collabooration effort, assembled their brass instruments and drums, preparing to march up and down the street.
Scores of Chicago and University of Chicago Police Department officers were also deployed on bikes along 53rd from Woodlawn to Lake Park Avenues, pared down from previous years of squad cars and riot gear.
Alderman Sophia King (4th) also helped direct traffic and spoke with many of the interrupters, supporting their efforts.
Three violence interrupter groups, Watchguard Chicago, Excons for Community and Social Change and GoodKids MadCity, were present, quietly watching as kids arrived and looked for something to do.
The weather was not quite balmy, but comfortable. Many merchants and restaurants kept their doors open, handing out candy to trick-or-treaters into the early evening. 
As the night progressed, as in years past, groups of teenagers occasionally clashed in not-so-pleasant exchanges of words and raised voices. Other kids would come running to see what was up.
The interrupters would then penetrate the crowd and intervene. Thaddeus Tukes and the Chicago Freedom Ensemble would also arrive and play their music, helping diffuse the tension. The police would then pull up on bikes, making noise and flashing lights, but they ultimately kept their distance as the interrupters got to work.
Among the interrupters was organizer Miracle Boyd of GoodKids MadCity, who made headlines in 2020 after being hit in the mouth by a Chicago Police officer at a protest for the removal of the Grant Park Columbus statue. (Boyd's front teeth were knocked out and the officer recently resigned.)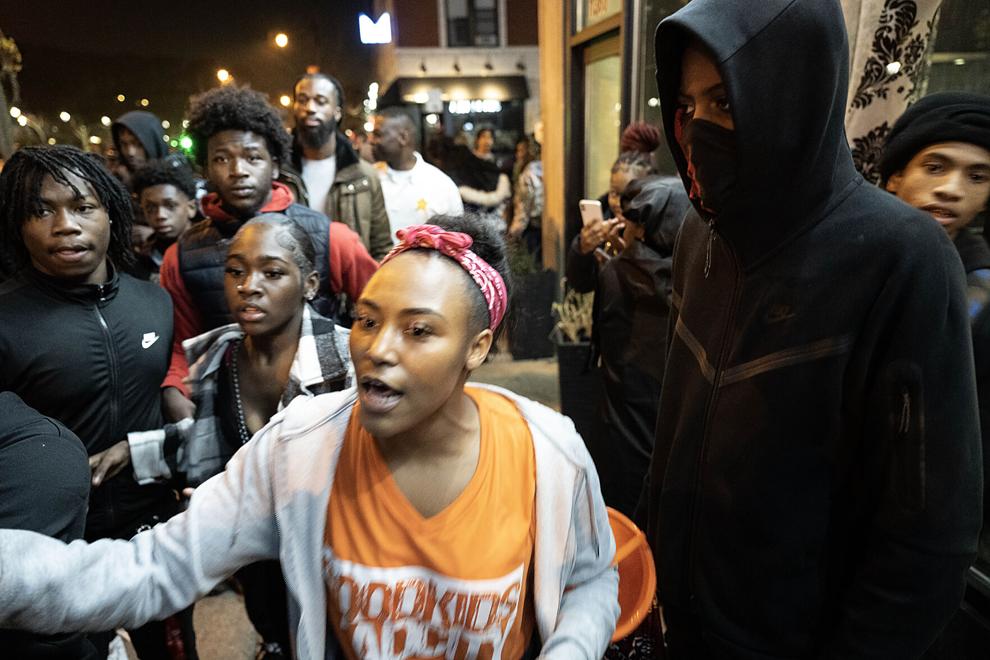 Boyd was one of the most engaged interrupters, jumping into action, talking down and separating those in conflict. Her energy level and focus were high. Though some adult volunteers from other groups appeared uncomfortable, the method ultimately proved successful and significant conflict was routinely avoided.
"I did witness some kids getting into some entanglements," Currie reflected on the evening. "But, the combination of violence interrupter folks that (were) out there, and the orange shirts and the band in particular, helped to quell all of that and keep things pretty quiet."
It's the third consecutive Halloween without arrests, largely attributed to the efforts of Collabooration, Tukes' ensemble and the interrupters.
Though the night was ultimately a success, GoodKids MadCity in a tweet lamented the lack of city-sponsored programming for youth: "What's tragic is that teens had nowhere to go, there wasn't any planned events. This city really doesn't care about Black youth. It's the fact that CPD & UCPD GOT SO MUCH MONEY LAST NIGHT TO DO ABSOLUTELY NOTHING!"
"We would like to be able to have a bigger complement of musicians," said Currie as he mused plans for 2023.
"Probably in January, we're going to start formulating some plans, strategies for generating some more resources," he added. "We're very thankful for all of the folks who made contributions this year."