The covers of Mike Phillips' basement book stock feature screaming skulls, robot skeletons, murderous snakes, space cavemen, and mad scientists. They are gaudy, loud and scary but, at the same time, polished, absorbing and beautiful. And they are all for sale, through Phillips' home-grown, Hyde Park-based digital book store It Came from Beyond Pulp, established in 2019.
For the past two years Phillips has been selling books primarily in the science fiction, horror, and fantasy genre through his Instagram account and then shipping it off to pulp aficionados throughout the United States and Canada.
As the business has grown, he expanded the operation into a small print publishing house, publishing two illustrated horror story chapbooks under an imprint of the same name. Coupled with his recent work digitizing vinyl recordings of sci-fi story readings, and his previous work running the independent roving cinema South Side Projections, Phillips runs a quiet cultural powerhouse from his Drexel Avenue home.
Phillips said his bookselling and publishing operation grew out of his adolescent reading interests.
"When I was in high school I read nothing but horror," Phillips said, "Stephen King, Dean Koontz, S.P. Somtow, Robert McCammon… Then, over the years, I amassed a huge collection of the Magazine of Fantasy and Science Fiction which, in the pulp days, was the top tier of all of those journals. I started posting pictures of the covers online and then I got interested in collecting sci-fi books again."
After his collection of books grew too large, Phillips started to sell them through Instagram, eventually attracting nearly 4,000 followers. Now he makes regular trips to bookstores throughout the Midwest to stock up on pulp books for his customers, photographing new works in a studio made of reclaimed wood from his neighbor's old fence.
Buyers comment on Phillips' Instagram photos in order to reserve books from his ever-changing stock. Customers have stacks dedicated to them near his photography studio.
Phillips said that he's learned that many of the most sought after, valuable horror and sci-fi titles are name-dropped in a book entitled "Paperbacks from Hell" by Grady Hendrix. That work, a history of 80s horror books as well as a celebration of pulp aesthetics, created a demand among collectors for some of the more obscure, long out of print pulp books.
"I can find schlocky, bottom shelf 80's horror novels, but because it's featured in (Paperbacks from Hell) I can sell it on eBay for like $20, $25 dollars," Phillips said.
He added, "I grew up in a small town in Michigan and the bookstore had a horror section. The top shelf was Stephen King. The next shelf below it was Dean R. Koontz. The next shelf down was John Saul and Robert McCammon and then below that it started getting kind of sketchy. The bottom shelf would be like a cover with a woman pushing a cradle with like a skeleton baby, that kind of stuff. But it's those bottom shelf books that are sometimes worth a lot now. They didn't have huge print runs and people wouldn't take care of them."
Phillips said that his customers are primarily interested in the pulpier horror novels because of their covers, rather than their stories. For his part, he prefers sci-fi and horror novels by Somtow, Ursula K. Le Guin, Samuel Delaney and Octavia Butler.
Phillips invited Somtow, who is also a composer and the artistic director of Opera Siam in Bangkok, to read at Central Michigan University in his student days.
"I like to tell people that he's the most famous person I've ever bought a chicken fried steak at Denny's for," Phillips said.
Phillips' publishing operation grew out of an event he put on in 2019 through his film organization South Side Projections at the Bucket O'Blood Books and Records store.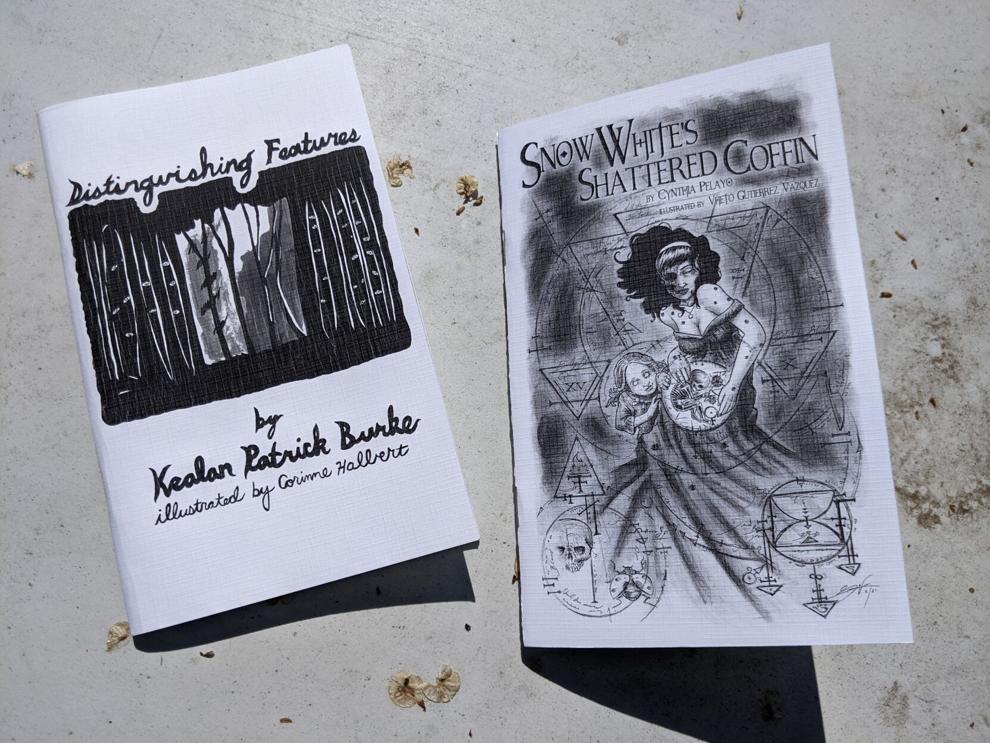 After inviting horror-story writer Kealan Patrick Burke to curate a program of short-horror films for a movie night there, Phillips asked the author if he would be interested in writing a short horror story for a chapbook. Burke agreed, and the creator of the movie-night poster, Chicago based artist, Corrine Halbert, then illustrated Burke's story.
Phillips had the book published at a union-run print shop in Milwaukee. "Distinguishing Features" sold out right away.
"I hadn't published anything before, aside from in my college poetry group, which doesn't really count," said Phillips. "But we did 200 copies, signed by the author and illustrator, and they sold out within two months."
After the success of the first book, Phillips commissioned another horror story, entitled "Snow White's Shattered Coffin" from Chicago-based author Cynthia Pelayo, with illustrations from artist Vheto Gutierrez Vazquez. He plans to publish further installments of the It Came From Beyond Pulp Illustrated Chapbook Series in the future.
Customers can order vintage pulp books by commenting on the It Came from Beyond Pulp Instagram account and buy Pelayo's work from their website.