Hyde Park's past and present connected over the weekend in the name of business when, on Sunday, Oct. 3, The Allure Chicago hosted Beverly Hill. Hill currently runs her own handmade gemstone jewelry business, Queen B, which she started more than two decades ago. But even earlier, Hill says, she owned the first consignment shop in Hyde Park. 
The Allure, 1703 E. 55th St., was opened this past summer by Rajan Alsberry. One of the newest Black-owned businesses in Hyde Park, it's both a boutique and a consignment shop, selling goods from local designers and vendors. 
Hill says she had the idea to reach out to Alsberry after reading the Herald's article about Allure, causing her to reminisce over her own consignment shop in the neighborhood, Frumpy Classics, which was in business during 1988 along 53rd St., across from the Hyde Park Bank Building.
"I wanted a retail store, and starting up your own store you got to have a lot of money to get inventory and everything, so I read this book about consignment and (how) the inventory would come from the people in the community," said Hill, explaining how she decided to open a consignment shop. 
Though there are differences between what the Allure and Frumpy Classics have to offer, Hill says one similarity between the two is that they're both community business where people can come and recognize each other. 
"(People) feel comfortable because they feel like this is part of my community, you'd be going to the grocery store, or whatever, and you just stop and say, 'What you got today?' ", she explained. 
Hill, who moved to Delray Beach, Florida, four years ago, traveled back to Hyde Park to join forces with Alsberry this past weekend as she hosted a pop-up for Queen B at his boutique, bringing in customers interested in her jewelry. Hill said she phoned and emailed many of her friends and family about her appearance to help bring new faces into the shop. 
"I've been buying Beverly's stuff for a while and I love her stones. She finds the most unique things, it's just awesome," said Lisa Davis, Hill's cousin.
The Allure was packed with eager customers coming to shop with Hill, but patrons also quickly became interested in the pieces that were for sale in the shop. (One older man was especially intrigued by the collection of fedora straw hats on display.)
Being sure to greet everyone who walked into the shop, Hill also made it a point to explain each of her pieces to those who were curious. Hill says her sales pitch includes telling people the quality of the stones. 
"Everything is handmade by me. I specialize in semi-precious gemstones which includes agate, jasper, turquoise, and amazonite. On my website I give a description of the qualities of the stones," she said.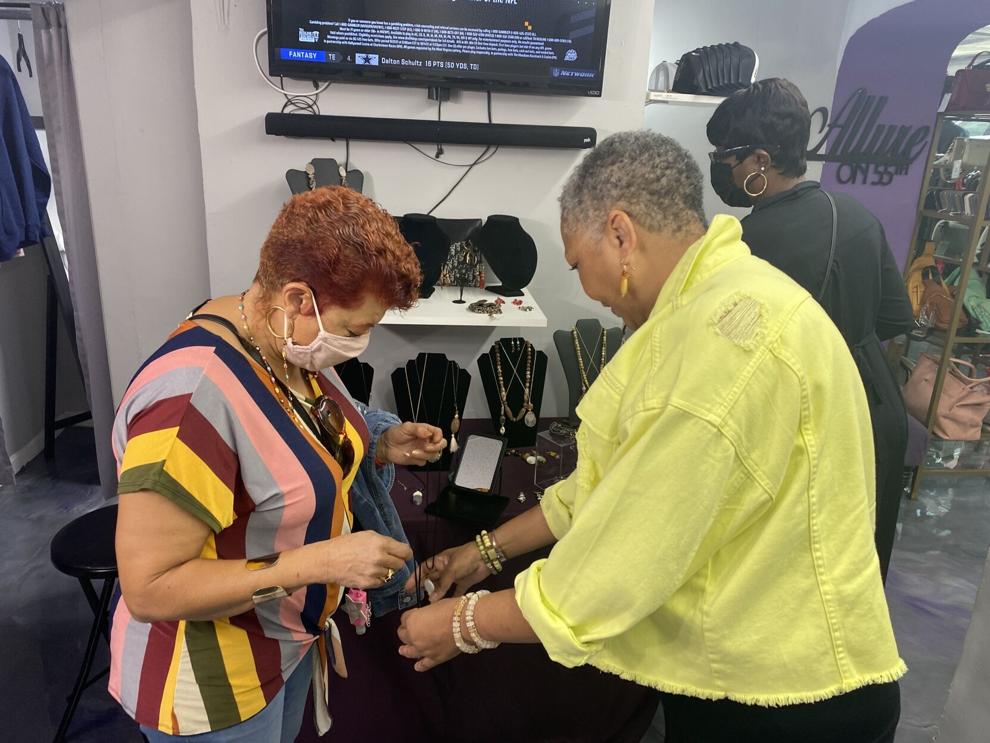 Alsberry says he was happy to connect with Hill, linking his business with a business from the community's past. 
"I thought it was a good idea. She told me she had a business here before so I figured it would be like a full circle type of deal," he said.
The Allure will continue to sell Hill's jewelry in the shop.